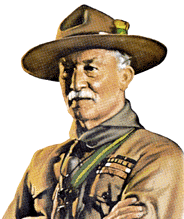 The 150th anniversary of the birth of the "Chief Scout of the World," Lord Robert Stephenson Smyth Baden-Powell, could see a mass of retrospectives about him and Scouts and Girl Guides making pilgrimages to his birth place in London and grave in Kenya.
The World Organization of the Scout Movement he founded estimates more than 500 million women and men from most countries and cultures in the world will have promised to live by the Scout Promise and Law by 2007, the official centenary year. The body describes World Scouting as the largest youth organisation in the world, with more than 28 million scouts in 216 countries and territories.
The centenary dates from Baden-Powell's experimental camp on Brownsea Island in Dorset, England, for 20 young boys from different social backgrounds.
Baden-Powell was the sixth son and eighth of 10 children of an Oxford University professor, who died when he was three. He grew up in straitened circumstances, but found his way to a distinguished career in the Army. He served in India, Afghanistan and South Africa with the 13th Hussars. Promoted at 40 to the 5th Dragoon Guards, he found opportunity to polish the scouting and stalking skills of his soldiers.
In 1903 he returned to England as Inspector General of Cavalry and found that a book he wrote for his soldiers, 'Aids to Scouting,' was being used by youth leaders and teachers all over the country.
Rewritten for boys, the book became the backbone of the Brownsea Island experiment, the official start of the movement. It was the first of his 32 books.
The first international Scout Jamboree took place at Olympia, London in 1920.