Who doesn't like to dine out? Most of us choose to go on dinner for our first date with someone. Many of us choose the classic way of proposing marriage to someone special with a glass of wine, a diamond ring, and some cheese on the side over a candle-light dinner. And a lot of us head right to the best diner in town to celebrate a promotion at work, a match victory, or even a pay raise. Dining experiences are an inseparable part of our lives. Hence, for you, here is a list of the most unique dining experiences in the world to try before you die.
Dans le Noir, UK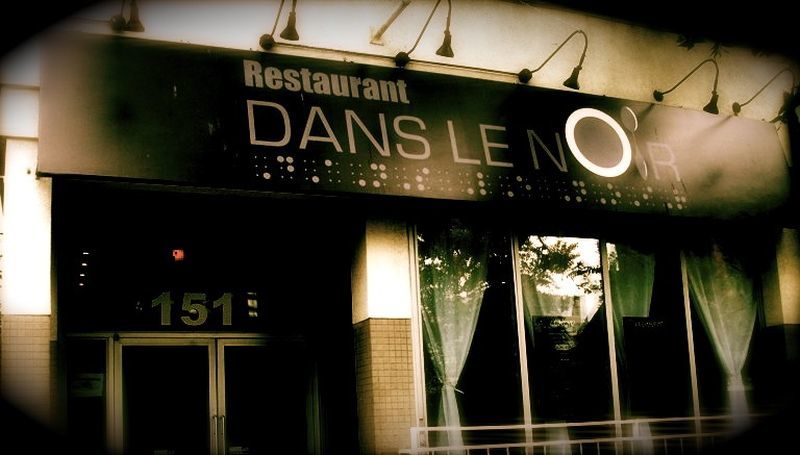 Image Source : amandabootes.co.uk
For someone seeking a bit of thrill even at the dinner table, this restaurant is must visit. You will be seated at the table, surrounded by utter darkness. Visually impaired waiters and host will wait your tables, ready to serve you. But if the concept wasn't unique enough, here comes the bigger twist.
You will not be handed out a set menu. At Dans le Noir, you will only be given four options (four colors, rather) to choose from. The color white means you will get seafood and meat, combined. Red denotes only meat. The color blue is an option that will land some good fish at your table. And lastly, there's green – for the vegetarian guests.
The thing is, you can only choose the color. But what food you will be served from that category is not in your hands. Moreover, you will also be able to treat your taste buds with a surprise mocktail, cocktail or wine.
At Dans le Noir, everything is a surprise, waiting to offer a memorable dining experience. If you like a little twist at your table, visit one of the most unique dining experiences in the world – Dans le Noir, in London.
The Bubble Room, Florida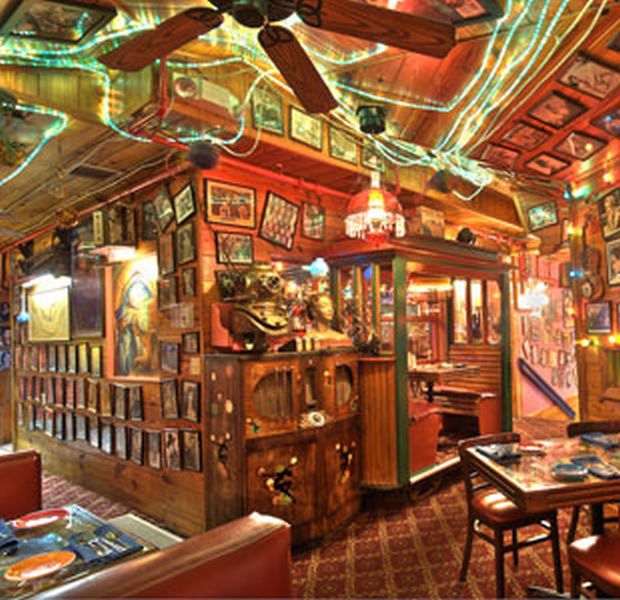 Image Source : bubbleroomrestaurant.com
A lot of people are still a child at heart. For those, and for you (if you are one), there's the Bubble Room in Florida. Once you will step inside this place, your mind will be transported back to the days where you read Alice in Wonderland and wondered about how it would be down that rabbit hole.
The Bubble Room's outlandish décor and vibrant color palette of the 1930s and 40s make it one of the most amazingly unique dining experiences in the world.
The food served here is as amazing as the décor is. Go for Crab It While You Can, which is an appetizer made of homemade crab cakes and topped with a lot of lobster sauce. Or choose Marilyn Mignon, where you get mignon fillet wrapped over with bacon and served alongside marinated mushrooms.
You can also hit the bar, where drinks like the Captiva Cooler and Pink Flamingo are waiting for you. Wash down a delightful culinary experience with an equally tasteful glass of whiskey or wine.
Safe House, Wisconsin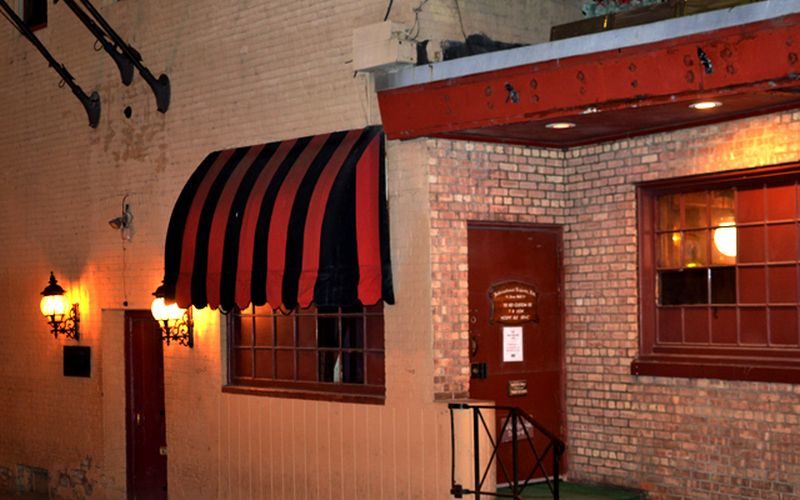 Image Source : assets.marcusapps.com
As a child, or an adolescent, if you grew up watching spy thrillers, then Safe House is the place where you can eat and reminiscence about the stylish detective tendencies of James Bond and George Smiley.
You have to figure out a password through the clues given to you just to gain entry into this dining house. Don't worry if you cannot figure it out the first time around. You will get many other hoops and clues to jump through and gain access.
Even then if you fail, fret not. Eventually, everyone gets a table at this restaurant – regardless of whether they figure out the password or not.
But the fun is all in the interaction and activities. And these two do not end even after you are seated at your table.
You will get to interact with people dressed like your favorite characters from the detective genre.  And of course, there are puzzle walls for your grey cells – because even they need to work out.
Zauo, Japan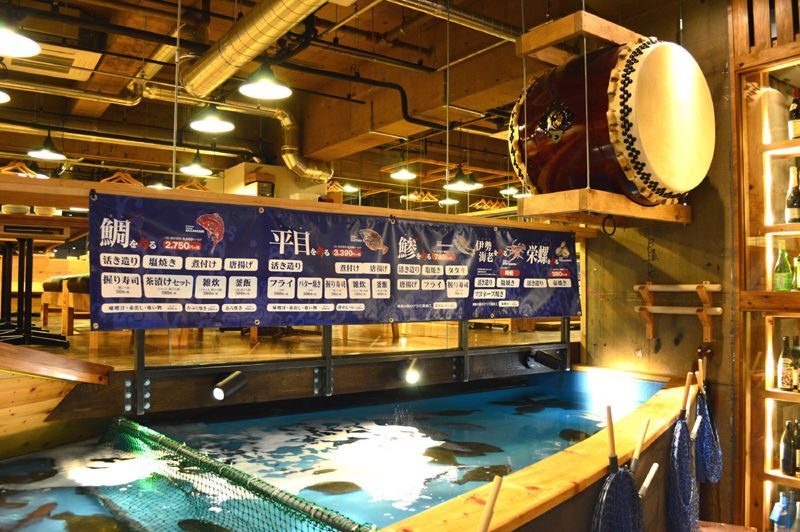 Image Source : zauo.com
They say, If you want to help a man survive, do not fetch a fish for him every day. Instead, teach him to fish. At Zauo in Tokyo, people take this proverb a little bit too seriously. In Zauo, you have to actually fish for your meal.
Yes, once you step inside this seafood restaurant, you will be guided to the water area, where you will be handed a fishing rod and free baits. All you have to do is catch a fish or two for yourself.
Once you have earned your meal, hand it over to the chef, and he will cook it perfectly for you. Just tell him how you want it – boiled, deep-fried, or served as a sushi roll.
And don't worry, if things spiral a little out of hand, or maybe it is just not your day, and you find it difficult to trap a fish in the net – ask for help.
Opting for one of the most unique dining experiences in the world means that you have to earn your bread and then enjoy it to your heart's content. Truly, this one goes the old-fashioned way.
Dinner In The Sky, Belgium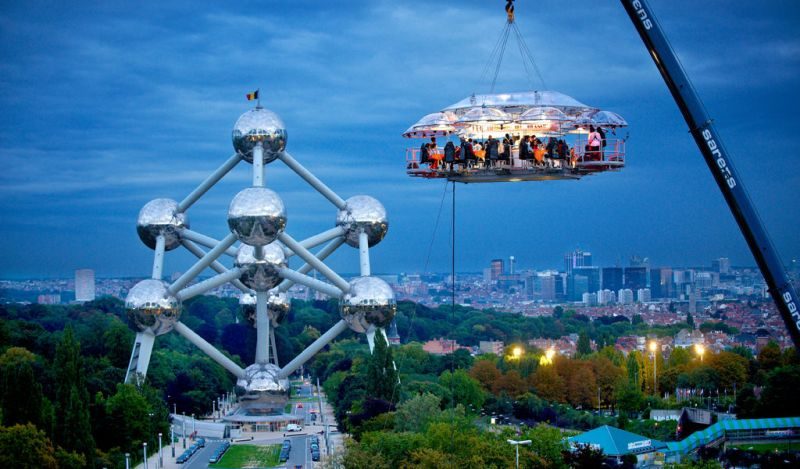 Image Source : dinnerinthesky.com
One of the most unique dining experiences in the world is the one up in the sky. If you love heights, this dinner experience is something you must have at least once in life.
Hoisted about 150 feet up in the air, this dining experience allows you and 21 other loved ones to eat sumptuous food while enjoying the aerial view of the beautiful city below you.
This culinary experience lasts for more than 8 hours. Also, Dinner In The Sky operates in more than 40 nations around the world. So, you don't even need to travel that much to witness this aerial marvel.
You can bring your own caterers or pay an additional charge to enjoy the catering experience provided by Dinner In The Sky. From birthday parties to office celebrations – Dinner In The Sky is sure to amp up your happiness by 150 feet.