Tips And Ideas To Celebrate Halloween In The Office
 October is here, and Halloween is just around the corner and you know what that means right? Time to fill ourselves with pumpkin spice and everything nice. A very valid excuse for us adults to dress up and unleash the child within us. This day can be traced back to the ancient Celtic festival of Samhain where they believed that on the night of Halloween, the line between the worlds of the living and the dead blurred and that the ghosts of the dead returned to earth. This gave birth to this funky festival where now people dress up as a ghost and go around trick or treating or indulge in activities that are fun and scary to do. 
Celebrating Halloween in the office can be a very positive stress buster, and also a great way to increase bonding amongst workers as we all know, celebrating and sharing happy times together increases understanding and liking towards one another, this also results in a work environment that is in harmony. Positive feelings also motivate employees to work better.
Halloween Party Decoration/Theme Ideas
Well if you have decided to host a Halloween party, make sure it's the one to remember. Decorating the place according to the mood just adds more fun and funk to the bash. Won't it just dull the excitement of dressing up if you have to set your foot in the same boring office? 
Here are a few theme ideas to create a spooky atmosphere around your office. 
1)   The Zombie Theme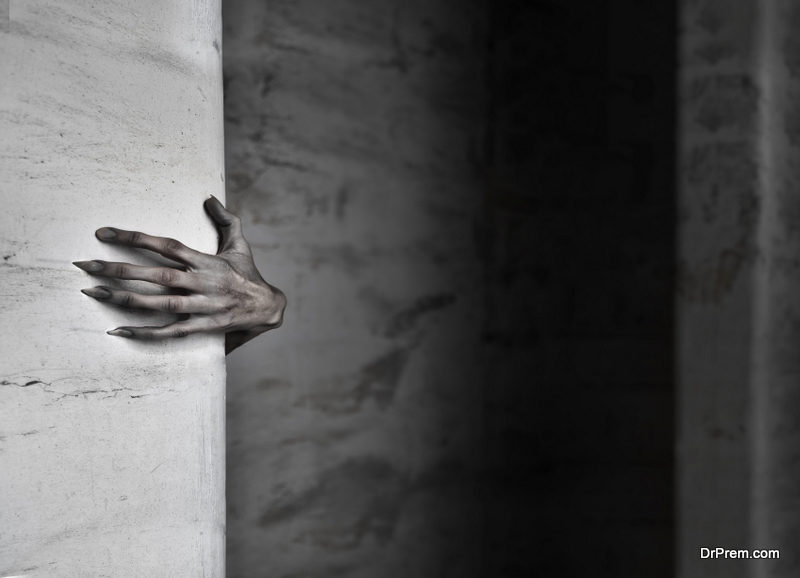 How about turning your office into a graveyard? (well you're dead in there anyway). You can actually mix up all the fantasy characters like Dracula, Vampire, Witches, Werewolves, etc and create yourself a zombie theme party. Just lay few coffins and tombstones around and spook it up with some spider webs and skeletons.
2)   Pump(kin) It Up
Something about Halloween just feels incomplete without the pumpkins around. Decorating the place with carved pumpkins with carved goofy smiles just fits the mood for Halloween. You can again add the fairy lights and candles inside to enhance the spooky feeling. You can also mix the pumpkin and skeleton decorations together.
3)   The Crime Scene Theme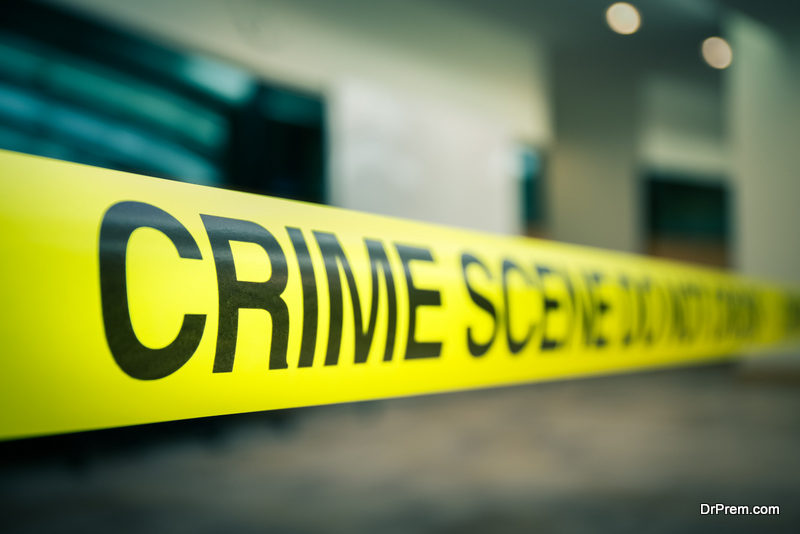 A crime scene is every bit of spooky it can get. This will require a little bit of creativity on your part, but it will be a fun theme for the party.
You can chalk out the victim on the floor, use yellow tapes that say 'crime scene, do not cross'. The internet is flooded with fake blood recipes. But don't go overboard with the blood as cleaning it up will be a task. You can show bloody handprints on the wall and blood around the victim. You can also show splashes of blood on the wall (Tip: cover your doors and walls with transparent plastic before you go splashing blood on them).
This theme also creates a fun murder-mystery activity. Where you can create a story around the crime and divide people up in teams and leave hints around the place for the murderer. A great chance for people from different departments to come together and work.
4)   Outer Space Theme
Take your office to outer space, or you know, bring outer space to your office. Now, this decoration might not be scary per se, but it is fun and different. You can play around with different lights and hang stars and planet decor items from the roof. You can also rent alien suits and have people walk around in it.
5)   The Good Old Skeleton: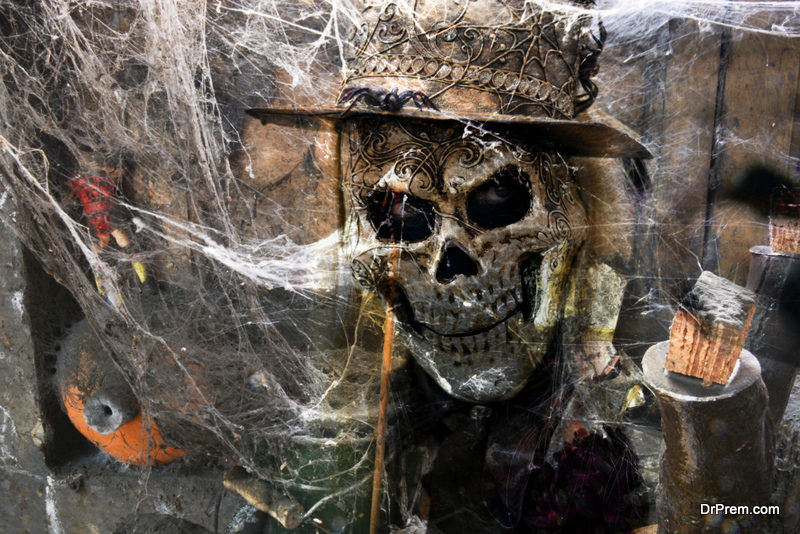 Is Halloween decorations even complete without the good old skeleton and spider webs? You can just make the surroundings look scary by using spider webs, skeletons and lots and lots of black color decor options. Use fairy lights to add to the charm.
6)   Pop It Up With Props
If you're looking for decoration ideas that don't require an army of people, then you have props to save your day. You can just choose a corner wall of your office, cover it with dark black cloth (or cover the entire office to oomph it up a little) and put scary props like face masks and devil horns and see people go cray-cray with them.
Activity Ideas For Halloween Party
What party is complete without fun (rather some spine-tingling) activities? Here is a list of few activities that are fun and some even scary to do at your office Halloween party.
1)   Make It A Carving Day
Well if you don't want your office party to turn crazy, then how about doing something that gives your employees a chance to destress and also show their creativity. You can have a pumpkin carving contest. It's creative, and healthy competition is always fun.
2)   Play The Murder Mystery Game
If you want to engage your employees in a fun way that also requires them to get their thinking hats on, then how about solving crimes? Well, you can make multiple teams make sure to mix the departments together (this way they have a chance to know each other). Someone needs to host this event readout clues (if you have followed the Big Bang Theory, then just find your Rajesh Khoothrapali). You can also play treasure hunt, it works in a similar way, read clues and reach your treasure, of course, the murder mystery suits better with the mood.
3)   It's Magic Time: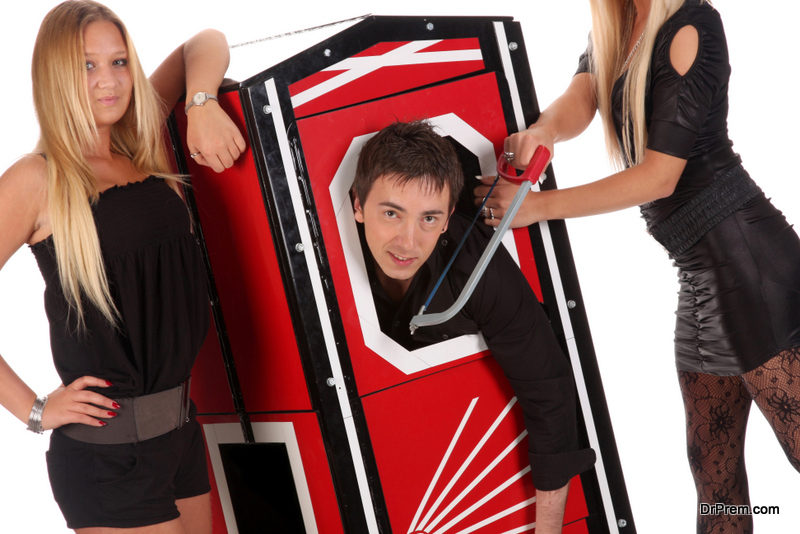 Well, watching magic is as fun for adults as it is for kids. You can invite a magician for your office Halloween party and let the fun begin.
4)   Tell A Horror Tale:
Turn off all the lights, make sure it is pitch dark, light a candle and gather around. Stories that are filled with spine-chilling spooky stuff just match completely with the mood of the day.
Tell stories about ghosts and heinous crimes that you have come across. You can also discuss various conspiracy theories or some disturbing psychological facts. You can also turn this into a little storytelling competition and see who can get the most number of screams.
5)   Dance Party With Costumes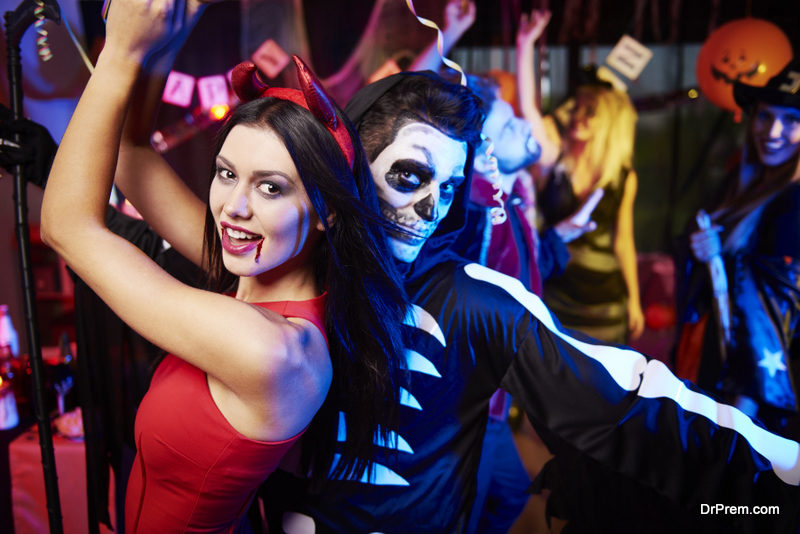 You can actually have everyone show up as goofy and creepy characters and organize a zombie theme dance party. People love to dance and it's just reliving childhood with all the costumes and make-up. Imagine it yourself, how fun will it be to see adults dressed up as Vampires and Witches dancing around in the office.
6)   Costume Contest
Isn't it in human nature to get more motivated to put in effort when there is a prize involved? You can host a costume contest and parade and judge the costumes on multiple parameters.
You can award people on the basis of the following. 
●     Funniest costume
●     Most sophisticated costume
●     Scariest costume
●     Most creative costume
7) Play Games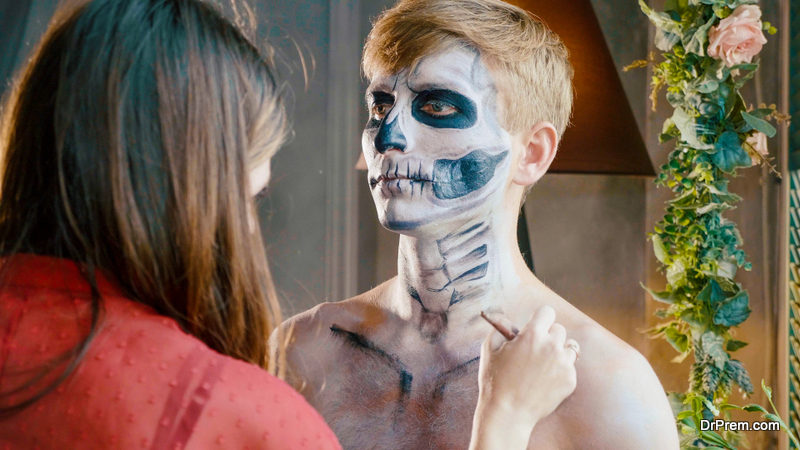 Revisit your childhood by playing fun games that you probably loved as a kid. Some of the games to consider while planning an office Halloween bash so that the day is an eventful one and charges everyone up till Christmas.
1)    The Mummy Wrap Game
All you need is a few packs of toilet paper rolls and you are good to go. This game can leave people rolling on the floor laughing. It requires two people, one has to stand still and the other person has to go wrapping the toilet paper around the other human (make them look like an Egyptian mummy) within a time limit.
2)    Halloween Make-Up Game
You know what's going to be really hilarious? People applying scary make-up to each other,especially the ones that have zero experience in applying make-up. (Can you imagine the horror?) Want to turn the craziness up a notch? Blindfold the ones applying make-up and see the madness unfold.
3)    Pop The Pumpkin
This might be really crazy with actual Pumpkins but it can get very messy (not something you can actually afford to do at your office). Instead, you can use orange balloons (to keep up with the spirit of the Pumpkins) and play the pop the pumpkin game. Also, the wall covered with balloons will make up for great Halloween decorations.
4)    Death By Cards
This is an interesting game (Read: DEADLY) if you can involve alcohol at your office bash. You can mix-up different kinds of alcohol and pour it in the pumpkin, now everyone has to sit down in a circle and draw cards. You have to pre-decide the numbers at which one has to take a big sip from the pumpkin, say cards numbered 6, 9 and 5 are the ones decided, then anyone who picks up any card with the above-mentioned number has to take a sip of alcohol from that pumpkin.
5)    Zombie, Ghost, And Witch
Another drinking game that can be fun is this one. A host will count to 3 and shout zombie ghost and witch, all the names will have pre-decided hand patterns to them, for example: for Zombie you have to stretch your arms in front, for ghost, you will have to stretch your arms on the side and for witches you will have to stretch it up . now once the host shouts the contestants have to pick between a ghost, a witch and a zombie by doing the decided hand action, whichever character gets the majority of people have to drink. So if the majority of the people did the hand action for zombie, then all the zombies have to gulp down the alcohol.
Vegan And Vegetarian Food Ideas For Halloween Office Party
What party is complete without food? But how about we spare animals the horror of getting slaughtered? Here are a few Vegan and Vegetarian food ideas that will go perfectly with your Halloween office party.
1)

  
Vegan Graveyard Cups.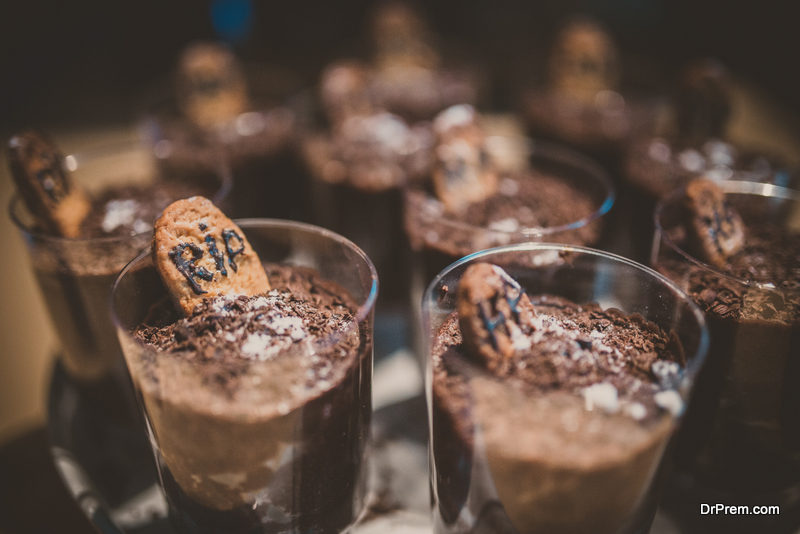 You will need
FlatOut pizza crusts
refried black beans
cloves garlic
lime juicel
black olives, chopped
green onion, chopped 
The preparation is similar to making taco cups after the ingredients are heated and sauteed, fill it up in the cup, like layers of mud place a tombstone shaped taco- cut out that has RIP written on it.
2)

  
Guacamole bats
●

     
2 avocados, mashed
●

     
1 large garlic clove, minced
●

     
1/4 small onion, thinly chopped
●

     
juice of 1 lime
●

     
blue corn chips
●

     
black olives, sliced
Combine all the ingredients (avocado, garlic onion and lime juice)  together to make guacamole paste. Scoop the paste on the plate, like an ice-cream, add black olives for eye and triangular corn chips on the side for the wings and you have yourself a nice and healthy Halloween treat.
3)

  
Frankenstein' Ghost On The Stick (Brown Rice Krispie Treats)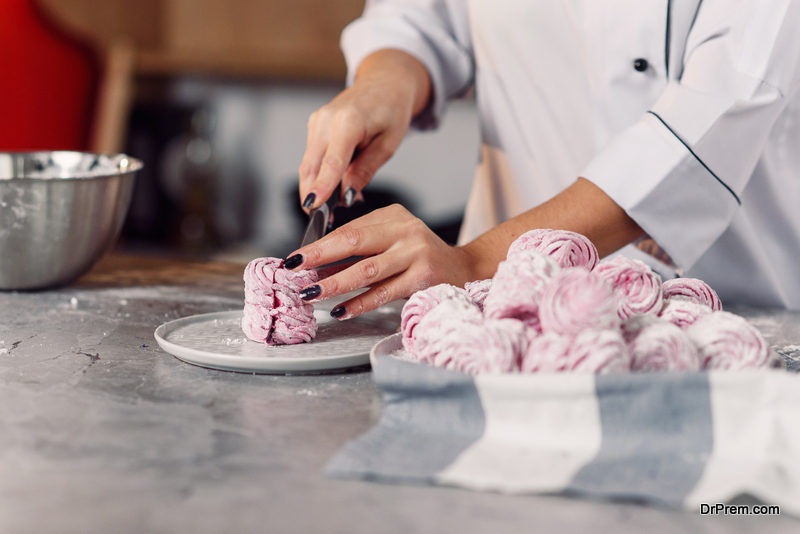 vegan butter

     

 

vegan marshmallows

     

 

organic brown rice cereal

     

drops natural green coloring

     

FOR THE HAIR/MOUTH:

     

melted chocolate. coconut oil, chocolate sprinkles

     

FOR THE EYES:

     

Make googly eyes at home using Marshmallows

     

FOR THE NECK BOLTS:

     

vegan marshmallows, sliced in half

     

popsicle sticks
 In a saucepan, melt butter and marshmallows. Add food coloring and brown rice cereal and stir well. 
Allow the pan to cool down for 10 minutes and then cut into rectangle pieces and place a popsicle into each piece. 
Coat the top of the treat with melted chocolate and sprinkles and you are good to go. 
Wishing everyone a happy and spooky Halloween.