There is a difference in the way men and women behave on social media platforms. You would observe women generally share a lot on Facebook, while men would be more involved on LinkedIn. Some researchers suggest that 35 minutes spent on social media by women equals an hour for men. That's how the clock of men runs. They also spend more weekly time on YouTube as compared to women who are more hooked on to Twitter and Pinterest. Overall, it is estimated that around 71 percent of women use social media in comparison to 62 percent of men. It actually has become a craze and sometimes a requirement for people to use social media.
If you look at the differences between nations, you would find the Western countries leading the use of social media platforms as compared to the eastern World. There are more social media users in the U.S. than Japan. Also, there are differences in different kinds of social media platforms. While the average monthly time a user spends on Google+ is just 3 minutes, the figure is 8 minutes for MySpace, 17 minutes for LinkedIn and about 21 minutes for Twitter. The same figures reach 89 minutes when the user is on Tumblr and Pinterest. The most time spent by a user every month is on the leading social media platform, Facebook that solely accounts for around 405 minutes.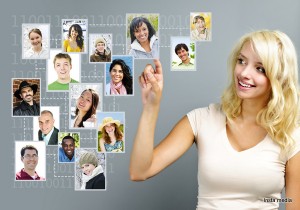 When you go to the ladies' corner, you would get to notice that Twitter has around 62 percent female user base. As compared to men, 40 million additional women per month use Twitter. That is a huge number and is more than the complete state of California! On Pinterest, you would find around 70 percent of users as females, and they are more interest in tutorials, recipes and DIYs. You would also find 58 percent women among the users of Facebook. Women handle around 62 percent of the sharing tasks. They also have 8 percent more friends on Facebook as compared to men. A funny part of it is that every 8 in 10 women complain about their Facebook friends being annoying to them! Do women know who chooses to add their friends to their lists? Well, let's compare it to figures from the men's corner.
Google+ has a better male following with around 64 percent of its users being males though most of them do not treat it as a social network. Regarding LinkedIn activity, men constitute about 54 percent of its user base. Most of them like to research on companies, reconnect with previous business associates and colleagues, and find face-to-face networking opportunities on LinkedIn. Men also watch more videos than women on YouTube. Thus, there surely are a variety of gender differences on social media platforms, and there are personal likes and dislikes that vary from men to women.