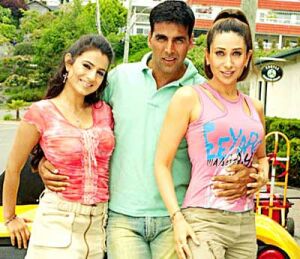 Cast: Akshay Kumar, Karisma Kapoor, Amisha Patel
After being delayed for long Mere Jeevan Saathi, is finally releasing tomorrow. This movie is based on the old funda of Bollywood 'Love Triangles'. Vicky the leading star of the movie is a struggling singer having an adorable and sweet lady in life named Anjali.
He becomes popular among masses after his first ever rock concert and because of that a leading music Company hires him where the CEO, Natasha falls in love with him. Vicky finds himself stuck in a situation when his career and Natasha's obsessive love stands on one side and on the other is Anjali's trust.
Sounds like a typical Bollywood Film, though I don't think it will be able to prove its strength at the box office but let the public decide its fate.