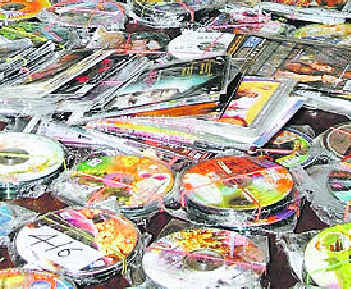 The commercial capital of the country, Mumbai has become the piracy capital of the country with at least 40 per cent of the money generated through sale of pirated CDs and DVDs comes from the city alone in the country.
According to estimate, only two million original CDs and DVDs are sold annually in the country, while 600 million pirated prints are available in the market at the same time.
Being the seat of Bollywood, Mumbai has always in the news as a piracy hub of the country. It is easier to make pirated copies of films. The police and officials from various anti-piracy agencies booked more than 350 people and raided at least 250 stalls in the city over the past six months. During these raids, pirated CDs and DVDs worth Rs 5 crore were seized. The police found that several people had set up makeshift units inside their homes to burn CDs and DVDs.
Since all those booked under section 420 of the Indian Penal Code were let off on bail, the police failed to track down the major players or the kingpins. Officials from Alliance Against Copyright Theft (AACT), a team of film-makers, production houses and anti-piracy experts, raided several places across the city in the past six months and seized pirated CDs and DVDs worth at least Rs1.5 crore.
Meanwhile, the government is taking measures to tackle the menace. The Mumbai Police would soon have a special cell to tackle piracy. At present the social service wing of the Mumbai Police deals with piracy. Also, the state has proposed to the Central Government that both buyers and sellers of pirated CDs or DVDs should be booked under the Maharashtra Prevention of Dangerous Activities (MPDA) Act.
The government believes that the average occupancy in single screens or multiplexes is around 25 per cent and this is because of piracy. Pirated CDs and DVDs lead to losses of millions for film-makers, cinema owners, or multiplex owners.
There are 2,000 shops in the country selling legitimate CDs and DVDs, but there could be thousands of stalls and shops selling pirated stuff.