While working most of us tend to have many tabs open simultaneously. You need a lot of diverse information as part of your research. Your browser becomes heavy and cluttered and it is a pain to keep opening every browser to find the one you want. This tedious process makes you lose your focus and you waste a lot of time too. To resolve this, tab extend is the tab manager which handles all your tabs and this extension does a few other productivity enhancing things too. Let's take a closer look at it:
How does tab Extend help?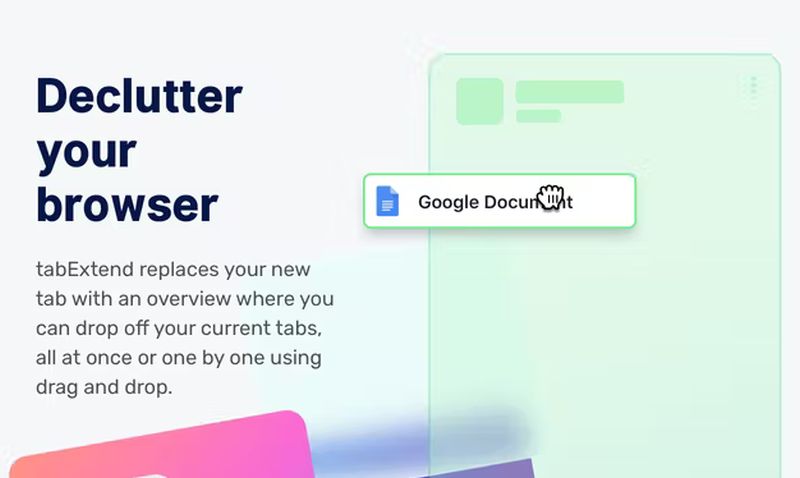 Image Source : tabextend.com
It is one of the best ways to clean up the cluttering look of your browser, and organize all your tabs. You can create different groups for different topics so that you can club similar tabs in one group. The drag and drop function is easy and convenient. All you have to do is select and tab and drag it to the group you want.
The other features are also designed to make your workflow smooth and hassle-free. Some users have used tab extend as a project management tool, as the various research can be clubbed to the relevant groups created using tab extend. This creates a clearer picture of the project and helps to finish it quicker, and note the missing gaps. Thus your work becomes more efficient and you can meet all your deadlines.
Once you add this extension to the browser of your choice, (Google Chrome, Brave, Edge) then it replaces a new tab with an overview where groups, text-snippets and notes are contained. This visual organization of makes it easier for professionals, freelancers, students and others to streamline their work.
After you download the extension, you can use drag-drop or handy keyboard shortcuts to create groups.
Features:
There are a ton of features but some of the major ones are:
1. Grouping tabs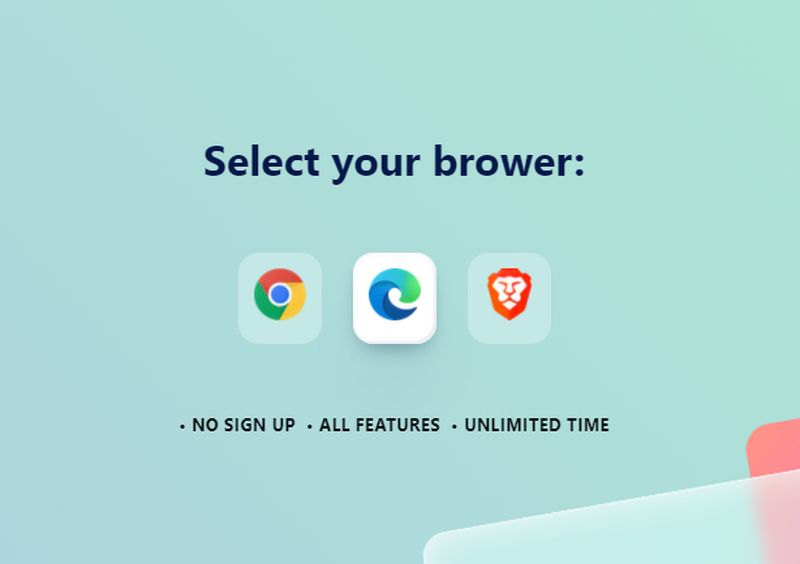 Image Source : tabextend.com
Drag a tab from your active tabs list or some other group and drop it over the green area which appears. A new group is created with the tab you have selected. You can create as many groups as you want.
You can create a group using 'Choose Save to a new group' in the Active tabs menu. This closes all the tabs and places them in the new group.
Groups can be created using the Edit menu by choosing Create new group from this menu.
However, the easiest way to create a new group is using a keyboard shortcut Ctrl + G, after you add the extension to your browser.
The clubbing of tabs results in a neat-looking tab, pleasing to the eye and transforms your entire work experience into a pleasant one.
2. Creating Notes
Another handy feature is creating notes for your project, assignments or thesis. It is a simple process – all you have to do is hover over a group and tap the rectangle that appears inside your group list. Or else, choose the 'Add Note' option in the group options.
Using the text toolbar that appears at the bottom of your screen, you can change the note to a to-do, add an emoji, change the color, copy to clipboard or even delete the note.
A list of things to do is just what you need to tick things off your list. Tab extend allows you to create a list in a note.
While working on a project or assignment, your brain keeps working while you wait for an app or site to open. It does happen that you may get a thought regarding another aspect of a project and if you do not make a note of it, you forget about it later. Tab extend helps you to note and save every thought that you have, so that you never have lose any of your brilliant ideas ever.
Sometimes you are completely immersed in your work, and the flow is going great only to be hampered by a slow opening site  – in this case also you can continue to work on your note and incorporate it later into the project.
3. Auto-synced workspaces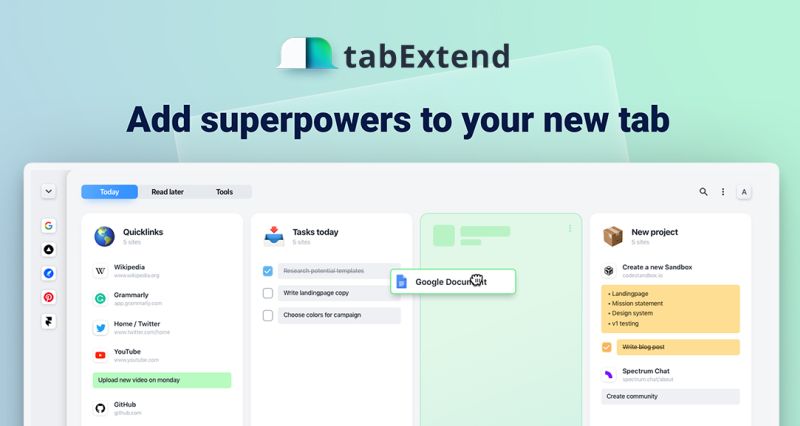 Image Source : tabextend.com
Tab extend is more than just a tab manager – all your workspaces are synced automatically to the cloud so you can access your data from different devices. You can work from any device as per your convenience. No need to be tied to your desktop – you can complete your work anytime, anywhere.
4. Security
Your data is always protected when you use this extension. Protection of data is of utmost importance as information and data is the real wealth in today's world. You can add the extension as it has proved to be quite secure and the user's data is always protected. 
The people at Google, Uber, GitHub, Twitter, Airtable, and Freshworks are some who have used tab extend to increase productivity and streamline their work. You could take a free trial and use all the features and upgrade later.