The day was 26th February, 2019. Indian Air Force launched an air strike inside the Pakistani LOC as a retaliation for the Pulwana attack of 14th February, slashing the darkness in the middle of the night, and bringing a new dawn in the military history of India. Everyone cheered for the IAF's grit and bravery. But the very next day, Pakistan sent an F-16 across the Indian LOC to showcase the nation's might. The mission failed, as Wing Commander Abhinandan Varthaman shot the fighter jet halfway in air, forcing it to crash to the ground.
However, F-16 wasn't the only fighter jet that crashed that day. Varthaman's carrier, MIG-21 hit the ground, and to save his life, the commander parachuted to safety, albeit on Pakistani soil. This resulted in his capture by the Pakistani Army. Soon, the Pakistani government officially made an announcement of the same. And India, unrelenting in front of the rival nation, continued to pile up international pressure on it. This concluded in Pakistan releasing commander Varthaman within 24 hours of his capture, as a peace gesture – a historic decision, taken for the first time in 72 years.
This makes us think – Was this a diplomatic win for India after she managed to single out Pakistan as a threat to the world? Or has Pakistan emerged victorious on the moral ground by initiating a peace talk? Let us have a look.
A New India, A New Victory?
Image Source : js.newsx.com 
Considering Pakistan's terrible record of treating the army officials from an enemy nation, Pakistan's decision to release Abhinandan Varthaman unharmed comes as a huge diplomatic win for the Indian government. By building enough political pressure on Pakistan, India has ensured that the world is in her favor this time. Pakistan knows this very well, and this forced the PM of Pakistan to appear on live television, announce the release the army captive, and propose a peace talk. After all, even a single scratch on the Wing Commander's body would have resulted in Pakistan being pushed to the corner by the world powers for a long, long time.
Secondly, India has finally sent a strong and clear message to Pakistan – This is a new India, and it will not tolerate even a single, slight attack on its soil anymore. With global powers such as USA and China speaking in favor of India, Pakistan had no option but to release Varthaman and request peace. Diplomatically, India has an upper hand. The entire country is proud that one of the army "superheroes" has been able to withstand the captivity period without a frown on his forehead and managed to escape unscathed. The nation is now taking a clear stand against Pakistan's attitude to terrorism. And overall, India feels that it is now in a more secure and strong position than it ever was. But does that mean that Pakistan has walked away from this dialogue empty handed? Opinion says, unlikely.
Has Pakistan retained its stand on a higher moral ground by releasing Abhinandan Varthaman?
After the Uri and Pulwama attack, the Indo-Pak tension had flared to non – scalable heights. Almost every major economic power in the world turned sympathetic towards India and offered its support in the fight against terrorism. This placed Pakistan in a sensitive spot diplomatically. Moreover, the Indian air strike on Pakistan was labelled as a justified retaliation on the part of the Indian Army. If that wasn't enough, Pakistan made two of its biggest mistakes by first crossing the Indian LOC and trying to attack its military base. Secondly, it circulated fake images of its own failed air strike in an attempt to make it appear successful. Too many cooks spoil the broth. In Pakistan's case, this proved to be true.
When Pakistani army captured Abhinandan Varthaman, it made an official announcement of the same to try to gain an upper hand and force India to negotiate on its terms. However, this too, backfired on Pakistan. A lack of homework on its part, and Pakistan failed to recall the regulations of the Geneva Convention. This forced the PM of Pakistan to release Varthaman and hand him over to India within 24 hours of capturing him. And to avoid falling flat on its face, Pakistan guised its defeat under the name of peace gesture.
All being said and done, one cannot deny that this has placed Pakistan on a higher moral ground than India – at least, the way Pakistan sees it. The Indian government was preparing itself for a war, and Pakistan tossed the 'peace' word at India. For now, it looks like war isn't on the cards. And Pakistan is set to take some credit for the same. The question of how long this peace gesture will last if India accepts it, is a discussion for another time. If history is anything to swear by, Pakistan cannot be trusted when it comes to peace. Plus, a government that allowed Pulwama attack to take place, a military that let terrorist camps survive and thrive relentlessly and a nation that continues to exist on the mercy of international monetary aids might not be able to blossom on peace and silence.
So who has the upper hand?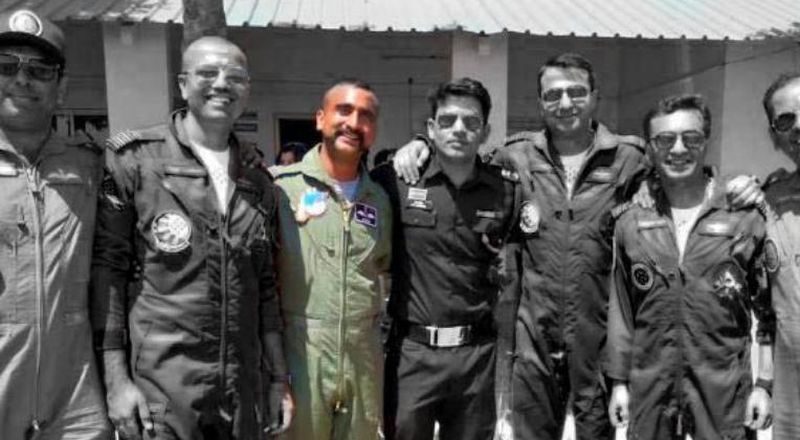 Image Source : akm-img-a-in.tosshub.com/indiatoday
While Pakistan might have diverted any strict action coming its way by proposing a peace talk with India, the truth about its claims remain to be tested. As of now, it is clear that even though Pakistan has secured itself morally (pun intended), India has moved onto a stronger, bigger, and better diplomatic position in the world. Today, on 1st March, 2019, Abhinandan Varthaman will return to his homeland – safely. It might look like Pakistan has done India a favor by returning him without any harm and has won this battle of strength and wit. But there is no doubt that in the longer run, India has established herself as a power to be reckoned with. There is no need for a war. But if there is ever a threat to the nation's safety, India has made it clear that it will stop at nothing. How much of this can be said of Pakistan?