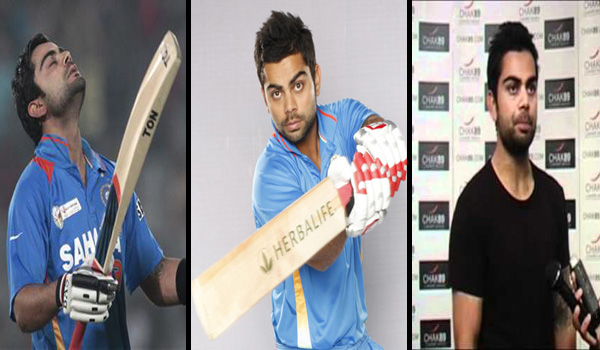 Virat Kohli has slowly become one of the most talked about cricketer in the Indian team. Growing in confidence, this young guy from Delhi has turned out to be a big name in the International Cricket circuit. He started his career as a middle order batsman but has been lucky enough to do an opening in few matches and now he is a regular 1st down batsman for India.
The brave-heart who played on the day his father died
Year: 2006
Kohli first came under limelight in 2006 when he played to save Delhi in Kotla against Karnataka on the day of his father's death. Despite being told to go back and stay with family he chose to bat and scored 90 runs which eventually turned out to be beneficial for the Indian team.
Belligerency of leader
Year: 2008
Kohli was the captain of the triumphant Indian team at the 2008 under 19 Cricket World Cup. He batted at No 4 and maintained an average of 47 runs summing up to a total of 235 runs in 6 matches. He made a century against the West Indies in the same world cup. He was also acknowledged for making many bowling tactic changes during the tournament. His mother was overwhelmed with his performance and credited the game of cricket which made him mature. She also said that for Virat, cricket is something detachable.
Into the League of Premiers
Year: 2008
Indian Premier League 2008 did not get much of Kohli. Though he was bought with great hopes by the Royal Challengers Bangalore, which is Vijay Mallya's team for $30,000, but he managed to score only 165 runs in 13 matches maintaining an average of only 15 runs.
The Player who truly 'Emerged' in Emerging Players Tournament
Year: 2008
In the 2008 Emerging Players Tournament, held in Australia Kohli's part to lead India to victory was crucial. In the final match which was against South Africa, Kohli played a brilliant knock, scoring a century and this was the primary reason of India's triumph. The game was won by 17 runs and he was the leading run scorer of the tournament, with a total of 398 runs which included 2 centuries and 2 half-centuries.
Donning the National Jersey
Year: 2008
Kohli was selected in 2008 ODI team for India's tour of Sri Lanka. In the Idea Cup of 2008 when both Sachin and Sehwag were sidelined due to injury, Kohli made his debut in the world of ODI's against Sri Lanka. Though his first match was a mess with only 12 runs in his account, but he managed to secure 37 runs in the second match when India was on the verge of losing and his 54 runs in the fourth match was instrumental in assisting India to win the series.
Backbone of Indian Batting line-up
Year: 2008-2011
Kohli played as a replacement player in behalf of Yuvraj Singh in the 2009 ICC Champions Trophy. In the fourth ODI of The India Tour to Sri Lanka in December 2009, due to the absence of Yuvraj, Kohli got a golden opportunity to play thereby leading to his first century in the ODI. He shared the field with Gautam Gambhir and they made 224 runs in partnership. India won the match by seven wickets and eventually the series by the ratio of three wins against one loss.
In 2010 tri-nations tournament in Bangladesh when Sachin was unwell, Kohli played 5 matches for India. In his first match against Sri Lanka he only managed to get 9 runs but later in the tournament he made a top score of 91 runs to facilitate India's win against Bangladesh. He then scored 71 runs to aid India to win the match. The very next day he made his second century in the ODI against Bangladesh. Not only was he praised for his outstanding performance throughout the tournament but also became the third batsmen after Sachin Tendulkar and Suresh Raina, to score two ODI centuries before the age of 22.
In June 2010 he became the vice-captain of the Indian team for the tri series against Zimbabwe and Sri Lanka. He was tagged as the fastest Indian to get a score of 1000 runs in ODI cricket. In 2010 he became India's leading scorer with total of 995 runs in 25 matches, with an average of 47 runs. In the 2011 World Cup he became the first Indian to hit a century in his world cup debut. His partnership with Gambhir to secure 83 runs was vital for the victory of the final match against Sri-Lanka.
Drafted into White for the real 'Test'
Year: 2011
During the West Indies tour in 2011 Kohli was selected with a few more uncapped players. His test debut was not very amusing initially as he was dropped off from the series against England due to his poor performance in the West Indies Tour . He was soon called back to replace Yuvraj Singh. The subsequent ODI series turned the tables for Kohli as he scored brilliantly and assisted in victory for the return back ODI series against England, making a score of 270 runs for 5 matches.
Sensational knocks and ascendency to Vice Captaincy
Year: 2012
In the tri ODI series held in Australia, Kohli became the highest scorer with 373 runs in his account, which included two 50s and one century. Though this did not lead India to victory but he was awarded man of the match for his terrific performance. He is also awarded the vice-captaincy of the Indian team for the 2012 Asia cup.
He secured 183 runs out of 148 balls against Pakistan in the Asia Cup 2012. He helped India to get a high score of 330 runs with his 22 fours and 1 six. This is the highest score in the ODI'S and in the history of Asia Cup.