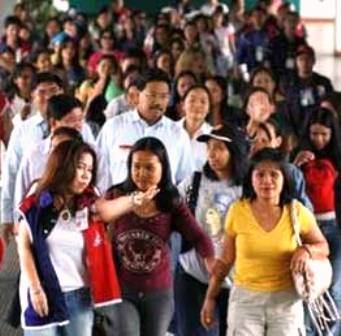 Many Filipino dreams of going abroad are temporarily shattered as 10,000 overseas Filipino workers (OFWs) are facing delays due to the suspended operations of many local recruitment agencies in the country.
It was dismay for many Filipinos who have set their minds of working abroad to find a decent job. I wonder if the Department of Labor and Employment (DOLE) in conjunction with the Philippine Overseas Employment Administration (POEA) gave a notice to the recruitment agencies about the new regulation on the renewal of licenses.
Such suspension of the operations of these agencies is angering the souls of OFWs who have sacrificed a lot and decided to leave their families behind to work abroad. Some came all along from the remote provinces, exhausted their means to collect a big amount of money to be used as their application fee and other expenses while applying for the job.
Because of the expiration of the licenses of these recruitment agencies, around 50 recruitment agencies can not continue deploying 10,000 OFWs a month and would need an ample time in fixing the renewal of their permits.
Is there any way that we can do to expedite the permit renewals so that the hopeless hearts of OFWs will once again have the eagerness to pursue their dreams in another nation?
A recruitment officer, who chose not to be identified, said although the POEA is currently processing job orders, the OFWs still need to wait for the new licenses to make the processing, the hiring, placement and all other employment activities valid. Without such permits, everything will be illegal and void.
As the waiting is prolonged, this may lead to a crisis and workers might go for a strike or demonstration about their fate of having complete papers and yet can not go out of the country to work abroad. The government will certainly be blamed for inefficiency if ever these license renewal problems will not be resolved.
Former Labor Secretary Arturo Brion, now one of the justices of the Supreme Court, is even making things difficult for some agencies since he made an order of not renewing the licenses of those recruitment agencies that have pending cases.
I am hoping this will be resolved by the DOLE and POEA in helping the OFWs be deployed to their respective country destinations soon.