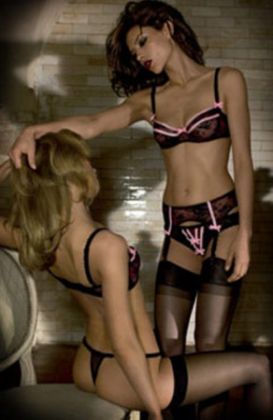 After Kate Moss and Maggie Gylenhall, Catharine Bailey becomes the newest face for Agent Provocateur. The advert campaign will be called, "The Adventures of Miss AP." But Catharine Bailey's stint will not be as long as her predecessors, she will be followed soon by the model and wife of David Bailey, Catharine Bailey.
'God like very intimate clothing' preparer (that's finer way to describe the brand in a line, a bit fuglier way would be, most shocking brands of lingerie preparer) Agent Provocateur has signed up Catharine Bailey after analyzing more than a dozen similar profiles (and their coverage in the mainstream media). We don't know how much true is the rumor of 3i buying AP, but roping in Catharine Bailey for an undisclosed sum seems whatever may happen to the mother brand the bottom line of the business is right on track.
The campaign will consist of four
"sexy adventure books." The first episode is called, 'Lessons in Lingerie' and the second episode, "Lady of the Manor" while the remaining episodes are still under the wraps.
"Catherine Bailey has the most incredible presence," says Serena Rees, co-founder of Agent Provocateur, to vogue. "She has the ability to walk into a room and you know she's there without even looking. Then when you do look, you are mesmerized by her striking beauty, her strength, her femininity and her sexuality. She is a true AP woman."
Catharine Bailey Agent Provocateur The Adventures of Miss AP sexy adventure books Lady of the Manor
Link