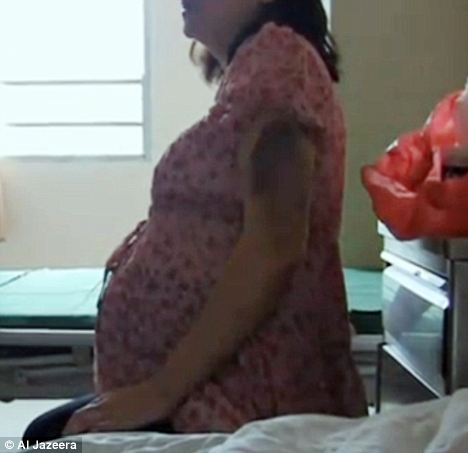 If China wants to be respected in the global sphere it needs to do away with some of its abominable laws including the one-child per family policy. I'm not one who believes in giving birth to a zillion children, with diminishing world resources and especially when you can't afford them, but forcing a woman to have an abortion at 8 months pregnant, against her will, is unconscionable. This is what happened recently to a Chinese woman, Xiao Aiying, 36, who was 8 months pregnant with her second child. What happened to her is tragic, and the manner in which it happened was horrendous. The struggling woman was dragged from her house screaming by 12 local government officials to a hospital where she was injected with an abortion-inducing drug. The officials had actually kicked and hit the poor woman in her stomach before hauling her off to get the abortion. Her construction worker husband, Luo Yanquan, described the whole ordeal:
'They held her hands behind her back and pushed her head against the wall and kicked her in the stomach,' he said. 'I don't know if they were trying to give her a miscarriage.
'Our ten-year-old daughter has been excited about having a little brother or sister but I don't know how I can explain to her what has happened.

He recalled how a month before the child was due to be born officials told the couple they weren't allowed to have another baby because they already have a daughter.
His wife, who was filmed in hospital with large bruises on her arms and her dead child still inside her, said: 'I have had this baby, feeling it moving around and around my belly. Can you imagine how I feel now.'
Although forced abortions are officially banned by the Chinese government, it doesn't stop local officials from meting out punishment for violating the one-child law ban. There had been some talk that China might relax the family planning laws, but that never happened, and they don't plan to make changes any time soon.
Because of the one-child law there is now a surplus of men, and it's estimated that at least 13 million fetuses are aborted a year. Though some are voluntary, many are forced by local government officials. And because males are valued over females, particularly in rural areas, female children are often killed. Some wealthier middle class couples can afford the up to £25,000 fine that comes with violating the law, but couples like Xiao Aiying and Luo Yanquan who can't afford the exorbitant fine, suffer through forced abortions.
A town official in the Siming district where Xiao Aiying lives claims the abortion was voluntary, the couple begs to differ. Now they fear that they will be further punished by local authorities for calling attention to what happened to them. And, I'm sure they will be.
As advanced and open China has become in recent years they have a hug way to go.