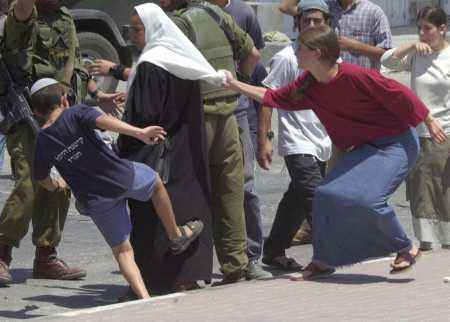 Israeli settlers living the values of Zionism: attacking Arabs.
The pro-Israel American media often likes to portray fanatical Israeli settlers as romantic pioneers seeking to tame an unruly land and – as the Zionist cliche goes – 'make the desert bloom' and whom embody a spirit no different from the early American pioneers who conquered the 'New World'.
Of course, America's pioneers were not benign visionaries, but, rather, European settlers who saw the Native Americans as innately inferiors and thus all manners of disposition and massacres were justified against them in the cause of securing more land for the 'White Man'. The Alamo, a symbol of American patriotism, is in historical reality a reflection of U.S. racism, white supremacy and imperialism.
The Israeli settlers must take heart since they operate under the same ideology of viewing the Palestinian Arabs as dispensable human beings who are accorded no rights to life or land, and all violations of human rights and dignity war not only justified but divinely sanctioned for God (so they believe) has blessed the land exclusively for the Jewish people.
These settlers – deemed illegal by all standards of international law – are most religious fanatics who routinely kill Palestinians and destroy their property, and even attack Israeli troops in the cause to expel more and more Arabs and secure more and more land to Jews. They have no regard for any sense of rule of law or humanitarian compassion, instead they are infused with a fanatical ideology of hate and colonialism. This is rarely seen in the U.S. press.
If all opinion makers visited the hills South of Hebron – like NYT's Nicholas Kristof just did – the occupation would end in a few months.
Hebron city, with a community of extreme settlers in its heart, is bad enough, but South Mount Hebron is even worse. The Palestinians there are as poor as you can find in the West Bank, many of them leaving in caves, and the settlers – many of them from the so-called 'illigal outposts' – are as violent as they come. In recent years, the army started escorting the Palestinian kids on their long march to school, because the settlers threw stones at them.
These are settlers who routinely beat up Palestinians and are dealt with impunity by the Israeli state:
And they also attack children:
Anas E. (9) was attacked and beaten by five settlers in the Old City of Jerusalem, in the Occupied Palestinian Territory. Anas lives in the as-Saraya neighbourhood, in the Old City of Jerusalem. Last August, during Ramadan, Anas and his younger sister, Bara' (8 years) were invited for an evening meal at their uncle's house who lives nearby. 'It was around 6:30pm,' recalls Anas, 'my sister had already gone to my uncle's house and I was getting ready to follow her. As I walked out of the house I saw five settlers. They were orthodox Jews. They were wearing black jackets and trousers and had long ringlets in their hair,' says Anas, 'they were old; around 30 or 40. No one else was in the street, just me and them.'
And Time reports on the Jewish supremacist settler thugs and terrorists:
But Palestinians, who tend to live in the valleys of the strikingly beautiful West Bank, complain that the Israeli military continues to favor the settlers, who build on the hilltops. And the scene just outside Bureen gives weight to the charge. The rows and rows of trees set alight there stand just yards from an Israeli military checkpoint on Highway 60, the West Bank's major road. Its steel and concrete watchtower commands a clear view of the scene of a crime that locals say has gone unpunished. "There is no justice here," says Atef Abu Al-Rob, a field reporter for B'Tselem, an Israeli human rights group. "When [Palestinian] kids attack cars, they respond. When 100 settlers attack, they don't respond."

Much as the Palestinian cause was defined for years by terror attacks, settler violence threatens Israel's international image. Already burdened with the label of occupier and colonizer for building on Palestinian land taken in the 1967 war, Israel's settlements are the hinge on which peace talks have swung shut. The Palestinian Authority says it will refuse to talk while Israelis build homes on the land that would form their half of a two-state solution.

The international attention serves to amplify bad behavior that human rights advocates call routine. "Greetings from the hills" was the message spray-painted in Hebrew on the scorched outbuilding of a girls' school near Nabulus earlier this month. Two weeks earlier a mosque was set afire outside Bethlehem; the Hebrew graffiti there insulted the Prophet Mohammad. "We have our share of lunatics, no doubt about it," says Daniel Dayan, chairman of the Yesha Council, which represents the West Bank settlers. "It's the single issue that causes us the most damage, but first of all I oppose it on moral grounds."

Bureen, a village of 3,500 just south of Nablus, nestles in a valley surrounded by settlements and "outposts," the nascent settlements not technically authorized by the Israeli government, and often populated by militant young Israelis. Last year, someone cut 81 of the olive trees that Bureen resident Akram Omran relies upon to support his family. This Aug. 31, as the olives ripened, another 17 trees were cut. His neighbors heard branches falling and voices speaking Hebrew. Omran phoned the Israeli authorities, but "of course they didn't do anything," he says.

Omran is down to 45 trees, and fears the worst. Like the stumps of the others, they stand near the settlement called Yizhar. The word means "oil" in the ancient Hebrew that harks back to the Bible that settlers say promised them the West Bank, which they call Samaria and Judea. "There are clashes here between Palestinians and Israelis, no doubt about it," says Abraham Binyamin, a softspoken social worker who acts as spokesman for the 200 families in Yizhar. "There is a conflict here over to whom this land belongs. It's mutual and sometimes it goes to violence."

New houses are going up on the hilltop, and legally so (in Israeli eyes), now that Prime Minister Benjamin Netanyahu has ended on schedule the construction freeze President Obama demanded as a condition of talks. For a month now the prime minister has vacillated over renewing the freeze, but the settlers speak with an assured calm. "The settlement movement is not willing to give up," says Binyamin. "It's not only the West Bank, it's much broader. It's the fight for our Jewish identity in the area." He does not deny attacks on olive groves, but prefers to describe earlier attacks on settlers. He says the future will be determined in part by whether Europe recognizes "the Muslim invasion," and in part by Israeli society, itself split on the question of settlements.
The view from the hilltop is stunning. Binyamin's smile is knowing. "I'd love to sit in the valley," he says. "We're caught up in a conflict of people against people. I hope the guy from Bureen will have a good future. But all my efforts will be to assure that his future won't be here. Because this land belongs to the Jewish people." With reporting by Aaron J. Klein/Bureen
This is Israel.