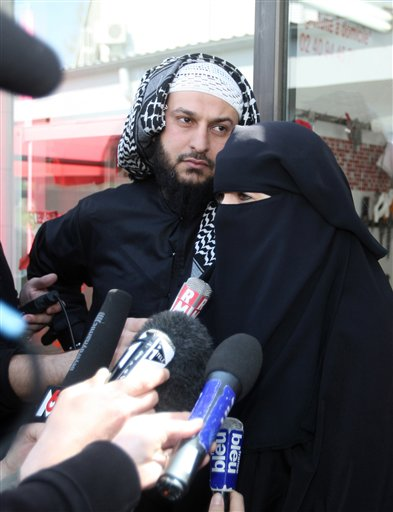 It never fails to amaze me how stupid some people can be. Take that unnamed French Muslim woman who was fined a mere $29.00 for driving while wearing a niqab. Traffic officers deemed it was a danger, since it obstructed her peripheral view, but rather than pay the fine, and be done with it, the woman decided to make a major issue out of it by hiring a lawyer and approaching the media. Claiming her religious rights had been violated, the 31-year-old told LCI television
"My eyes were not covered. I can see just like you and my field of vision was not obstructed," said the woman, who did not give her name. She said she would appeal against the decision.
Well, it turns out that the woman's husband is an Algerian-born immigrant who received French citizenship in 1999. He also happens to be a polygamist with four wives (she's the fourth) and a whopping twelve children between them all. The problem is not only is polygamy illegal in France, they're all on welfare.
"Each of these women benefit from single parent benefits and … each one wears the full veil," Interior Minister Brice Hortefeux said in the letter seen by Reuters, adding he had asked the local authorities to look into possible benefit fraud.

"I would appreciate it, should these factors prove true, if you could study whether this individual could be stripped of the French nationality," Hortefeux said, addressing Immigration Minister Eric Besson.
Ooops!
Now had this stupid woman just paid the fine and kept her silly niqab-covered mouth shut, they probably would not have delved into her personal life and discovered she was part of a polygamous harem being supported by the French taxpayers. She would have continued to live in obscurity, beneath her black sack of cloth, along with her sister-wives and brood of kids. Who knows what will happen now, but she certainly deserves to suffer the consequences for making an issue out of a non-issue.