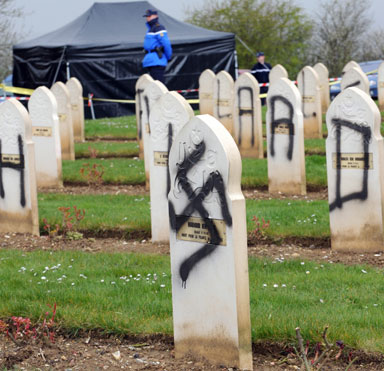 The love-hate relationship between extremist and not-so extremist Muslims and Nazis is mind boggling, but the relationship dates back to Hitler's time, even though in those days there weren't really any extremists to speak of. At least not as we have in this day and age. I find it rather bizarre, considering that other than the common hatred of Jews and world domination, there is nothing much else in common between the two. In fact, Hitler wanted an Aryan race and started spreading out across Europe to achieve that goal. As far as Hitler was concerned, Arabs would not have been considered Aryan and would eventually have wound up on the chopping block, had Hitler prevailed. And yet, pro-Palestinian groups seem to love the man. This video, at a pro-Hamas demonstration, actually shows people shouting "God Bless Hitler".
And neo-Nazi, white supremacists were just as elated as many Muslims after the 9/11 terror attack, so much so that they were praising Bin Laden for the act of terrorism. But what Muslims don't realize is that would be the first to be thrown under the bus, along with Blacks, Hispanics and other Asians once Jews were eliminated.
But it's not always love that Neo-Nazis show for Muslims; their disdain is often demonstrated in other ways like desecration of Muslim graves in France's war cemeteries. It's ironic that Muslims would ally themselves with neo-Nazis simply for their hatred of Jews when they are hated by those white thugs at the same time.
PARIS – Vandals have desecrated the graves of seven Muslim soldiers who died fighting for France in World War II, the defence minister announced, expressing "deep indignation."

"I wish to express my deep indignation at this ignoble and cowardly act," Herve Morin said in a statement Thursday after the tombstones were toppled at a military cemetery in the southern city of Tarascon.

"I bow before the memory of these soldiers with more emotion now that the ultimate outrage appears to have targeted them for their religious beliefs," he said.

Morin said the soldiers had given their lives for a "free, just and generous" Europe and France.

The regional Muslim council said the tombstones had been toppled and three of them were smashed. There are 130 graves in the cemetery, of which 17 belong to Muslim soldiers.
And this isn't the first time Muslim war graves have been defiled.
On April 2008, four youths have been arrested in connection with the desecration of 148 Muslim graves at France's biggest war cemetery.

They are believed to be linked to a group of neo-Nazis who scrawled swastikas on 52 Muslim graves in the same cemetery in April 2007.
Desecrating any grave is beyond the pale, and hopefully they will catch the miscreants, and they will be punished. But on the other hand, one would hope that Muslims start to choose their friends with a little more clarity. Choosing the devil because you have a common hatred just makes you one as well.