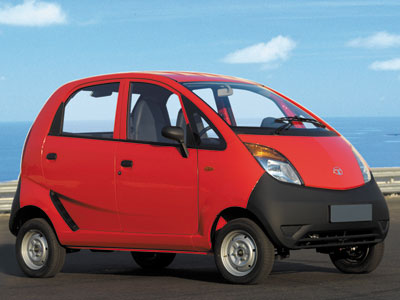 The current global financial crisis has been particularly hard on the auto industry throughout the world. While car production has plummeted in the US and most of the world including Europe, India's auto-industry has planned to stay steady against the economic challenge by manufacturing the world's most inexpensive car – the Tata Nano. Expected its official launching next week, the Tata Nano is priced at only 2000 USD. The Tata Nano, which is due out in the dishy shape of a jelly-bean, will be cheaper than some hi-fi laptops and especially targeted at the middle-class customers in the South Asian region.
Though the news of Tata Nano's advent is a cheerful one, certain challenges face the product's sale and marketing. The initial sales are expected to remain low due to the notable cut in people's earnings following the global economic crisis which has affected the Indian job market most severely in the past 6 years. The company also foresees a limited production in the first year – no more than 50, 000 cars – due to problems with the functioning of the manufacturing plants. The sales of Tata Nano will, therefore, be limited by production and not following the customers' demand.
Despite the initial challenges, the Tata Nano is likely to be the winner in the long run, especially when the economy starts recovering from the depression. It is yet to be seen how the environmentalists plan to protect the atmosphere from loads of vehicular emissions coming with large-scale sales of as affordable a car as the Tata Nano.