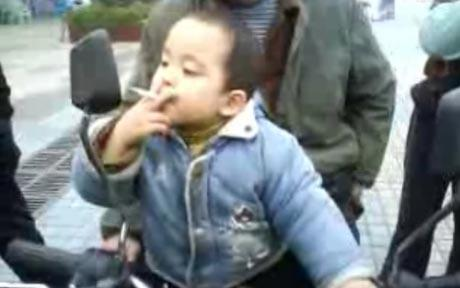 Mohammad Rizal gets the Indonesian stupid father award of the year for getting his 2-year-old son Ardi hooked on cigarettes after giving the boy his first puff when he was only 18 months old. How insanely stupid is that?! Now the child throws tantrums if the dad doesn't give him his cigarettes, and Mohammad seems to think its okay since the child looks healthy.
"I'm not worried about his health, he looks healthy. He cries and throws tantrums when we don't let him smoke. He's addicted."
Well, sure the kid looks healthy now, but the dad is practically giving his son a death sentence starting him off on cigarettes at a deplorably early age.
What would possess a father to give his 18 month old child a cigarette? But it seems it's a common practice in Indonesia since he's not the only young child to be addicted to nicotine.
Data from the Central Statistics Agency showed 25 percent of Indonesian children aged 3 to 15 have tried cigarettes, with 3.2 percent of those active smokers.

The percentage of five to nine-year-olds lighting up increased from 0.4 percent in 2001 to 2.8 percent in 2004, figures from the agency showed.
The problem is, Indonesians love their cigarettes. The country ranks as one the top consumers of tobacco in the world. And even though the government passed a law in 2009 acknowledging the addictive nature of smoking, not much has been done to stymie the advertising blitz that continues to target smokers and potential smokers. And anti-smoking lobbyists are having a challenging time with the tobacco industry which opposes any bans on advertising. It also opposes a proposed ban on smoking in public places and including warnings and graphic images on the cigarette packaging, which would hopefully deter people from smoking.
The government is still trying to do something about the problem.
Benny Wahyudi, a senior official at the Industry Ministry, said the government had initiated a plan to try to limit the number of smokers, including dropping production to 240 billion cigarettes this year, from 245 billion in 2009.

"The government is aware of the impact of smoking on health and has taken efforts, including lowering cigarette production, increasing its tax and limiting smoking areas," he said.

Mr [Seto] Mulyadi said a ban on advertising is key to putting the brakes on child and teen smoking. "If cigarette advertising is not banned, there will be more kids whose lives are threatened because of smoking," he said.
At least several men have the right idea:
Tubagus Haryo Karbyanto, a member of the National Commission of Tobacco Control, said Indonesia must also address the social conditions that lead to smoking, such as family influence and peer pressure.

"The promotion of health has to be integrated down to the smallest units in our society, from public health centres and local health care centres to the family," he said.

Seto Mulyadi, chairman of Indonesia's child protection commission, blames the increase on aggressive advertising and parents who are smokers.

"A law to protect children and passive smokers should be introduced immediately in this country," he said.
I realize children will access cigarettes whether a parent offers them one or not, but there should be tighter restrictions. Parents need to be educated that giving a child a cigarette at 18 months is shear stupidity and is, in effect, child abuse. And people who sell young children tobacco should also be fined. I purchased my first cigarette when I was about 13 or 14 when I lived in Ireland. My friend and I would go to our local shop and buy a few cigarettes and smoke to our hearts delight out in an open field. We should never have been allowed to purchase them. Those first few cigarettes led to a 3-pack per day habit, that I was finally able to kick in my late 20s. But I was terribly addicted and it was terribly difficult and I still have dreams about smoking.
Now this would be one positive fatwa Indonesian clerics should make, instead of all the other stupid ones they love to issue.