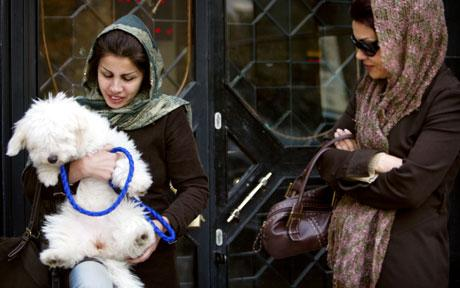 Iranian clerics are slowly becoming more and more like those loonies in Saudi Arabia (although King Abdullah is trying to put a cap on that) and al-Shabaab in Somalia. Although al-Shabaab are ridiculous Islamic militants trying to gain rule in a fundamentally lawless land, by passing asinine fatwas against pretty much everything and anything, Iran is a modern, civilized (other than its rulers) country. Yet, Iran has been issuing fatwas that rival those from al-Shabaab and some of the clerics in Saudi Arabia. It seems as if Saudi Arabia is slowly trying to drag itself out of the dark ages, while Iran is digging a big, deep hole to climb back in.
This year, Iran issued a fatwa regarding men's hairstyles. And a fatwa against suntanned women, and non-compliance could land a woman in jail . And now, there's a fatwa against a man's best friend- 'dogs' . It also includes advertising anything to do with pets.
What started off as a fatwa by the Grand Ayatollah Nasser Makarem Shirazi, has turned into a state-sponsored fatwa by the Iranian Ministry of Culture and Islamic Guidance. Back in June, Shirazi claimed that since dogs are 'unclean' (well, yeah, so are some human beings), that Iranians who owned dogs were
"blindly imitating the West" and that their devotion to the animals would result in "evil outcomes".

"Many people in the West love their dogs more than their wives and children," he said.
Evil outcomes? Like what? Sure there are some crazy people like the woman in Florida who left her millions to her Chihuahua, but that doggy probably loved her for who she was and not her millions. All joking aside, what is this cleric thinking? Dogs existed back in Mohammad's day and there are some who claim he owned one. In fact, Shiraz even admitted that nowhere in the Qu'ran, per se, does it mention that dogs are forbidden or that humans are to have no contact with the animals. It does mention that you should clean a bowl seven times if licked by a dog, but that's just common sense, although seven times is a little obsessive.
Apparently, guard and sheep dogs are okay, but what about seeing-eye dogs for the blind? In the U.K. Muslim taxi and bus drivers have refused to transport blind people if they have a guide-dog in spite of the fact that they don't have to touch them.
So, now anyone in Iran who is caught with a dog, either in their car or at a park will be fined.
And forget advertising pet, food, pets or anything to do with pets, because that has been banned, as well, because that too is part of the "decadent" Western culture. Right. It's so, so evil and decadent and Western to have a pet, which studies have proven to be very therapeutic to the old and infirm.
What I want to know, are cats okay? Or is it just dogs, because cats are just as 'unclean' in their grooming habits as dogs.
It's all just so ridiculous.