A growing fear in the western world has become that Asian-owned businesses are growing at such an alarming rate in countries like the US and the UK, that they may well own them not so far in the future. Coupled with a back breaking recession and high levels of joblessness for the local youth, these fears may not be completely unfounded. And now, fueling those fears are popular urban legends that claim that Sheikh Hamad bin Khalifa Al Thani, the Emir of Qatar, has "bought London"!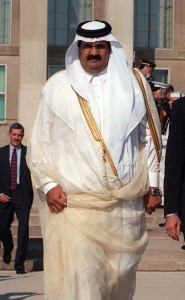 The sheik is the current foreign minister for Qatar and the chief of Qatar Investment Authority. What's truly extraordinary about the sheik is the fact that he owns a heck lot of stakes in the London Stock Exchange and its premium companies like Shell, Barclays and Sainsbury's. Qataris have high profile investments in as many 30 countries though Sheikh Hamad bin Khalifa Al Thani is one of the most visible ones in the UK since he owns billions of pounds worth of property around London including the InterContinental Hotel on Park Lane, the Shard of Glass in London. The good sheik also owns Paris Saint-Germain FC and Harrods!
Qatari Diar, the property arm of the Qatar's international ventures, has been hard at work trying to obtain and develop some of the most prestigious and high profile addresses in the UK capital. However, what is truly disturbing about these ventures is that no one knows for sure which of these projects are owned by the state of Qatar and which are owned personally by people like Sheikh Hamad bin Khalifa Al Thani and other members of Qatar's ruling elite.
A rough estimate suggests that Qatar or the sheik himself has a budget of between $100bn and $200bn to spend on the international land grab. And while the discontent against foreigners like the sheik being allowed to own posh plots throughout London has grown considerably in the public (hinted at through crime-comedies like RocknRolla made by Guy Ritchie), corporates in London view Qataris as positive influences on the British economy. Despite their reputation as canny dealmakers, Qatari investors like Sheikh Hamad bin Khalifa Al Thani are generally considered the nice guys with lots of money to spend on "the development of the London skyline". And that is precisely why no one is taking too much notice of the fact that if the current trends are allowed to exist, the sheik might end up owning more chunks of London that the British.