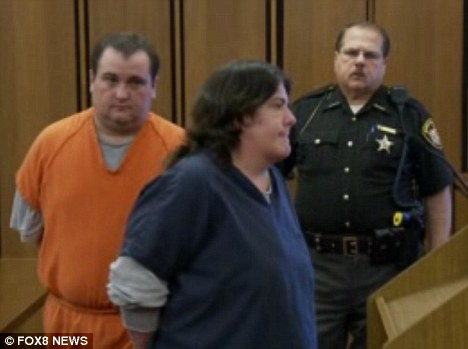 I took a few days off from writing, and was sickened to find so many horror stories about cruelty to others on my usual daily reads. I just can't fathom how cruel people can be to others, especially their own children. But almost daily you read about the terrible things they subject their kids to, and it's truly sickening.
But several stories stood out as particularly horrible, although any abuse of children is horrific, because these mothers had quite a few children, and probably should never had any at all.
37-year-old Andreia Huffman, has eight kids. For four years she tortured her 8-year-old son, by hog-tying him (tying legs and feet behind his back) most evenings, and for 6 months she forced the boy to stand facing the wall. If he moved, Andreia would smash his little face against the wall, and eventually broke the poor lad's nose. It wasn't until his 15-year-old brother finally told the police about the abuse that the torture finally stopped, and the parents were arrested. Andreia received 34 years without parole for her cruelty and the 32-year-old father, Jason Dunikowski, received 26 years without the possibility of parole; because although he claims he did not actually do any of the abusing, he witnessed it and didn't do a damn thing.
According to one of Andreia's daughters she was forced to tie the boy up and the father witnessed it all.
Huffman also forced one of her daughters to hog tie the boy to a coffee table.

Her partner, 32-year-old Jason Dunikowski, claimed he had not taken part in the abuse – but the daughter, who spoke before the sentencing, said that was a lie.

'He seen it everyday happen,' she told the court.

'He was two inches away from this child every night when I was told to tie him up and it hurts me to this day that I had to do that and I'm still shaken to this day because of it.

'I don't know what to say about it except it hurts me to see that I can't have my whole family together again.'
Even though the prosecutor's asked for a light sentence, the judge refused. And rightfully so. The boy, who is now in foster care, is apparently now crippled for life from having his hands and feet hog-tied.
Judge Kathleen Ann Sutula said she was imposing the maximum sentence because she wanted to make sure Huffman's children were grown up before she is released.

Judge Sutula told Huffman: 'Make no mistake about it, this was torture.
The woman cried, apparently, but probably because she will now face 34 years in jail, not because she tortured her poor child. Who knows what possessed her to be so cruel to this one child, but it is unconscionable.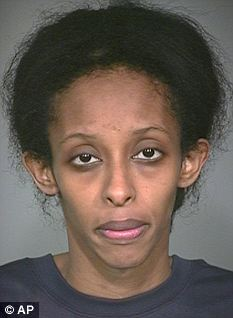 Then moving from Ohio to Indiana, we have another mother-of-the-year award going to 28-year-old Ebyan Farah, a Somali woman with five children who left her kids in a hot, 6 foot by 1 1/2 foot closet, and then barricaded the door with a mattress or bed frame at 6 a.m. and then left them there for ten hours while she went to visit friends. By the time she came back two of the little ones were dead. Daughter Zuhur Farah Hassan, 4, and son Zakariya Farah Hassan. The judge in this case is being kinder when she allowed Farah to plead not guilty.
A 7-year-old Indianapolis girl told investigators she and four siblings usually slept when barricaded in an apartment closet by their mother, but last weekend she called out for the woman to open the door after realizing her brother and sister had died, according to court documents released Thursday.

The attorneys issued a statement to Indianapolis media saying relatives of Farah, an immigrant from Somalia, are "devastated and shocked by this tragedy."

"We are a tight community, and we believe with God's help that we will face this tragedy with strength and faith," Farah's uncle, Mohammed Hersi, said in the statement.

Authorities have said Farah told police she "was not in her right mind" when she allegedly placed her children in a 6-foot by 1 1/2-foot upstairs closet at Manchester Village Apartments about 6 a.m. Sunday. Court documents say Farah put a bed frame or mattress against the closet door to keep the children from leaving while she went to visit a friend for the day.

Seven-year-old Muntaaz Farah Hassan told investigators her mother often put children in the closet as punishment or when she needed to cook, according to a police affidavit. The girl said she sometimes helped her mother get the children in the closet when they got into trouble.

The girl said she had a hard time breathing in the hot, dark closet Sunday and that no food and water had been left for her and three of her four siblings, according to the affidavit. Muntaaz said her youngest brother, who turns two next month, was not there.

Muntaaz told investigators she believed her brother and sister died while all four children were sleeping. She said when she realized it, she called for her mother, who opened the door. The girl said she watched her mother carry the dead children downstairs, the affidavit says.
What kind of mother barricades her children in a tiny space while she goes out to visit friends? These kinds of mothers aren't worthy of having children. It's too bad there aren't tests or classes that parents must take before being allowed to bear children.