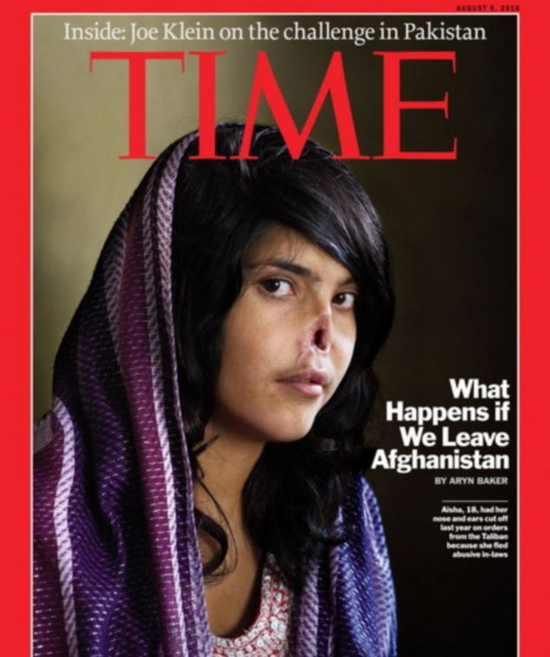 Of course, the Taliban are the first to deny their horrific, barbaric acts, but the proof is in the photos and videos we see of either the acts themselves, or the aftermath. Remember the young Afghan woman, 19-year-old Bibi Aisha whose nose and ears had been chopped off by her Taliban husband. Her harrowing photo was featured on the front page of Time Magazine a while back with the title "What Happens If We Leave Afghanistan".
The UN states that at least 90% of Afghan women suffer from some form of domestic violence, but the Taliban deny any form of abuse and especially the cutting off of ears and noses.
'The Islamic Emirate of Afghanistan rejects this fabrication by the Americans, who are publishing these lies to divert attention of the people from their clear and disgraceful defeat,' said a spokesman.

'In sacred Islamic law, cutting off human ears and noses whether the human is alive or dead is illegal and prohibited.'
Well, I certainly don't put any credence whatsoever into any statement coming from the Taliban animals, and those pictures of Bibi Aisha are proof enough for me.
Aisha's terrible ordeal began at age 12. Her father owed a debt to a militant Taliban fighter, so as pay back he gave his little girl to the man in exchange. The abuse for the child bride started immediately, including forcing her to sleep with the animals in the barn. Eventually she tried to escape and that's when they cut off her ears and nose, in retribution, and left her to die in the mountains.
'When they cut off my nose and ears, I passed out. In the middle of the night it felt like there was cold water in my nose.

'I opened my eyes and I couldn't even see because of all the blood,' she told CNN reporter Atia Abawi.
She managed to crawl to her grandfather's home and from there her dad was able to transport her to a US medical clinic. It took ten weeks for medics to help her heal, but she was still left terribly deformed. From that medical facility Aisha was taken to Kabul and then transported to the US by the Grossman Burn Foundation. In the US she was placed with a family and that is when her healing process began including psychological counseling, and the prospect of a new nose. She was recently fitted with a prosthetic nose (a type used in the film industry)courtesy of the Grossman Burn Center, until she can have reconstructive surgery, and sported her temporary nose at an award ceremony.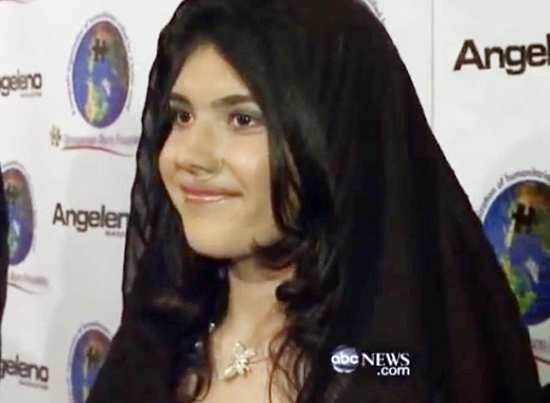 She went before the TV cameras to receive the Enduring Heart award at a benefit for the Grossman Burn Foundation – the Los Angeles-based organisation that paid for her surgery.
She was given the award by California first lady Maria Shriver.

Arnold Schwarzenegger's wife told the audience: 'This is the first Enduring Heart award given to a woman whose heart endures and who shows us all what it means to have love and to be the enduring heart.'
She will spend a total of eight months at the center in West Hills Hospital, rehabilitating. As for her nose and ears, doctors will probably use tissue, cartilage and bone from various parts of her own body.
Hopefully, Aisha will recover well, both physically, mentally and emotionally, and that she will be able to remain in this country. These women do not deserve the horrendous treatment they are subjected to.