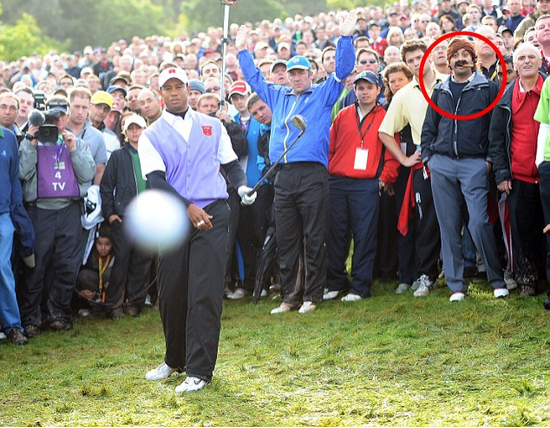 It's nice to read something lighthearted for a change. With all the death and destruction occurring all over the world, from terrorist violence to domestic violence, every once in awhile some news story pops up that just makes you smile or laugh. That's what happened when I read about the "cigar guy". Apparently, the Mail On Sunday captured an amazing photo of Tiger Wood's disastrous golfing flub at the Ryder Cup. The photo shows the ball flying straight towards the camera lens, but what captivated most people is that right there in the crowd, standing out from all the rest, is a guy with a huge cigar in his mouth a big fake mustache, a red wig and this hilarious look on his face. Everyone started to wonder who the goofy looking guy was. That curiosity turned the mystery dude into an overnight worldwide phenomenon prompting an hilarious (at least in my mind) photoshop craze whereby people placed "cigar" guy's head into famous photos. Suddenly every one wanted to know who he was, people even created a Facebook fan page (although I couldn't find it) and according to the article he even had women wanting to marry him.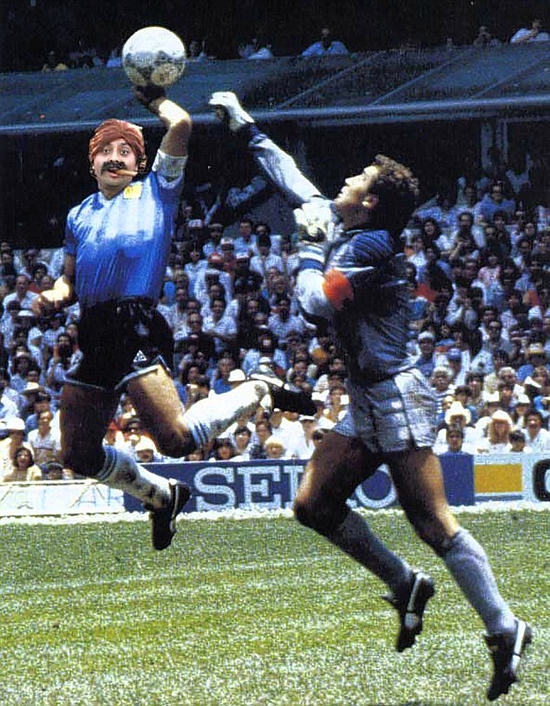 So the DailymailUK offered a reward to anyone who might know who the man in disguise was, and it was finally revealed. Although there are those who are constantly looking for their five minutes of fame, this lad does not seem to be one of those.
Last night, The Mail on Sunday tracked down Cigar Guy to a detached house in South London where he is living with his parents, a retired mechanic and a housewife.

We can reveal that Cigar Guy is golf fan Rupesh Shingadia, a 30-year-old investment analyst in the City – and a very reluctant star.

'I am embarrassed and overwhelmed,' he said in an exclusive interview. 'Never in a million years could I have expected anything like this.

'It is truly surreal.'

Rupesh said his costume was a 'tribute' to Spanish golfer Miguel Angel Jimenez.

'I wanted to do something to show my support for the European team and I thought of Miguel. These days sportsmen have become devoid of character. But Miguel does his own thing and I love the way he walks around the course with a cigar clamped between his teeth.'

One might imagine Rupesh to be, to put it politely, a bit of an eccentric who revels in the limelight. In fact while he is engaging company, he is also singularly unassuming, not normally given to practical jokes.

'I'd say he would be the last person you'd think of to do something like this,' said one of his friends.

Rupesh confirms: 'I have never done anything like this before. I'm just an ordinary guy who loves golf and ­follows Arsenal. If I had known the incredible reaction it would produce, the way that Cigar Guy has snowballed, I would probably never have put on my costume. That said, I'm glad it has put a smile on people's faces.'

Currently single, he was unaware of the marriage proposals delivered via Facebook. Perhaps he might wish to trade on that? 'I'm not so sure,' he says. 'I'd want them to love me for who I am – not just Cigar Guy.'

Rupesh, a maths graduate, said the idea came to him at work at Threadneedle Asset Management in the City a week before the Ryder Cup began.

'I was very excited about going. There is a strong fun element to it, and I wanted to enter into that spirit.'

He fleetingly considered ­donning a pair of garish Union Jack trousers, as worn by ­English golfer Ian Poulter, but rejected that idea in favour of the Miguel costume.

He ordered the wig and moustache from a website for £15 and bought a £14 Montecristo cigar from a tobacconist. 'I don't normally smoke – well, maybe the odd cigar at weddings – so I asked for something mild. To last all day, though, it had to be a big one.'

The rest of his ensemble came from his own wardrobe: a Pringle jumper, North Face anorak and Reiss trousers.

'At the course people were nudging each other and pointing at me. But, the costume was secondary to the golf. I wasn't running around desperately trying to get on TV, far from it. My friends were keen to get me together with Miguel. I was quite close to him at the 13th. I like to think there was a flicker of a smile when he looked in my direction. His caddie was certainly laughing.'

The fateful photograph was taken on the 18th hole. 'There was a huge crowd,' he recalls. 'I was somehow thrust forward in all the jostling. To suddenly find yourself so close to a legend was amazing.'
So there you have it. The cigar guy is actually very handsome, and seems to be a genuinely nice guy. And indeed he did put a smile on my face, as did all the photoshopped pictures of him.
Thank you for making me laugh, Rupesh.
To see more of the photoshopped pics and the real guy, click here.