How would anyone explain a situation whereby a self acclaimed prophet of God is caught producing pornographic material? Is the church in Kenya losing its whole meaning of promoting and encouraging a moral society?
Even before the dust settles on a recent case where a catholic priest is facing a sex scandal, another one involving an evangelical clergy who is a self proclaimed 'prophet' has been unearthed.
The same prophet prophesied that president Mwai Kibaki would triumph in the 2007 general election, I need not to revisit the aftermath of the said election.
The 'prophet' has been accused of engaging in sexual immorality while hiding his real identity behind church corridors.
In the catholic's case, Fr Kizito Sesane is accused of sexually abusing young boys during his over 20-year tenure as a charity worker in Kenya.
And even though the clergy has denied of any engagement in sodomy, the boys' allegations were backed by still and video pictures of the alleged lewd acts.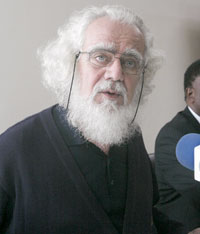 The priest came out fighting when the news got to the shocked public forcing some 22 bishops to react to keep in check the potential damage the story could cause the more than 4 million-strong church.
Fr Kizito, who runs shelter homes in Nairobi , vehemently denied molesting boys under his care and blamed his former board of trustees of waging a dirty war against him to take over properties worth Shs 3 billion. Sex scandals involving the clergy have been on the rise in Kenya.