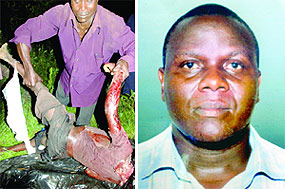 Ritual murders have gripped our city since a story appeared in the vernacular news daily about a tycoon sacrificing a child for every storey of the building he constructs.
Ritual murders, from Wikipedia, "Human sacrifice is the act of killing human beings as part of a religious ritual (ritual killing)."
This is a traditional ritual by several tycoons building high-rise buildings who believe that such buildings cannot be complete unless the gods are offered the blood of a child.
Children have been disappearing and sometimes over the radio, they are announced to be found in bits and pieces very far away from their homes. Most times, their bodies are often missing the head and their private parts. Traditional doctors (or witch doctors) are known to ask for these parts from their clients to be part of the sacrifice to the gods. The client in return is absolved of a grave crime, becomes immensely wealthy, binds the husband to the wife performing the sacrifice..
The least people you would expect to engage in ritual murders would be tycoons because they have more than enough money and probably educated not to fall prey to the lies of witch doctors. Unfortunately, that is not the case.
The story appearing in the NewVision today, has a the name of the local tycoon, Godfrey Kato Kajubi, who is currently on the run after being sought by police. The article mentions the number of children reportedly kidnapped as 230 last year, not considering the un-reported cases.
Traders for whom these building by tycoons are being constructed for in the city center, had the following to say:
Sophie Gombya, a local artiste as well as a businesswoman on Martin Road, Old Kampala. Honestly I cannot work in such a place. On finding out, I would mobilize the rest of the tenants to immediately vacate.
Yahaya Kitumba, Kirumira Towers: "As a Muslim, I don't believe in such things, so I cannot rent on any arcade in which they have been done.
If you get to know that the building you are working in, has an innocent young life buried underneath, would you vacate the premises even if it is the best spot for your business or would you rather stay, without doing anything about it? Or maybe you can quite comfortably live with the "I don't care" attitude, after all business is booming!