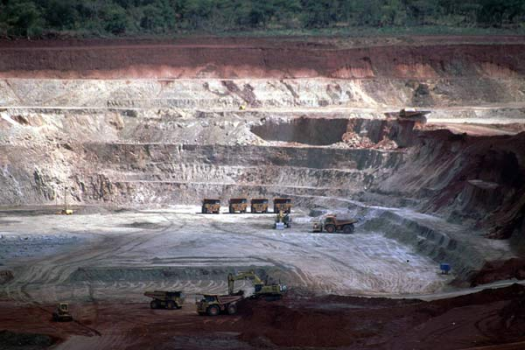 Tanzania has been for some years now considered a mining economy, with a 50 tones export of gold in 2009 it has ranked the fourth largest gold producing country in Africa. The country is estimated to lie on a multi billion Dollar worth deposits of precious metals, gemstones and natural gases such as Uranium. Tanzania is widely recognized internationally for its highly prospective geological formations that extend over 800,000 square kilometers that remains under explored . Moreover the mineral sector has been proved to be one of the fastest growing economic sectors in Tanzania ranging at 44.2% over total exports in 2007. Ironically, though the sector's exports are nearly half the total exports of the country, the sector contributed a mere 3.5% to the GDP in 2007 as shown below comparatively.
In an effort to reverse the situation and make sure that the mining sector's contribution to development is proportional to what mining companies reap from the sector the government introduced several measures which among them is to put in place a new Mining Policy of 2009 among other earlier measures such as setting up a commission to revisit mining contracts in the country which was formed by President Jakaya Kikwete in 2007 to establish modalities of maximizing mining proceeds and reviewing how things were operating. This effort saw two mining companies; Barrick Gold Mine (As it was then called) and Resolute Mines signing a new agreement that waived a tax concession which will make these companies pay tax earlier. Other efforts include the establishment of the Bomani Commission which came up with constructive proposals that sought for both policy and legislative reforms in the sector.
WHAT DOES THE MINING POLICY OF 2009 SAY?
• Integrating the mining sector with other economic sectors.
The mining sector which is now dominated by 7 multinational companies has so far not stimulated other economic sectors in the country. This is attributed by the absence of forward and backward economic linkages with the mining sector. The sector which is supposed to be a big market to locally produced goods and services such as labor, power, food stuff and industrial goods instead it has remained to be the major importer of these services and goods advancing different reasons including; lack of experts and goods and services that meet international standards. The sector exports raw minerals and at some instances exporting even sand, this not only lead to low revenue collection but decreases the chances to increased employment opportunities and technology transfer.
It is therefore welcoming that the current policy has recognized this gap and is set to rectify the same. This, however presupposes several strategic measures to be taken by the government, such include; setting in place a legal framework that will ensure mining companies procure locally and a mechanism to empower local service and goods producers by offering them the necessary capital facility and other forms of capacity building so as they can produce goods and services with international standards. For example, the country has several different sources of cheap energy that can be used by big mines instead of the fuel they import with an exemption from fuel levy. Such energy sources include rivers, natural gas, coal and uranium which are abundant in the country and thus they only need an initial large capital to establish and be connected to mining sites. Some of such efforts which need support include the Stiglers George power project which needs an investment of $ 2 billions in a way huge, but compared to the estimated power of 2000 Watts that it can generate then this is much cheap in the long run and is apt to bring more revenue to the Government and Tanesco when consumed by all mining sites. So far only two mines consume electricity from Tanesco the rest five large scale mines use heavy fuel that is imported denying the government a total of 182 Million USD equivalent to approximately Tsh. 190 Billions as from 2005/2006 to 2008/2009 fiscal years .
1. Increasing employment opportunities
In a study conducted by Tanzania Mining Audit Agency (TMAA), it was revealed that though the country had a shortage of mining experts in the 1990s, currently there are enough Tanzanian mining experts but still very few are employed as the rate of expatriates keep on increasing. More over the study found that expatriates are being paid exorbitant salaries in comparison with locals of the same skills and qualification this discourages local experts who go to other countries for greener pastures. Though there are laws in place to regulate the inflow of expatriates and that every multinational company has a localization programme, it has been learnt that the institutions enforcing such laws and programs have no capacity and as a result few Tanzanians actually get employed in the sector.
It is therefore appealing when the policy recognizes this problem and proposes to; first, promote measures that aim at increasing local mining expert through training and actually putting in place a legal regime that will make sure that companies use local experts. Evidently, these measures are not sufficient as already we understand that at the moment the shortage of local experts is almost non existent as local experts have increased with many remaining jobless. Moreover the laws relating to working and residence permit to foreigners that restrict the inflow of expatriates are in place as the problem persists, the issue therefore remains at making sure that these companies observe the laws and the localization agreements signed between them and the government. This calls for addressing the issue of the capacity of our institutions that issue work permits and to ensure that mining companies comply to the localization agreements. This does not mean that training locals is not important, what it means is that as locals are trained then a functional mechanism to make sure that they are actually employed and replace expatriates should be put in place.
2. Fair and adequate compensation on relocation
Since large and medium scale mining was introduced in the country in the 1980s, the situation of local communities living in mineral potential areas has been getting worse every day as insecurity on permanent residence around mines increases. While large and medium scale mining require large tracts of land, Tanzania's mineral geological positions covers areas already inhabited by locals. This forces the displacement of the locals sometimes leading to forceful disturbing their socio-cultural and economic activities. Such displacement is usually carried out by the government and in most cases the locals are not compensated but are physically tortured and harassed.
Acknowledging these injustices done by the government, the policy imposes a duty on both the government and the investor. This is to say that, the policy vests upon the government the valuation role of the local's properties to be disturbed and secondly imposes the duty of covering the compensation costs and actual relocation to the investor. To implement this, the policy suggests legislative reforms to some existing laws such as the Land Act of 1999 which recognize the government as the sole compensator when land is acquired from its right holder. These changes are commendable as they also promote participatory, transparent and adequate compensation and relocation. However, the government should reconsider shelving the relocation process over the investor. Simply requiring the investor to prepare a sound relocation scheme is not adequate as it is supposed to be supplemented by government's efforts to allocate new and habitable land to the relocated people and a close follow up on the compensation process to ensure that it is done adequately and promptly. These roles require a government institution with the necessary skills, expertise and tools required.
3. Integrated environmental management
The Policy proposes for an integrated and participatory environmental management. This suggests that the government is now ready to adopt a mandatory mechanism or system that will make sure that mining companies are forced to set aside a rehabilitation bond that will be used to reclaim the land after mining operations. This is a deviation from the current legal state whereby a company can only be asked to furnish a rehabilitation bond only if the Minister deems it fit after consultation with the Mining Advisory Committee as per Section 44(d) of the Mining Act, Cap 123.
The law as it obtains, calls for legislative reforms to much with the spirit of the current policy. This can be in the form of adopting one of the types of rehabilitation bonds such as the bank guarantee which is much appropriate due to the fact that it encourages progressive rehabilitation, it gives the banker an opportunity to revisit the credit of the mine at the end of each term, it is sufficient to meet the full costs of the closure among others. Such reforms will make sure that instances of abandoned mines such as Buhemba Gold Mine, Buckreef Gold Mine and many other small scale mines which occurred due to the above legal loopholes do not happen again. Moreover these legal reforms should go further and state the method to be used in computing the rehabilitation bond which according to a research by TMAA the case-by- case costing computation method is much suitable as it offer a chance for review by the parties
Areas overlooked.
• Transparency
In Tanzania, mineral resources belong to the public to be enjoyed equally by all citizens. To achieve this the constitution entrust such resources on the President who is supposed to make sure that any exploitation is solely for the maximum benefit of the trustees, for this reason the President is accountable to the public who have an inalienable right as the resource owners to know each and everything that affect their resources. This calls for not only transparency over what is taking place but rather, it further calls for approval, satisfaction and consensus by the public over the exploitation of their resources. Unfortunately, the current mining regime is in contrast with the above reality. Under Section 21 on the Mining Act of 1998, disclosure of any information obtained from a mineral right holder to an unauthorized person is criminalized punishable by imprisonment or fine or both except with where there is consent from the mineral right holder. Such restricted information includes reports or any other document or information obtained from a mineral right holder relating to such right.
Such confidentiality against the public dealing with public property raises many questions than they can be answered and in deed leaves one puzzled as to whom such confidentiality is intended to benefit. Discretion and confidentiality have for long now been sited as breeding grounds for corruption and unequal distribution of public good. It is under such legal regime of confidentiality and excessive discretionary powers that Tanzania has entered into dubious contracts and agreements both in the mining sector and other sectors such as the Richmond saga, EPA scandal and the BOT Twin Tower scandal just to mention but a few.
The Mining Policy of 2009 does not mention any intents of bringing transparency in the governance of the sector. This is a great set back to a policy that seeks to get rid of the current ills in the mining sector. Moreover by not providing for a guideline on transparency, the policy is apt to stand as an obstacle to other government initiatives such as the government's membership into the Extractive Industry Transparency Initiative (EITI) an international initiation that seeks to promote transparency in the extractive sector. To rectify this situation, it is therefore highly advisable that, the government to avoid unnecessary confidentiality clauses and deliberately call for full transparency in the governance of the sector if any of its good will and transformational strategies are to avoid being watered down by corruption and resentment.
• Fiscal pitfalls and loopholes
Though the Mining Policy of 2009 acknowledges the inadequate contribution of the mining sector to the economy which is not proportional with what is actually reaped from the sector, it does not capture tentatively measures that will be employed to curb the situation. The policy in vague language expresses some wishful endeavors of making sure that a fiscal regime that maximizes benefit to the economy is in place.
It is agreeable that a policy is not meant to be elaborate as it is simply supposed to provide vision, however the mere act of envisioning a regime that promote greater economic benefits is vague and ambiguous as far as the avoidance of the current fiscal pitfalls and loopholes are concerned. The policy was supposed to have gone beyond this and elaborate how it is intending to avoid fiscal loopholes and pitfalls in particular just as it did to elaborating on how the sector will be connected to other economic sectors for increased economic benefits such as employment and market for locally produced goods and services.
Conclusively, the Mining Policy of 2009 is to a large extent a people centered policy that needs support, in deed, if well implemented by backing it with a new mining law that properly reflect it and at the same time avoiding the weaknesses depicted on transparency and fiscal setbacks. Admittedly, however good the policy may be, without the necessary political will and empowered, independent government institutions with the necessary capacity to implement the policy, it will remain some good for nothing bunch of fine papers hanging in the government cupboards as usual. This does not aim at underplaying government efforts but rather is intended to give an early warning to the authorities responsible if Tanzania is to end the current evident situation of "the paradox of plenty" that has seen Tanzanians suffer for more than ten years under a some what resource curse.