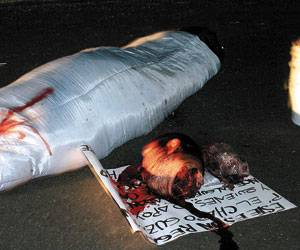 Sadly, executions, decapitations, and tortured, mutilated bodies are nothing new in Mexico. Everyday, without fail, a new headline will be made of the latest victim along with the running tally of executions for the month and year. It is very similar to the stock market figures we are seeing during this global economic crisis, except our gruesome figures never decline.
The addition of narco-messages attached to the bodies, at first, took our country by suprise. It was a horrific act, further testamony and a morbid reminder of the evil, twisted minds the drug traffickers have; now, even those are deemed as a normal part of life in our society: a body and a fluorescent poster board, like a hand to a glove.
Narco-messages are generally written by cartels to ridicule, warn or threaten rival cartels. Occasionally they are geared towards the government, police or military in the way of large banners hung on churches, buildings and overpasses. It is never a pretty site, but seldom an additional worry, as they are not towards or against innocent civilians, at least they weren't.
The body tortured body of Jorge Martinez Guerra, 39, was found along a dirt road in Nuevo Leon, fifty meters from the instalations of the State Police. Martinez Guerra, who had an air conditioning repair business in Monterrey, was found with his eyes and head taped, one of his fingers was cut off and hanging from his mouth, and a fluorescent yellow poster board stating "This is what happens to those who make anonymous phone calls" was tacked to his chest. Autopsy reports state his cause of death was a single gunshot slightly above his right ear.
It is said, the cartels are sending a message to deter the use of state provided anonymous hotlines, as various recent arrest of lead cartel figures were due to anonymous calls. The Attorney Gneral of Nuevo Leon has not determined if Martinez Guerra had ever made a call, or was simply used as morbid example of what would happen to anyone considering it.
Note: Please check important links.