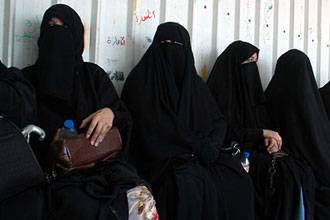 Kuwaiti men must be in 7th heaven. Not only are they being encouraged to engage in polygamy and get hitched to a second wife, the government is actually considering giving them money to do just that. Actually the idea is MP Faisal al Duwaisan's, an independent Shiite who broached the subject at a government meeting on Wednesday.
Apparently, just like the United Arab Emirates, Kuwait has far too many single women and not enough men to marry them. Perhaps they should hook them up with China, which has far too many men, as a result of its one-child policy and the tendency to favor males. The MP said,
"The proposal aims at solving the problem of unmarried women, which is a problem facing our society, and encourages widows and divorced men and women to form new families," independent Shiite MP Faisal al-Duwaisan said.
Kuwaiti men must feel they hit the jack pot, because besides this proposed aid for taking on a second wife, they already get money for marrying the first one. There is a caveat, however, the woman has to be a Kuwaiti citizen.
The Gulf state already grants Kuwaiti men who wed a female citizen for the first time a "marriage aid" of 4,000 dinars ($14,000, €11,000), half of which is a grant and the rest an interest-free loan with easy installments.
There are also certain restrictions on any aid a men might receive for obtaining second wives: the first wife must give her written consent before the aid is granted. Let's hope they have the courage to say no, since I can guarantee that most women are not into polygamy. It is simply a male fantasy to have multiple wives. The men can, however, receive the money if they are widowed or divorced. Some of the other restrictions are:
The women they marry must be widows, divorced or at least 40 years of age and never married, Duwaisan said in his proposal, which was submitted to parliament.
The proposal is up for review, and more than likely will become law.