Everything here is meant for the super rich. You have already seen the top 10 futuristic luxury hotels, top 12 high-tech luxury yachts, most popular luxury submarines, and the top 25 beautiful luxury things. Here are some of the world's best blinged masterpieces to make you drool.
15. Victoria Collection Swiss Army Knives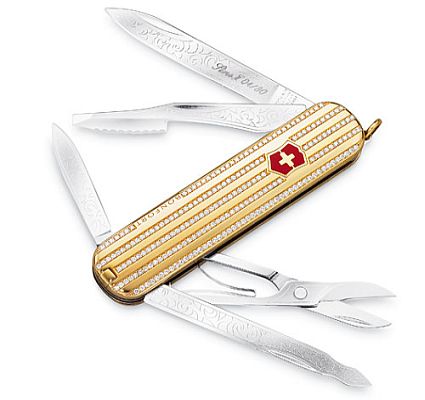 Victorinox, a name known for making famous Swiss Army Knife, has this limited edition Victoria Collection Swiss Army Knives to celebrate the company's 120th anniversary. In total, 120 pieces will be made worldwide with two designs, gold and platinum Editions. Both the models have been adorned with 430 diamonds. Based on three-inch Executive-Type knife, the new knives feature a nail file and nail cleaner, orange peeler with screwdriver, ring and tweezers next to a couple of blades. To be the one amongst 120 lucky chaps, you will have to shell out $50,000 for the yellow gold version while the platinum one will set you back $70,000. Who-a!
14. World's most expensive teddy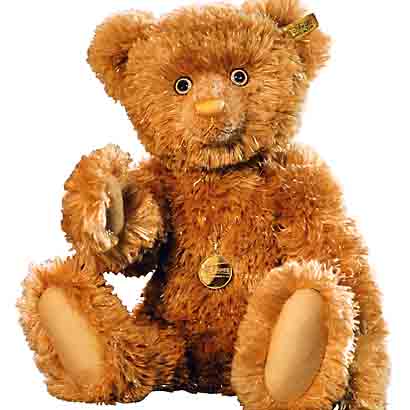 The $86,797 bear has fur made of real gold, and eyes made with sapphires and diamonds. Steiff, which claims to have made the world's first ever teddy bear, made the golden bear to celebrate its 125th anniversary. The new bear has a mouth made of solid gold, fur made from gold thread and eyes with pupils of sapphire and irises made from 20 tiny diamonds. Only 125 editions of the collectable Jubilee Bear have been produced.
13. Diamond-studded Lederhosen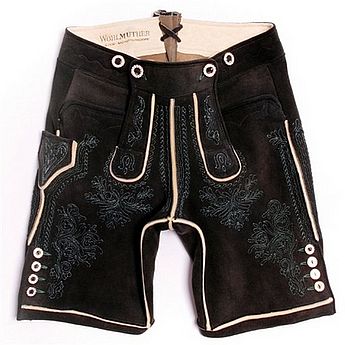 Wohlmuther, who owns a clothing business that sells traditional Austrian attire based in Bad Mitterndorf, sold his first diamond-studded pair for $114,000. Formed from the leather of a wild red deer, and decked with 166 diamonds set in gold, the trousers were bought by a German, living in Dubai. He expects to lure more customers from that region as well as from Russia. Wohlmuther said that the cost of his creations depend on what they are made of. Working with a local jeweler in the styrian town of Liezen, he designs lederhosen with silver, gold or platinum buttons adorned with precious gems such as garnets, rubies, emeralds and diamonds. With the kind of dough you spend on the lederhosen, the item is sure to last for not only a lifetime but generations to come!
12. Tulip Otazu Ego NoteBook: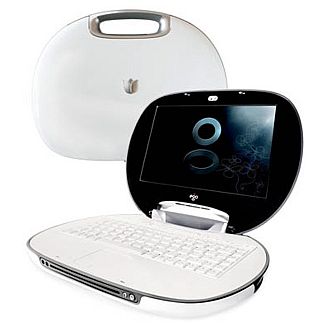 Diamonds are forever. Are you thinking about gifting a diamond-studded notebook to your sweetheart? Look not further than the Otazu Ego NoteBook from Tulip. This handbag-shaped notebook is studded with 470 flawless diamonds that adorn the Otazu Ego model in tulip, heart, and Otazu logos. It rocks a 12.1? WXGA widescreen display, a CD/DVD player and burner that can be used without booting up the notebook. You can even engrave a personalized phrase. The blinged thing comes for a hefty $350,000.
11. Diamond Chess set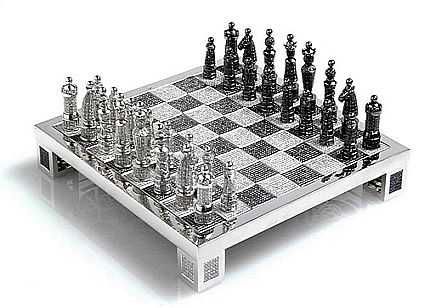 Renowned French artist and jeweler, Bernard Maquin created the Royal Diamond Chess set in 2005. This is one of the most expensive chess sets in the world. Thirty craftsmen, under the direction of Maquin spent over 4500 hours creating the expensive chess set. The work was done from start to finish by hand. The artists and jewelers used 1168.75 grams of 14 carat white gold, and approximately 9900 black and white diamonds, bringing the total weight to 186.09 carats and the total cost to a whopping $500,000.
10. Mystery Masterpiece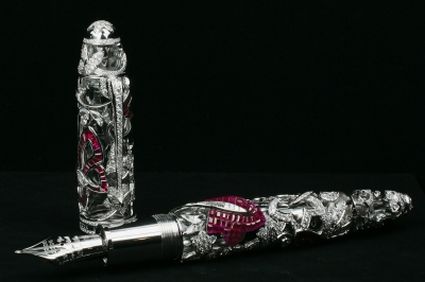 A writing instrument that costs $730,000? Unbelievable! Well, the luxury houses of Van Cleef & Arpels and Montblanc have rolled out an eye-cathcing writing instrument christened Mystery Masterpiece. Made of white gold, the pen is adorned with rubies, sapphires, or emeralds and accented by diamonds. Nine pens will be sold worldwide, with each featuring 840 diamonds and more than 20 carats of gemstones set in a Van Cleef & Arpels patented 'Mystery Setting'. If I could own one, I will never write with it. I can't even dare to.

9. Corum Classical Billionaire Tourbillion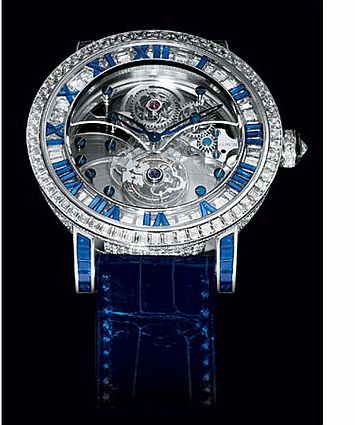 A luxury watch always says a lot about the monitory and social status of its owner. If you love to spend on luxury designer watches, then this sparkling Corum Classical Billionaire Tourbillion will tempt you to add this to your collection. The shimmering wristwatch is adorned with 850 diamonds and boasts a dazzling skeleton dial with Skeleton hour and minute hands. The watch has been manually wound with 90-hour power reserve and features Caliber CO-372 by Corum and La Joux-Perret. Rightly named so, the Billionaire Tourbillion comes in many versions with price ranging from $325,000 to $998,000. So, you have made up your mind to get one on your wrist but, hurry as there are only 10 pieces in production.
8. Million Dollar laptop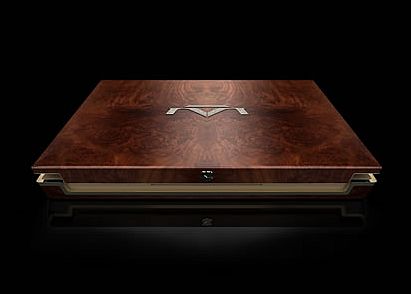 If the diamond-studded Ego notebooks didn't impress you much or your girl, you better take a look at the gorgeous Million Dollar Laptop from the UK Luxury firm Luvaglio. The luxury notebook includes a 17-inch backlit screen with a special anti-reflective coating, a 128GB Solid State Disk Drive, and a Blu-ray drive, built-in USB memory stick and MP3 player. The power button is diamond encrusted and the buyers can get the finishing touches of precious metals, leathers and real woods to fully customize the pricey beauty. Priced at $1 million.
7. Goldvish 'Le million' phone: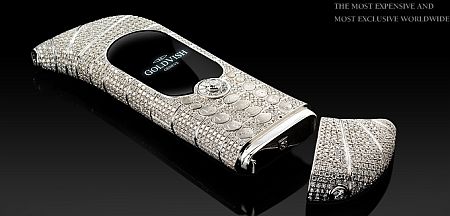 Back in 2006, the Goldvish phone was reported to be brought by a Russian businessman for a sumptuous price tag of $1.2 million. This spectacular phone is decked with 120 carats of VVS-1 grade diamonds. The phone, also called Device Le Million De la Nuit, was designed by the Swiss watch designer Emmanuel Gueit and it reminds him of a boomerang. The dazzling phone comes equipped with 8x zoom, Bluetooth, USB, 2 GB memory card, ??3 player, and TFT- display which is protected by sapphire glass. Nearly 5 oz of pure gold has been used for the manufacturing of the case. The asking price for this cool thing is cool $1 million.
6. Diamond Crypto Smartphone: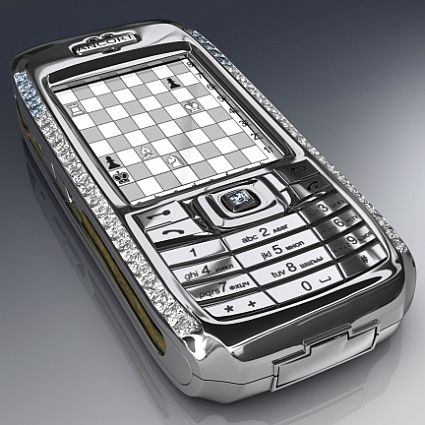 Designed by an Austrian jeweler, Peter Aloisson, the Diamond Crypto Smartphone carries a whopping price tag of $1.3 million and is tagged as the 'most expensive' in the world. The phone is made of solid platinum while the cover is adorned with 50 diamonds, 10 of which are the rare blue ones. The difference between other costly phones and this one is the inclusion of very powerful encryption technology to provide special security. The phone runs on Windows CE operating system and features a high-resolution color TFT display. Meant for the wealthiest only.

5. $1.89 Million Gold Brassiere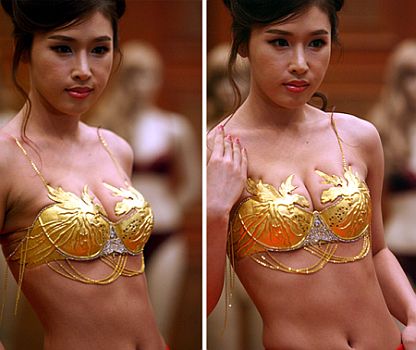 The gold brassiere is decorated with diamonds and is made to hug the body just well. The $1.89 million gold bra was launched by Korea's Golden Zone during a fashion show in Seoul.
4. Diamond studded wheels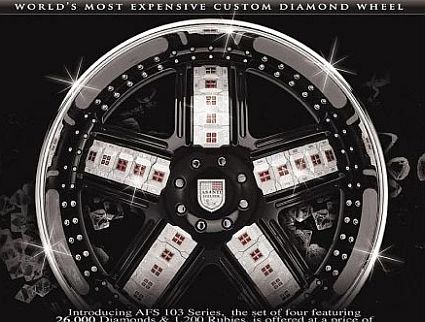 You have already seen the $150,000 diamond-studded Bentley Knob and these $2 million luxurious wheels from Lexani Wheel Line come studded with diamonds and rubies. The Asanti ASF 130 Series feature a set of four 34 inches wheels with 26,000 diamonds and 1,200 rubies. And, a set of four costs more then most of the priciest roadsters in the world, for an exceptional $2 million. Strictly meant for the uber-rich who want their rides to be as fancy as they are.
3. Diamond-covered Mercedes SL-Class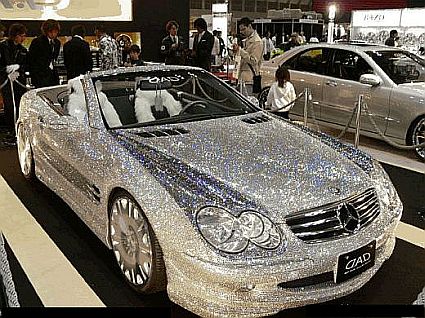 The Mercedes SL legend began over 50 years ago and to celebrate 50 years the limited edition Mercedes-Benz SL550. This charming diamond covered Mercedes SL was on display at an auto show. It hasn't been confirmed that the diamonds used are real or fake. However, this glittering diamond shine automobile would be costing millions even if fake diamonds were used. It would be damn cool to drive this glittering car around the town?
2. World's most expensive bikini:
Would you like to spend U.S. $30 million for a piece of bikini? Sound crazy but that's true. The glittering $30 million bikini has been created by Susan Rosen with Steinmetz Diamonds. This is the world's most expensive bikini and uses all diamonds and no fabric. Model Molly Sims wore this diamond-studded bikini for the centerfold of the 2006 Sports Illustrated Swimsuit issue.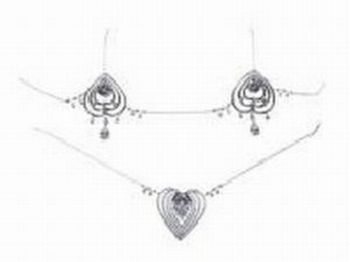 The bikini features over 150 carats of D Flawless diamonds, including a 51 carat D Flawless Pear Shape, a 30 carat D Flawless Emerald Cut, a pair of 15 carat D Flawless Rounds and a pair of 8 carat D Flawless Pear Shapes all set in platinum.

1. Damien Hirst's diamond skull: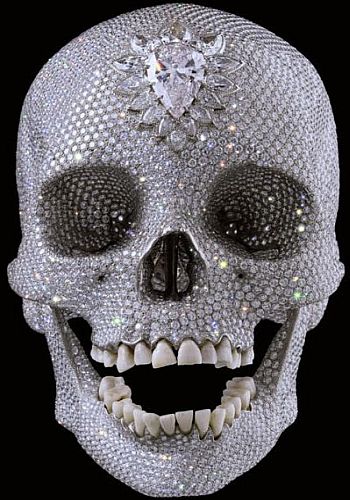 About three months back, Damien Hirst showcased his intrinsic beauty in the shape of a $98 million diamond skull named 'For the Love of God'. Damien's diamond encrusted platinum skull is decked with 8,601 sparkling diamonds (worth £12 million), eye and nose sockets filled with hundreds of jewels and a 52-carat pear-shaped stone fixed on the forehead, which is further bordered with 14 diamonds.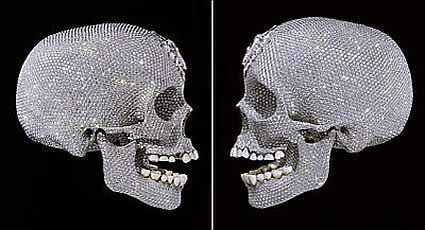 The skull is the most expensive piece to date by Hirst. Now, this magnificent piece has been sold to an investment group for the asking price of $100 million.