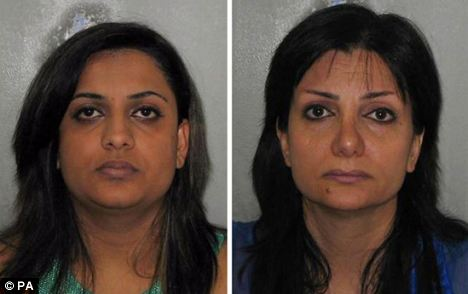 A group of unemployed perverts in the U.K. found a way to make a quick buck by exploiting underage girls. Their plan- to sell the virginity of these young ones to wealthy Arab men who were in the UK on business. Some of the girls, from 13 to 20, were being sold for up to £150,000 a pop. And even more disgusting is the fact that the gang was comprised of three women, along with one man. Usually men are involved in sex trafficking, so to have three women involved is shocking.
If it hadn't been for some wary and astute hotel employees at the luxury Jumeirah Carlton Hotel in Knightsbridge, some young girls might have been violated in the worst way possible. Apparently, these workers informed Scotland Yard, and they took it from there.
One of the women had arrived at the Jumeirah Carlton Hotel in Knightsbridge, central London, in a silver BMW to offer the gang's services in a handwritten letter to the owner in August last year.

It read: 'I have 12 girls ready from the age 14-20 years, who are living all over the UK, I have spent money on the preparation of this event such as a rented house for the girls and also all expenses needed.'

Worried staff immediately alerted police who traced the car and telephone number given in the letter to an address in Wigan where Fatima Hagnegat, 24, lived with her husband, Rassoul Gholampour.

Inquires revealed that another similar letter had been delivered to the hotel on an earlier date.

Detectives then exchanged messages with the gang under the guise of potential clients. One undercover officer, known as 'Cameron', telephoned the mobile number provided in the letter to ask about hiring girls on behalf of a client.

He spoke to Hagnegat's aunt, Marohkh Jamali, 41, who told him that she could arrange a party for four to five people that night if required. She stated that she could provide girls from Iran, England and Eastern Europe aged 14 and 20.

The officer arranged to meet Jamali who told him some of her girls were virgins and could be 'broken' by his client. She emailed him photographs of a number of girls and said she would bring up to five girls to London, including two 13-year-olds, and would expect £50,000 to £150,000 for each.

The next day Jamali went to a different London hotel, in Bayswater, accompanied by Hagnegat and six girls, two of whom were aged 14 and 17.

The other four were 18 or older. Officers swooped and arrested Jamali and Hagnegat.

The six victims, who had all been brought to London from the North-West of England and cannot be identified for legal reasons, were taken to a victims' centre.

They later described how they had travelled from Wigan with the defendants on the understanding that they would be able to earn some money 'dancing' for a party of rich men.

It was only later, on their arrival in London, that they were told they may be asked to have sex with the men.
All four pleaded guilty to pimping and trafficking.
Hagnegat and Jamali, who is from North-West London, each admitted conspiracy to traffic persons within the UK for sexual exploitation and a second charge of control of prostitution for gain.

A 43-year-old woman, who owned the London flat where the victims were taken the night before they were introduced to 'Cameron', admitted the same two charges. She cannot be named for legal reasons.

Gholampour, 30, pleaded guilty to conspiracy to traffic persons within the UK for sexual exploitation.

A third charge of conspiracy to arrange the prostitution of children will lie on the file of all four defendants.

Prosecutor Bill McGivern said the young women were not forced into sexual services, but were 'coerced' into offering them after dancing for clients.
They received jail sentences of two plus years each.
That there are sick people willing to deflower a young girl for huge amounts of money, and others willing to provide those girls is unbelievable. Whether the young girls were actually virgins or not, is beside the point. Those men, pedophiles in some cases, should have been jailed along with the sex trafficking gang, but there's no mention of that. Too bad.