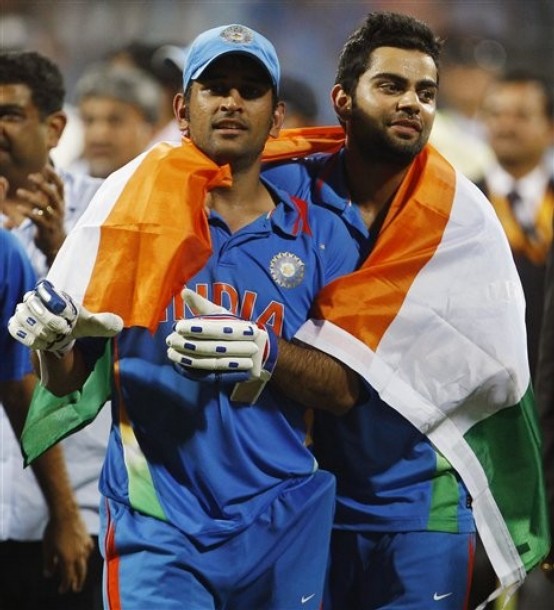 With a few centuries, stirring performances and the will to perform, cricket-crazy Indians are already hailing Virat Kohli as the new captain for the Indian team. Future-captain or potential-captain are better terms maybe because captaincy is an entirely different game in itself. Even the God of cricket, Sachin Tendulkar, did not meet reasonable success when it came to captaincy. By trying to promote Virat Kohli over Dhoni as the immediate captain, one would be simply killing the goose that lays golden eggs.
Consistency of Performance
Virat definitely has a very impressive consistency when it comes to batting in ODIs with a staggering average of 50.56 at a strike rate of 86.61. However, this is not sufficient condition for becoming a captain. There is a need for all-round consistencies – emotional, psychological and decision-making. Give the new kid a chance to breathe and convert his starburst into a sustained performance. Vice-captaincy may not be a bad idea!
The test of Tests
What determines a 'man' in cricket, is how he withstands the pressure of Test cricket. There are many who have produced fantastic firecrackers in the shorter versions of the game but Test cricket really differentiates the class from the mass. In Tests, Kohli manages a decent average of over 30. But he has played just 8 matches! What sort of appraisal can be reliable when the sample size is that small?
Captain Cool still around
Lets face it. Dhoni has achieved in his tenure what all the captains of the Indian cricket team put together have not achieved- a World Cup victory, T20 World Cup victory, No.1 Test team status and the highest successful run-chase by India in ODIs, to name a few. His ODI average is more impressive than Kohli – 51.70 garnered over 206 matches! He is just 30 years of age which means that he has a good 4-5 years of cricket left in him.
Still Wet behind the Ears
Kohli is brilliant. He is exuberant and confident. All said and done, he is still a kid of 23 years. A simple comparative study of the behavior of Kohli and Dhoni, on and off the field, makes everything clear. Kohli gets swayed by the ups and downs of performance while Dhoni is unruffled. A smile showed that India had won the World Cup in Mumbai while a straight-look was the response to the traumatic defeats in Australia. This seasoning is something Kohli will need before transforming from a potential-captain material to a captain.
Command of Authority
Dhoni took over as captain of the Indian team which was a mix of super-seniors and talented juniors. The way he has managed to keep the command of his authority over this mix is really worthy of emulation. Sachin Tendulkar, Rahul Dravid and V.V.S. Laxman, respect and seem to trust Dhoni in spite of being much senior to him. Youngsters too have faith in the decisions he takes. Kohli faces the same challenge but with a difference. If he is made captain, he will have a highly successful captain – Dhoni – in his ranks. Winning the teammates faith and respect over Dhoni is no easy proposition.