With the development in railway sector, India has also faced many set falls. Major train accidents have led many hearts grief in pain. Most of the accidents have resulted in injuries or in worst cases kill several hundredths of people. Lack of security, responsibility of authorities and human error has made Indian railways deadly. Some of the worst train accidents have been listed below.
Train Disaster in Bihar; 107 killed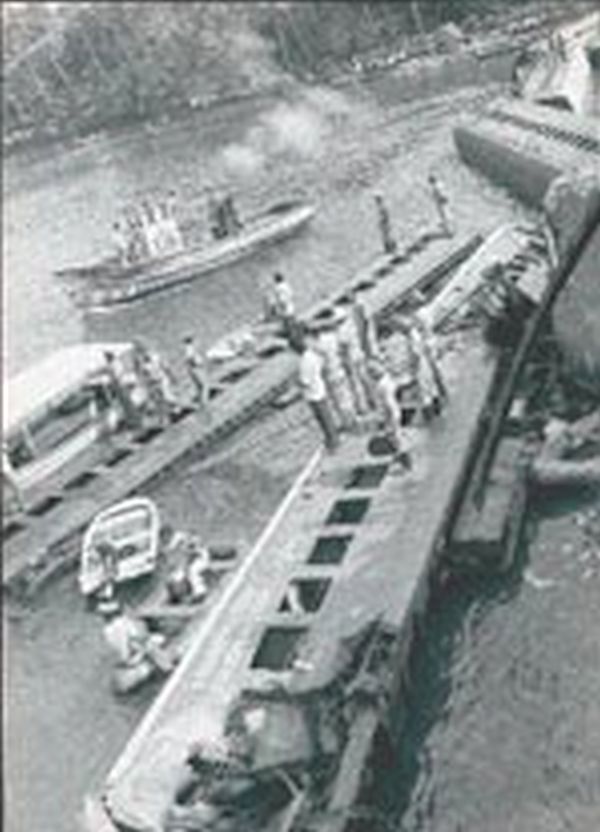 Image Source : Media2.InToday.In
Year: 6th of June, 1981
Railway: Kalka mail doused into Baghmati River in Bihar
Casualty: Killed around 600 people of which 300 people are still missing
Saving one life has cost 600 lives. An engineer, in order to save a cow crossing the line had decelerated the train hard. The monsoon climate and moist rails slipped the coaches. The last 7 coaches of the train were derailed and plunged into the river.
Mysterious derailment of train in Ashtamudi Lake train; 600 killed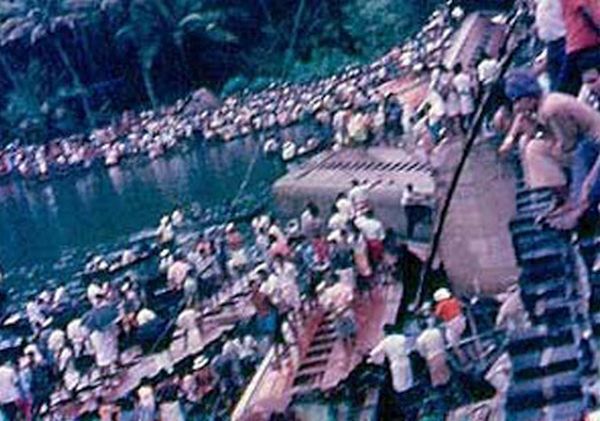 Image Source : AsiaNetIndia.Com
Year: 8th July, 1988
Railway: Bangalore Kanyakumari Island Express was derailed on Perumon Bridge.
Casualty: Killed 107 people
Kerala was triggered with shock when Bangalore Kanyakumari Island Express was derailed and its four coaches were submerged fully in Ashtamudi lake. It is said that tornado was the cause of the accident. This tornado was so strong that it uprooted trees, fishing boats, houses and many precious lives with it.
Dreadful collision in Firozabad; 358 killed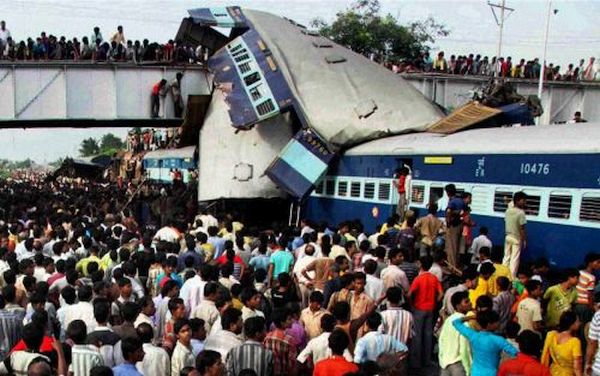 Year: 20th August, 1995.
Railway: Kalindi Express & Purushottam Express jarred near Firozabad
Casualty: Killed 358 people
This was one of the most deadly incidents after tragic 1981. Both of these incidents include saving crossing cows. Being a religious animal, cows are allowed to roam freely, but to save one life, engineers are staking hundredths of life to death. But this incident was not only because of saving a cow. There was this mismanagement on the part of Indian Railways system that took so many lives.
Khanna rail accident; 212 killed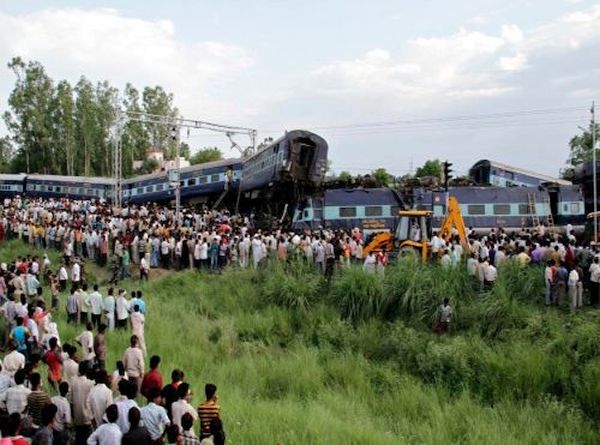 Year: 26th November, 1998
Railway: Jammu Tawi- Sealdah express jarred with 6 derailed coaches lying in its path
Casualty: Killed almost 212 people
This incident occurred near Khanna, when Jammu Tawi- Sealdah Express jarred with 6 derailed coaches of Amritsar bound Frontier mail, lying in its path. It took place near Khanna at Khanna- Ludhiana section.
Gaisal train disaster due to human error; 285 killed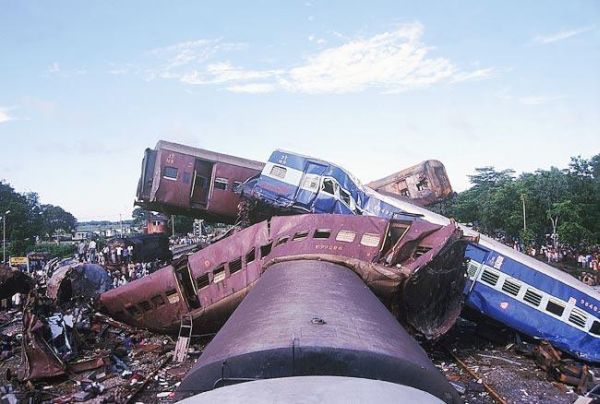 Image Source : Im1.IndiarailInfo.Com
Year: 2nd August, 1999
Railway: Brahmaputra Mail collided with Awadh Assam collided in Gaisal
Casualty: Killed 285 people
In this, two fast trains collided. The speedy collision resulted into a blast that resulted into death of over 285 people. In total the trains carried about 2,500 people at the time of accident and led to the injuries of around 300 people.
Kadalundi river disaster due to bridge collapse; 57 killed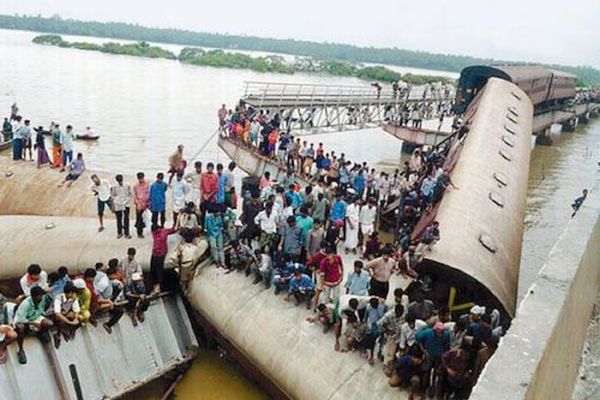 Year: 21st July, 2001
Railway: Mangalore Chennai Mail
Casualty: Killed around 57 people with over 300 injured
This is recorded as one of the biggest rail accidents in Indian history. Mangalore- Chennai mail was derailed while crossing Kadalundi River, near Calicut. Its four coaches were derailed and submerged into the river.
Rafigunj train disaster; 130 killed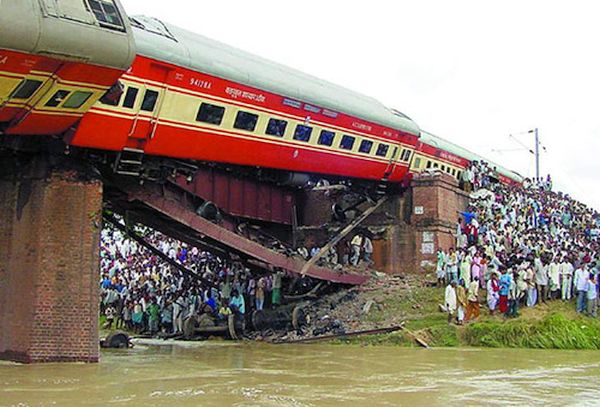 Year: 10th September, 2002
Railway: Rajdhani express
Casualty: Recovered 130 bodies with 50 people missing
Rajdhani was derailed over Bridge of Dhave River in North central India. 11 coaches were into river and almost 130 bodies were recovered within a week with many people still missing. This accident was witnessed after one hour by villagers. Later, help force was called and the situation was brought under control.
Vaibhavwadi train accident; 52 killed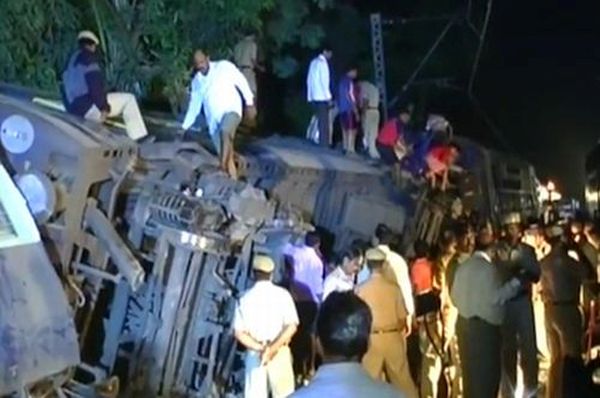 Year: 23rd June, 2003
Railway: Karwar- Mumbai Central- holiday special train
Casualty: Killed 52 people and left 100 injured
This incident took place in village of Vaibhavwadi, Sindhudurg district in Maharashtra. This tragic accident happened at around 10:30 pm, when the train Karwar – Mumbai Central got derailed outside the town. As this was a holiday special train, many families were abandoned to death.
Datia rail crash due to human error; 16 killed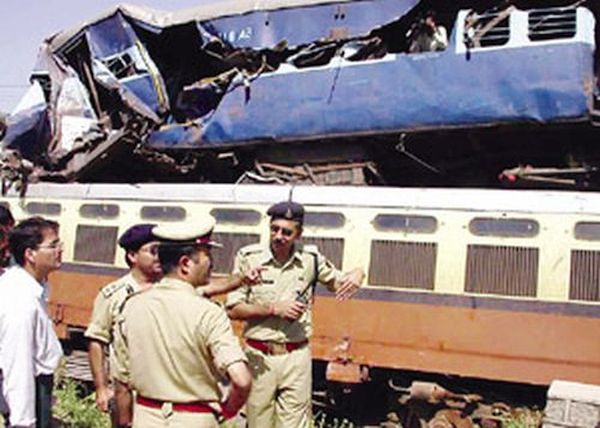 Year: 3rd Oct, 2005
Railway: Bundelkhand express
Casualty: Killed 16 people and left 100 injured
This railroad accident occurred before rail disaster of Veligonda that killed around 114 people. Overcrowded Bundelkhand express was running from Varanasi to Gwalior above the limited speed (at around 90km/hr). At a sharp turn, train got derailed and crashed the signalman's box.
Gyaneshwari Express accident; 141 killed
Year: 28th May, 2010
Railway: Gyaneshwari express
Casualty: Killed 141 people
This accident took place when the railway track was removed by Naxal Maoists in West Bengal. Gyaneshwari express was travelling on the same track, coming from Mumbai. The derailment occurred in the West Midnapur district. It was disputed that a bomb or a manual removal of railway track was responsible for this massive accident.
Sainthia Train Collision; 66 killed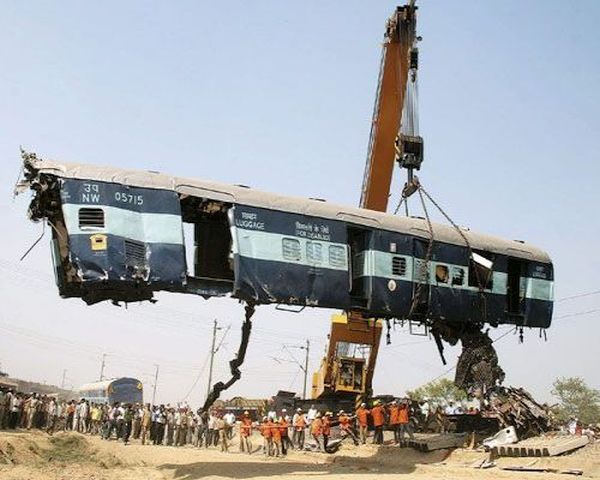 Year: 19th July, 2010
Railway: Uttar Banga Express jarred with Vananchal Express
Casualty: Killed almost 66 people leaving 165 injured
The Sainthia collision took place at Sainthia railway station, Birham district, in West Bengal. In this incident two trains, Uttar Banga Express jarred with Vananchal Express when it was leaving the platform.
Kalka mail disaster; 70 killed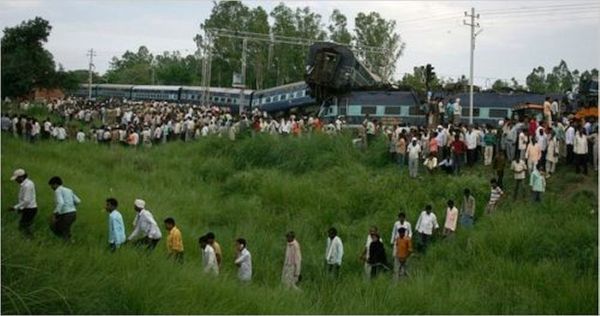 Year: 10th July, 2011
Railway: Kalka mail
Casualty: Killed 70 passengers leaving 300 injured
Kalka mail was derailed near Fatehpur district, in Uttar Pradesh. This lead to death of many passengers and around 300 were badly injured. There was fast rescue operation, two helicopters were speeded up from Allahabad base, and still many people were stuck inside the derailed bogies.
Kamayani Janta Express derailed; 31 killed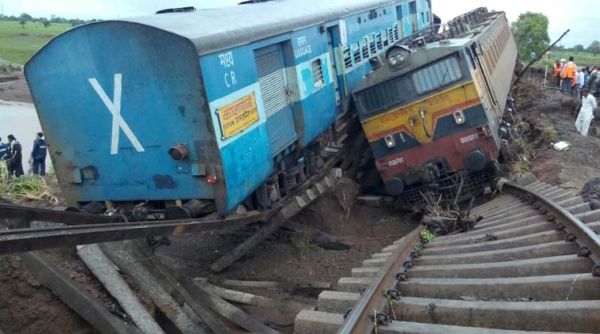 Image Source : IndianExpress.Com
Year: 2015
Railway:  Janta Express derailed
Casualty: 31 people died and 100 plus were injured
As of latest update 31 people died and 100 plus were injured when two trains derailed within minutes of each other while crossing a small bridge in Madhya Pradesh shortly before midnight on Tuesday.
The Kamayani Express which runs from Lokmanya Tilak Terminals of Mumbai going to Varanasi in Uttar Pradesh, derailed near Harda town, one sixty km south of Madhya Pradesh capital Bhopal, shortly before midnight. just after little while The Janata Express, en route to Mumbai from Patna, too derailed at the same spot.