As much as you love and adore your children, there is no denying that vacationing with them might feel a little stressful at times. As they will have different needs, personalities, and temperaments, you might need to breakup arguments, manage tantrums, or deal with demands.
For the above reasons, you must choose your accommodation wisely when planning a trip to The City Beautiful. The option you pick could provide you and your loved ones with a fun, relaxing experience or may exacerbate feuds, tension, and tantrums. Make the right choice for your needs. Here are six stress-free Orlando resorts for families.
1.   Westgate Lakes Resort & Spa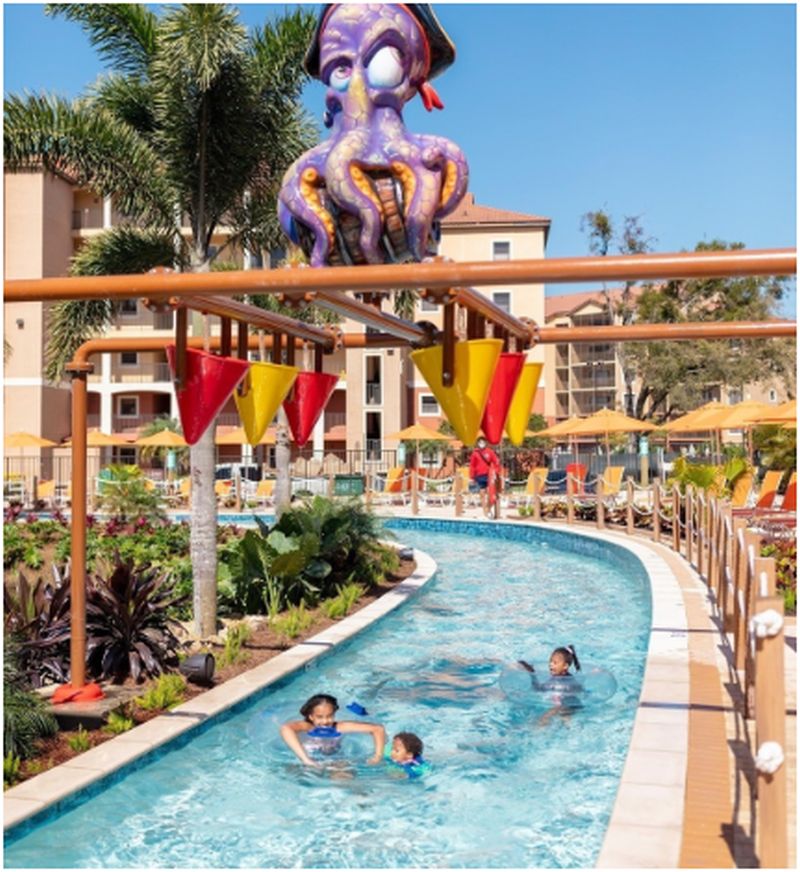 With many dining options, activities, and spacious villas to choose from, you can guarantee you and your family will enjoy a fun, stress-free vacation at Westgate Lakes Resort & Spa.
Westgate Lakes Resort & Spa understands families can get on top of each other on vacation. For this reason, it provides spacious villas to suit every family size, from one-bedroom to four-bedroom villas, with options to accommodate up to 16 guests. The stylish, airy accommodation will provide your nearest and dearest will plenty of space to relax, which may prevent arguments and tension throughout a vacation.
Also, you will not need to worry about the kids complaining they are bored at the resort, as it offers an extensive variety of activities to keep all ages entertained. For example, young and old will love to splash in the brand-new Treasure Cove Water Park, or they could spend the day under the sun in one of seven heated pools, seven children's pools, or six hot tubs.
Mealtimes will feel a breezeat Westgate Resorts, as there are options to suit every appetite and taste. There is something for everyone at Draft's Sports Bar & Grill, or you can grab a slice at Cordovano Joe's Pizza. If the kids have been on their best behavior all day, consider treating them to Hershey's ice cream, frozen yogurt, or homemade cookies at Sid's Bistro.
2.   Disney's Beach Club Resort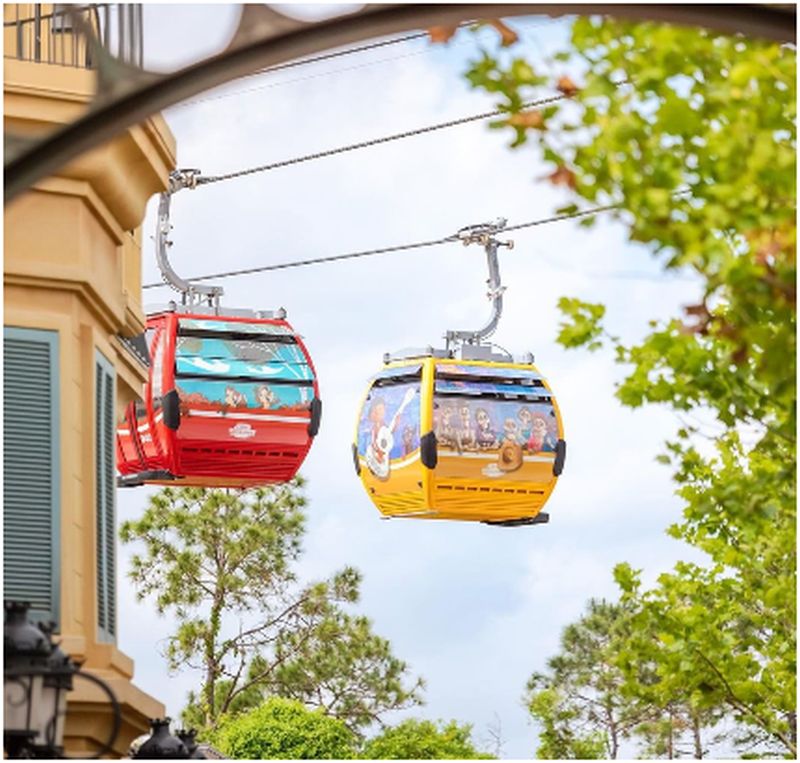 Immerse yourself and your loved ones in utter relaxation at Disney's Beach Club Resort. The picturesque accommodation provides many serene activities to enjoy between heart-stopping theme park rollercoaster rides, such as soothing boat rentals and luxury pools.
Disney's Beach Club Resort provides tranquillity, fun, and convenience in the heart of Orlando's biggest theme park. The New England-inspired resort has everything you could want for a chic yet casual stay in the city, including large pools and beautiful lagoons that are perfect for making the most of the Florida sun.
You can trust your children will remember sailing along Crescent Lake in a mini powerboat rental, which is a great way to unwind after busy days at the likes of Magic Kingdom. Also, you will not need to travel too far to visit Disney's theme parks, as the relaxed resort is within walking distance of Epcot, or you and your kids can hop onto a boat to Disney's Hollywood Studios.
3.   FantasyWorld Resort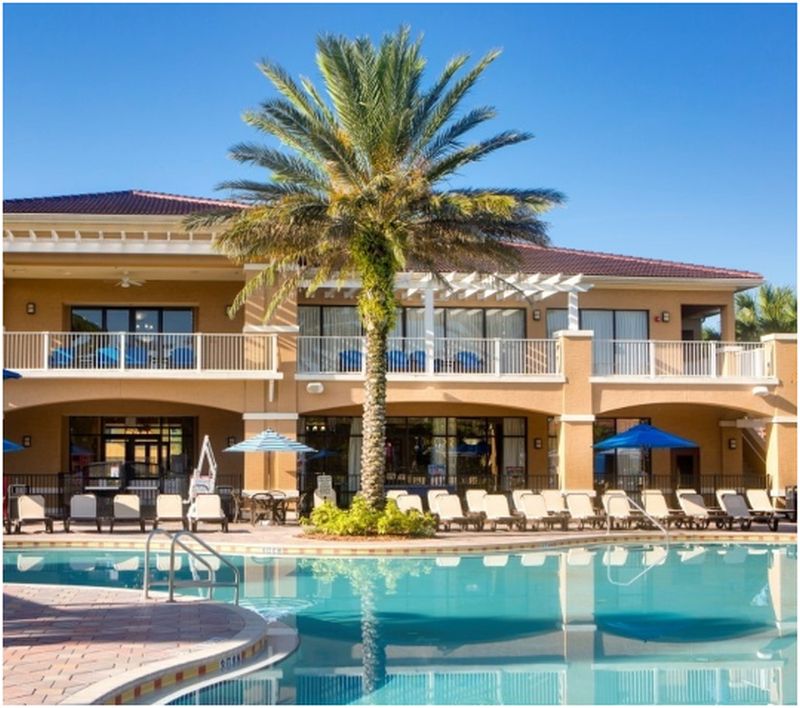 FantasyWorld Resort is a family-friendly option you shouldn't rule out when planning an Orlando vacation. The 2-story townhomes provide 1000 square feet of space and feature two bedrooms, two baths, and a full kitchen to enjoy a stress-free home away from home.
Designed with smaller groups in mind, families of six or fewer will have plenty of freedom to move around one of the spacious two-bedroom villas at FantasyWorld Resort in Kissimmee. Each accommodation features a fully equipped kitchen to make a getaway a breeze for parents, as they can cook and serve dishes to cater to every child's taste.
Also, there is no reason to hear your kids are bored at FantasyWorld Resort. The family-friendly hotel provides many activities and amenities to keep all ages entertained, such as a large pool, two 3-story water slides, a kids' splash pad, a lazy river, and plenty of poolside fun.
If you are worried about arguments striking back at your accommodation, there is no reason to despair. In addition to offering separate bedrooms, you and the kids can stay occupied with Wi-Fi and a TV. When you decide to venture outside the hotel, you will not need to travel too far to reach Walt Disney World theme parks, which are a 4-minute journey away.
4.   Four Seasons Resort Orlando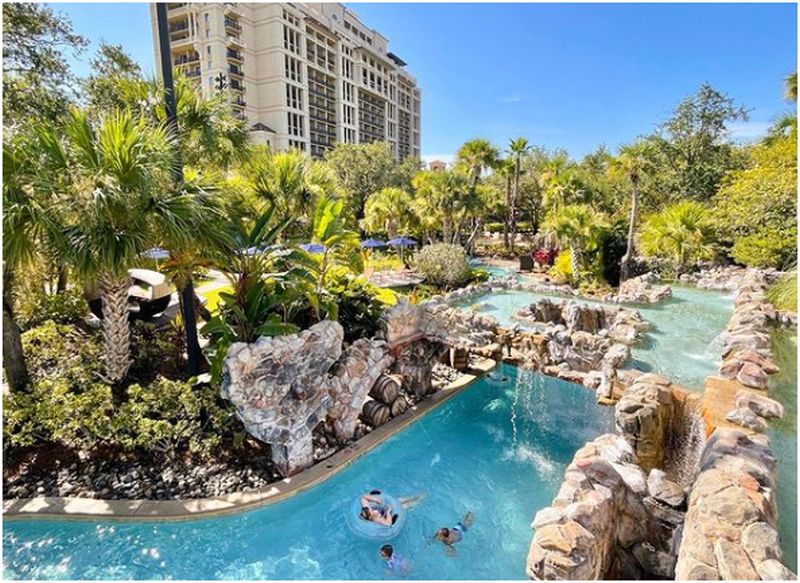 The secluded Four Seasons Resort Orlando offers a quiet, luxury spot away from the busy theme parks and attractions dotted across the city. It doesn't matter if your kids want to spend their day splashing in a pool or playing basketball. There is an activity for every age and preference at the AAA Five Diamond Resort.
Four Seasons Resort Orlando at Walt Disney World is a luxury haven away from the bustling theme parks, exciting attractions, and entertainment venues across the city. It will provide a sense of calm that will help your kids relax after many hours of fun and excitement, which can prevent tantrums, tears, and arguments between your children.
Hidden away in 26 sprawling acres of land, you can unwind in style at the elegant resort, as it is peppered with beautiful gardens, dazzling pools, and towering palms and cypress trees. Also, parents can soothe aching muscles from the theme parks at The Spa, or they can practice their putting skills at Four Seasons Golf and Sports Club.
There are many thrilling activities to keep kids entertained all day long, too, as they can swim, splash, and play at Explorer Island or enjoy breakfast with Goofy & Pals at Ravello restaurant. Also, the whole clan can experience the magic of Orlando by watching the impressive nightly Walt Disney World fireworks from the Michelin-starred Capa Steakhouse or from the comfort of your balcony.
5.   The Grove Resort & Water Park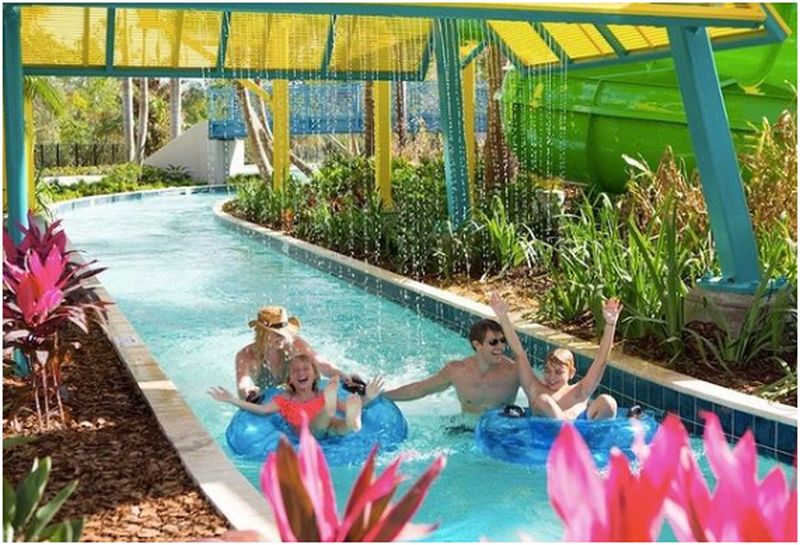 Say goodbye to stress and hello to fun at the family-friendly Grove Resort & Water Park. Soothe your soul with a spot of fishing at Lake Austin Pier, relax in the shade in a private cabana, or let your hair down at Surfari Water Park. There is an activity to banish your stress and make memories with your loved ones.
The last thing you will want to do is rattle around a hotel on vacation, which will cause your kids to complain and put a halt on memories. Give your kids a reason to smile and help the hours pass by choosing a fun, family-friendly accommodation, such as The Grove Resort & Water Park.
The hours will fly by at this beautiful resort, which offers residential-style suites,a Surfari Water Park,Flip Flop's Family Fun Center, a children's activity center, and three full-sized pools. Also, you and your loved ones can soothe the mind and body with a relaxing stroll along Lake Austin Pier, which is also a perfect spot for fishing or fun water sports. Your kids will never want to go home, and neither will you.
6.   Hilton Garden Inn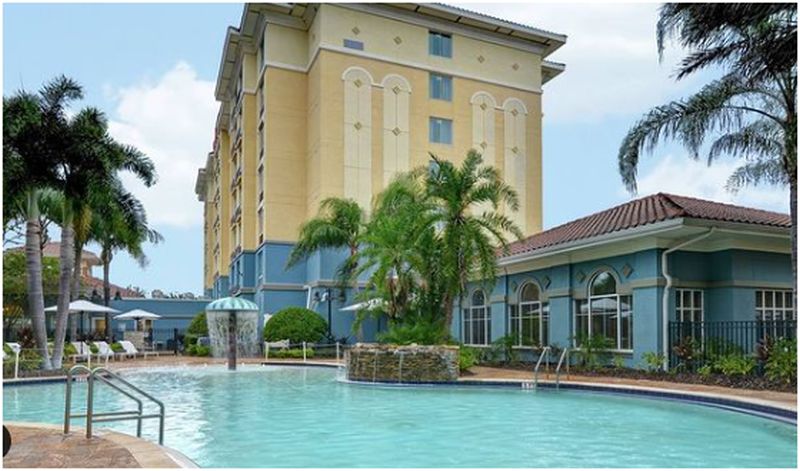 Don't stress about traveling on vacation and check in to the conveniently located Hilton Garden Orlando. The affordable resort has a prime spot at International Drive, placing you a stone's throw from the Universal theme parks.
If you are looking for a luxury base for exploring Universal Orlando Resort, take the stress out of your vacation by staying at Hilton Garden Inn at International Drive North. The resort provides a free scheduled shuttle service to the popular theme parks, including Universal Orlando Florida and Universal's Volcano Bay.
It can take the stress out a break, as you can trust you will receive a clean room, a comfortable bed, and a great location for exploring the best Orlando has to offer without destroying your bank balance. Also, you and your family cancool down in an outdoor pool, grab delicious drinks from the tiki bar, or make s'mores over a firepit. All your worries will disappear when making unforgettable memories with your other half and kids. 
Conclusion
A family vacation can be as stressful as it is exciting. It doesn't matter if you are traveling with toddlers or teenagers; you might need to deal with tantrums and tears on vacation. Rather than allowing bad moods to dominate a getaway, you can keep your kids' minds and bodies occupied by checking in to a fun-filled resort in the city.
The above resorts are worth your time and cash, offering value-for-money accommodations, amenities, and activities in a convenient location in Orlando. Of course, you would be wise to research each option to make the right decision for you and your loved ones.
Article Submitted By Community Writer