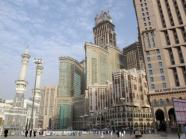 You would think that in Mecca, the seat of Islam, the most holiest of sites for Muslims, a place they face five times a day in prayer, and make pilgrimages to as often as they can, that one would be safe, particularly since most people come to Mecca as pilgrims. But not so. Apparently, as religious as people are, there are still crimes committed in the holy city, which makes it not quite so holy.
One Algerian girl, a mere 15 years old, was raped and murdered while visiting Mecca with her family.
The teenager, who lived in France, had come to Mecca with members of her family to perform the Umrah or minor pilgrimage, Maiman said.

Her French mother had come with her Algerian father and seven-year-old brother to Mecca from the southern French port city of Marseille.
According to the Saudi Gazette "four expatriates from Yemen and Bangladesh in connection with the suspected rape and murder of a 15-year-old Algerian girl" are being questioned by Saudi authorities.
The poor girl was found dead on the rooftop of a hotel near hers. It is thought that she might have jumped off the balcony of her hotel room onto the roof of the hotel below in order to escape her rapists. But who knows whether she jumped or was pushed. Either way, what a terrible ending to what should have been a spiritual rebirth. And just proves that no matter how religious you might think someone is, they can harbor a very dark side to them.