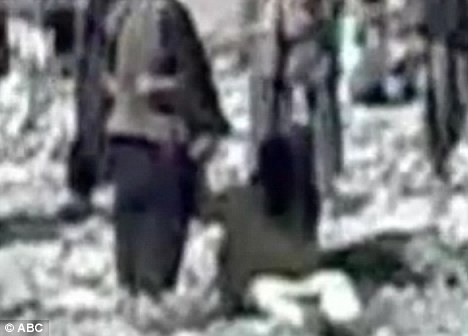 There is something perversely sick about people who would stone to death a woman who was simply 'seen' in the company of a man. But that is what the Taliban allegedly did to a woman in northwest Pakistan, and all the horror captured on a cell phone camera, which was then smuggled out as witness to the murder. As barbaric as the practice is, and practiced even in countries like Iran, it is usually the sentence for committing adultery. But it wasn't the case for this poor woman. The footage shows
A woman lies tied to the ground as a group of men gather round her, repeatedly throwing stones at her.

She appears to plead for help but despite her cries, they continue to rain stones down on her until she lies still.

The execution allegedly took place two months ago in the upper region of Orakzai.
The grainy cellphone footage of the execution was reportedly smuggled out by a Taliban member who witnessed the stoning and then passed to it Al Aan, a Dubai-based pan-Arab television channel that deals with women's issues in the Arab world.

ABC news was unable to independently confirm the authenticity of the video, which is so graphic that it cannot be shown in its entirety.

The woman was thought to have been executed because she was seen out with a man.
And although there is that obligatory talk of whether the tape is credible or not, but why would a Taliban member bother to smuggle the video footage out and hand it over to a TV station that advocates for women? There would be no point. I happen to think that it is more than likely valid. To see a group of men calmly stoning a woman to death is mind-numbing. You truly have to embrace evil to justify doing that to another human being. Why doesn't the U.N. condemn these kinds of acts?