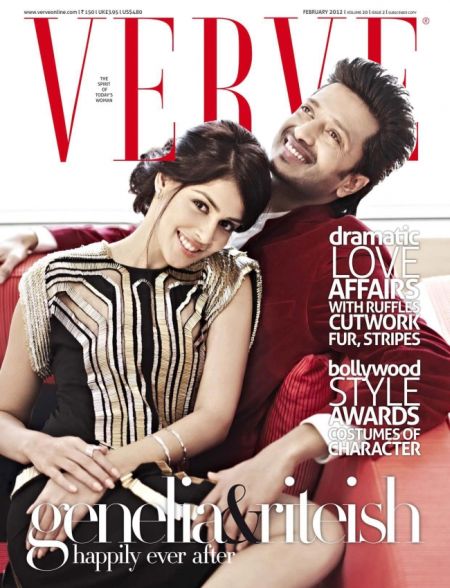 If magazines are supposed to create a witchy affect, sealing a powerful couple on the cover is the most important ingredient to make it working. Moving on with the 'Togetherness' tag, Bollywood couples are flying high by electrifying ultra famous magazines. Lets have a glance at some of the cozy and classy moments that these so-in-love couples shared on the magazine cover pages.
Classy: Genelia-Ritesh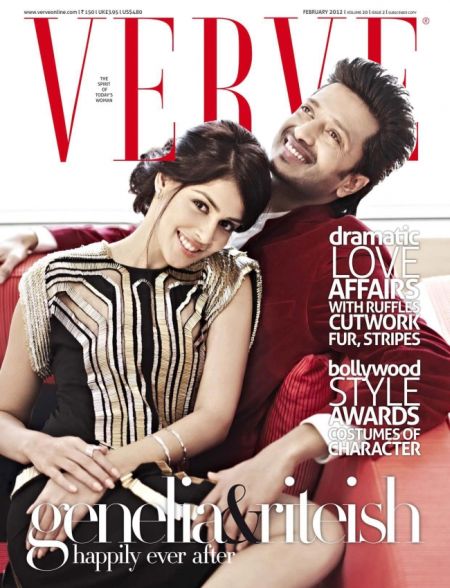 Magazine cover: Verve, February 2012
Genelia D'souza and Ritesh Deshmukh made their debut in 'Mujhe Teri Kasam' in 2003 and after 9 long years, they tied the knot on February 3rd, 2012. Posing honestly their brimming love on Verve cover makes the magazine even more classy and sophisticated.
Classy: Amir Khan-Kiran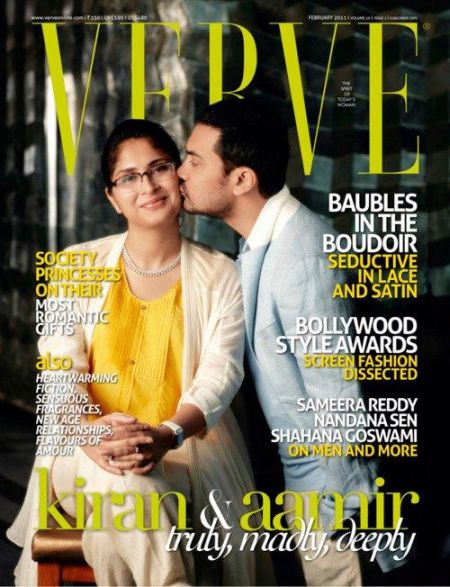 Magazine cover: Verve, February 2011
'Truly, madly, deeply' is what the magazine has described them on its cover. Did Aamir's love and its reflection in Kiran's eyes, made the magazine to write so? We believe yes.
Classy: Deepika-Ranbir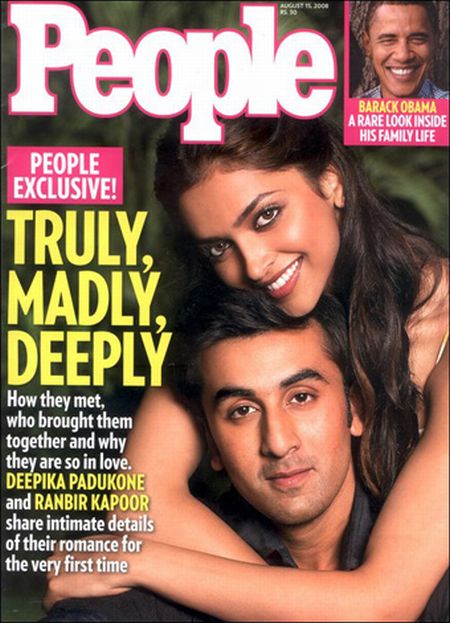 Magazine cover: People, August 2008
This magazine cover is well stitched by Bollywood's hot jodi and once a couple, Deepika and Ranbir's classy love. Their perfect chemistry is very well chiselled by the magazine.
Cozy: Anushka-Ranvir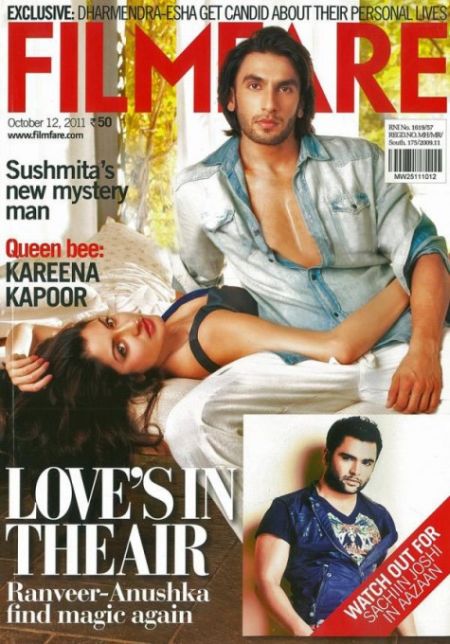 Magazine cover: Filmfare, October 2011
Love, awesome chemistry and mischievous smiles flash in the mind for this hot Bollywood couple. Cozy love for classy magazine, what a perfect combination!
Cozy: Shahrukh-Gauri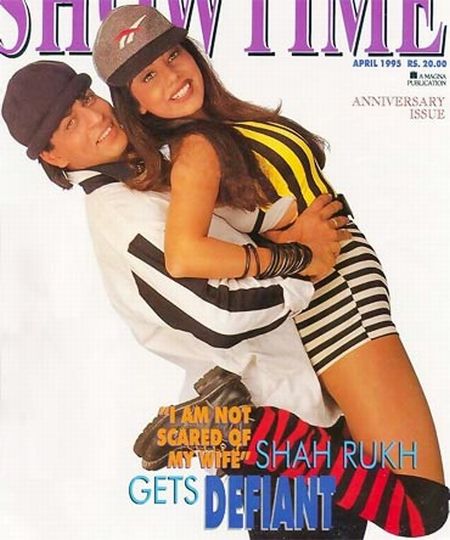 Magazine cover: Showtime, April 1995
Sharukh Khan's mastery in on-screen love and true love for her wife Gauri in real life, is matchless. They have the class but their love has the pure essence of playful chemistry involved.
Classy: Akshay-Twinkle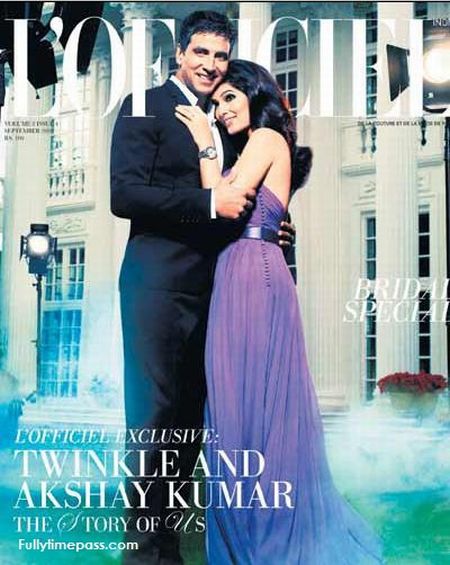 Magazine cover: L'Officiel
Akshay is a super fine actor while Twinkle is a super businesswoman. Their sparkling romance was shot cleverly by the L'Officiel cameras.
Cozy: John-Bipasha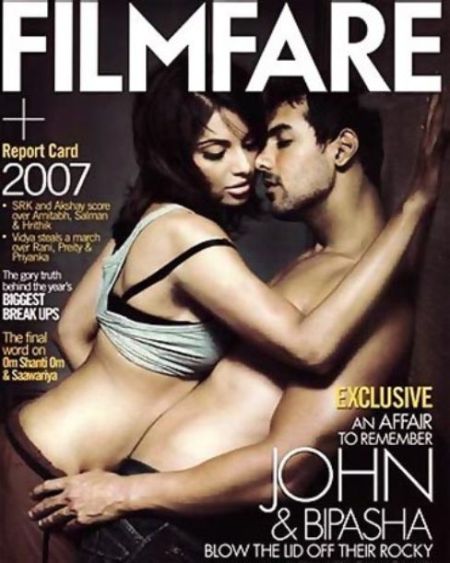 Magazine cover: Filmfare, 2007
The duo are the masters in showing the world what intimacy is. Their boldness has adorably got featured on Filmfare magazine making it an eye-treat for fans.
Classy: Ajay-Kajol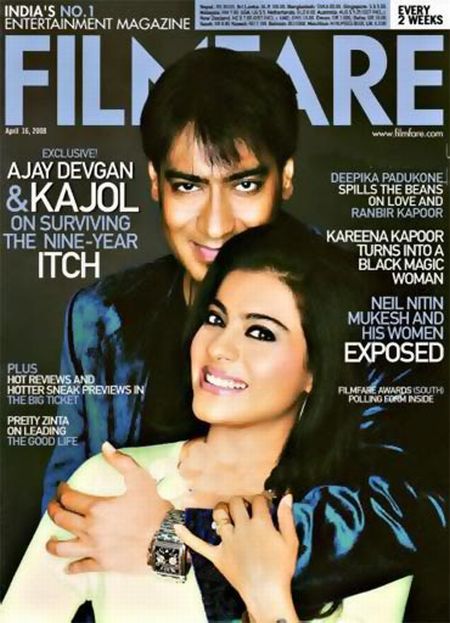 Magazine cover: Filmfare
Ajay and Kajol are amongst Bollywood's evergreen married couple's list. While U, Me aur Hum and Toonpur ka Superhero disappointed the audience, their die hard love for each other keeps all of us inspired.
Cozy: Saif-Kareena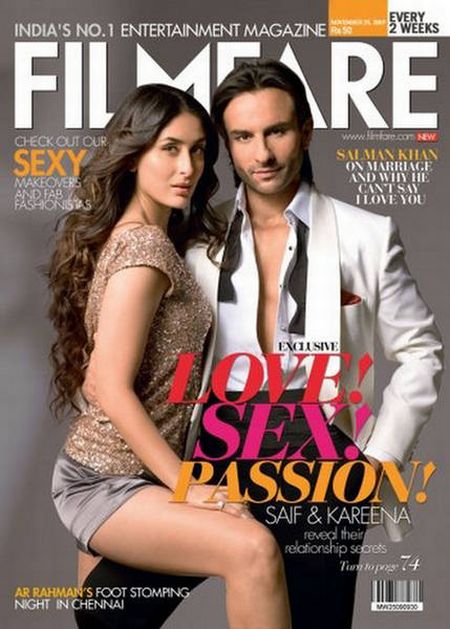 Magazine cover: Filmfare, November 2009
The flop Tashan gave Bollywood, a hit couple in the form of Saif and Kareena with their sizzling chemistry as cherry on the top. Dating each other from years now, finally they have decided to tie the knot in next year. The couple has redefined the meaning of togetherness along with sensuous chemistry.
Classy: Hrithik-Suzanne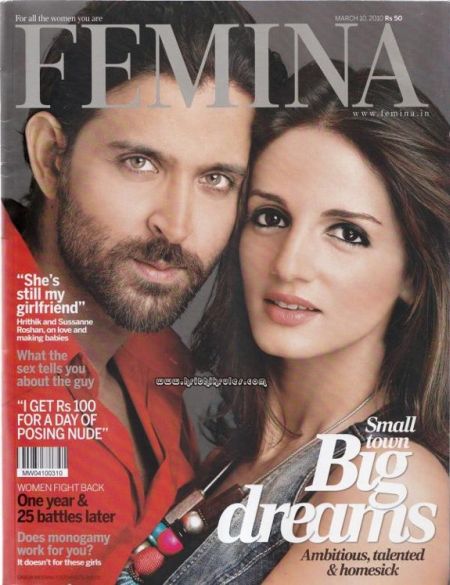 Magazine cover: Femina, March 2010
Known as childhood sweethearts, Hrithik and Suzane have maintained their desire for each other despite the rumors of link-up between Hrithik and his Kites co-star Barbara Mori.
Cozy: Abhishek-Aishwarya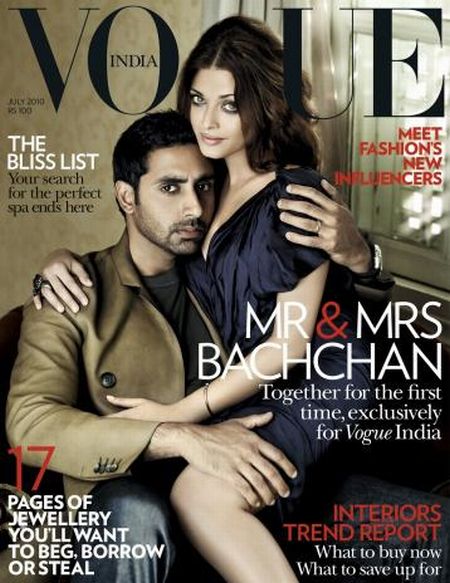 Magazine cover: Vogue, July 2010
Magazines like Vogue, has the power of electrifying its cover by featuring Bollywood's hyped couple Abhishek and Aishwarya in their royal touch. This cover was shot prior to their release Raavan.
Cozy: John-Bipasha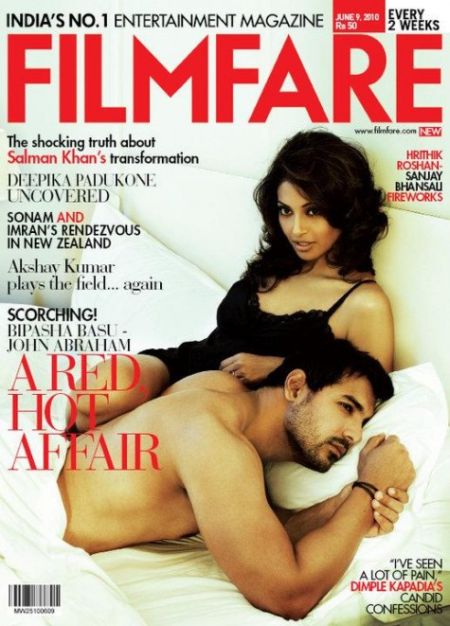 Magazine cover: Filmfare, June 2010
When the same couple steals a popular magazine's cover twice for their intimacy, their chemistry must be carrying an X factor. Putting hotness scale on fire, John-Bipasha wired again for Filmfare 2010 June edition which surely scores 10 on 10.
Classy: Abhay Deol-Preeti desai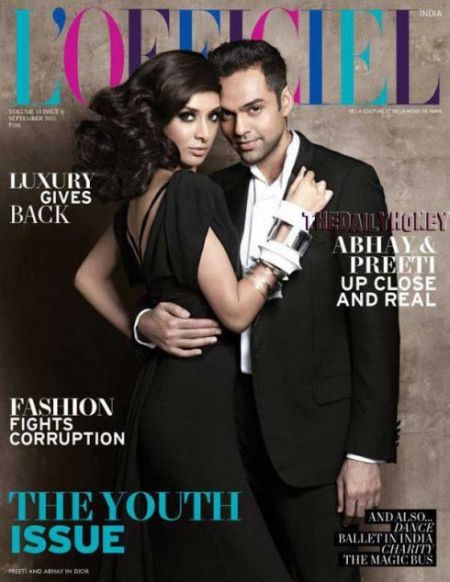 Magazine cover: L'officiel, September 2011
Abhay Deol and Preeti Desai's link up rumors were put on confirmation, when the duo posed for L'Officiel's September edition. Wearing blackish Dior gown, Preeti looks stunning in arms of Abhay.
Classy: Ranbir-Deepika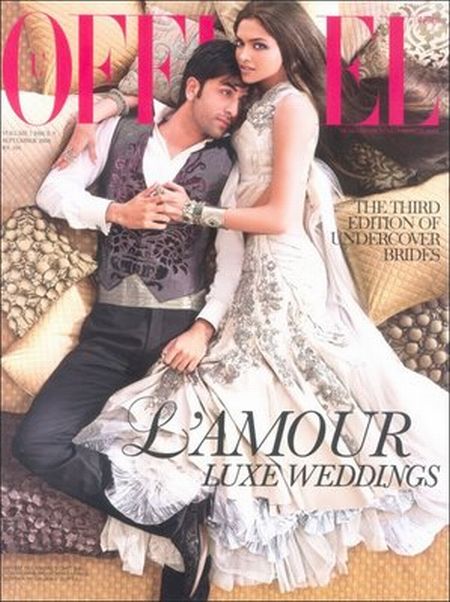 Magazine cover: L'Officiel, 2008
After sensitizing People, Ranbir and Deepika, next chose L'Officiel to show off their lovey dovey relationship. Representing bridal wear collection, Deepika and Ranbir both are looking as the perfect bride and groom.