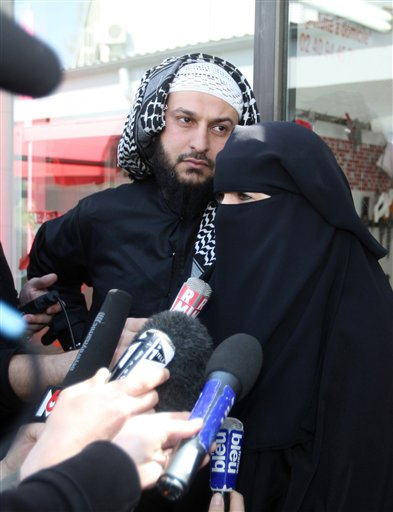 With all the potential distractions, and the blind spots in our vehicles, a clear peripheral view is incredibly important while driving. Anything that might obstruct one's vision is potentially a major hazard, that's why certain countries have certain laws pertaining to such things. In the U.S., although not really enforced, a driver is not allowed to have anything hanging from the rear-view mirror, that includes all those nice smelling car fresheners. There are other laws that are enforced to protect the driver and others on the road.
Although France is in the midst of trying to ban the niqab and burqa, a 31-year-old French Muslim woman in Nantes was fined, not for wearing the niqab, per se, but for a driving infraction. Apparently the policeman who gave her the ticket cited her for insufficient field of vision, claiming her veil posed a "safety risk".
Although the fine was minuscule, a mere $29.00 (22 Euro) and the woman claims "My eyes were not covered. I can see just like you and my field of vision was not obstructed," she plans on appealing the ticket and has already hired a lawyer, Jean-Michel Pollono. In a press conference, Pollono said
"A French citizen cannot be fined based on the way he or she dresses. If the veil is forbidden behind the wheel, then nuns should not be able to drive, and full helmets for motorcyclists should be banned, because you can't see on the sides, and even some police units who drive with masks should be fined."
He might have a point with motorcycle helmets, but cyclists at least don't have the structure of a car to add to the hindrance of vision. Nuns, on the other hand, might have their heads covered, but they don't have everything but their eyes hidden under a sack of cloth. The difference is, when you move your head to the right or left, as one must do when driving, a nun's habit will move with the head, unlike a niqab that stays put. As an experiment, take a paper bag, make a slit across for the eyes and slap it over your head, you will see how it does obstruct vision.
Why a woman would feel the need to wear a niqab while driving, in a western country, demonstrates how silly some of these ultra conservative women are. And if France does pass the law, she's going to have to comply, or face fines and jail time, so she might as well get used to it; that is, unless France caves in to Muslim pressure. And considering that there have been death threats against certain lawmakers who have been actively involved in trying to push through the burqa ban legislation, they just might.
What the Muslim/Arab world needs to realize is that if countries in the Middle East and elsewhere can force dress codes on westerners, and ban clothing like the lungi (which Sharjah just did) France and any other country has the right to do the same. Case closed.
Sources: Breitbart , Alarabiya