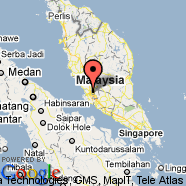 Malaysia considers itself to be a moderate Islamic country with freedom of religion for all, and yet you read stories about people like Banggarma Subramaniam and you say to yourself "what freedom of religion?" It doesn't fully exist in any Islamic country, even those that claim it does.
Of Indian heritage, Banggarma and her three siblings were born Hindu, but as wards of the state they were converted to Islam when they were living in a government-run orphanage. In 1989, when Banggarma was only 7-years-old and not old enough to make the decision herself, she was converted to Islam. At 16 she ran away and several years later (in 2001) she married a Hindu. The problem is the Malay government considers her Muslim, and her fight in the Malay courts to recognize her as an Hindu failed miserably. Her predicament is one that has angered many non-Muslims in Malaysia and poses many problems for the woman and her family.
A Malaysian woman lost a court battle Wednesday to nullify her conversion to Islam when she was a child, but vowed to fight on to be recognized as a Hindu.

Malaysia's secular High Court ruled it had no jurisdiction to hear the case as Banggarma Subramaniam is a Muslim and should refer to the Islamic Shariah court, said her lawyer Gooi Hsiao Leung.
Because her identity card and other paperwork identifies her as Muslim convert, the secular courts refused to handle her case. And since she was given a different name (Siti Hasnah Vanga-rama Abdullah) on her Muslim conversion document, she has been unable to live her life as a Hindu.
She has been unable to register her marriage or name her husband as the father of their two children in their birth certificates as she is listed a Muslim. Banggarma's husband must convert to Islam to legally wed her as marriage between Muslims and non-Muslims is not allowed in the country.

Banggarma said she was disappointed with the court ruling and planned to take the case to the Appeals Court.

"Why must I be forced to accept Islam?" Banggarma said. "I was born an Indian, a Hindu and I remain so until I die. They have no rights over me."

The welfare department claims Banggarma was converted in 1983 by her father and that she must go to the Shariah court to verify her status.

Gooi, however, said her conversion certificate was dated 1989 and that under Penang Islamic laws, minors below 18 cannot be converted to Islam without the consent of their parents.
Malaysia at least has a civil court system for non-Muslims, in addition to the Shariah courts, but when it comes to situations like Banggarma's Shariah court takes precedence which leaves the poor woman and her husband between a rock and a hard place.
If she renounces Islam, Banggarma risks being charged with apostasy, which in Malaysia — as in many Islamic nations — is regarded as a crime punishable by fines and jail sentences. Offenders are often sent to prison-like rehabilitation centres.
Although a good 60 percent of Malaysians are Muslim, 40 percent are not, and that 40 percent are getting very frustrated, and deservedly so. A person should be able to choose whatever religion that happens to resonate with them, and not remain in one that was forced upon them, especially at an early age. Banggarma was born a Hindu, and should have every right to remain so, without fear of reprisals. And for the husband to have to convert is outrageous. If Malaysia truly considers itself moderate than they should act that way.