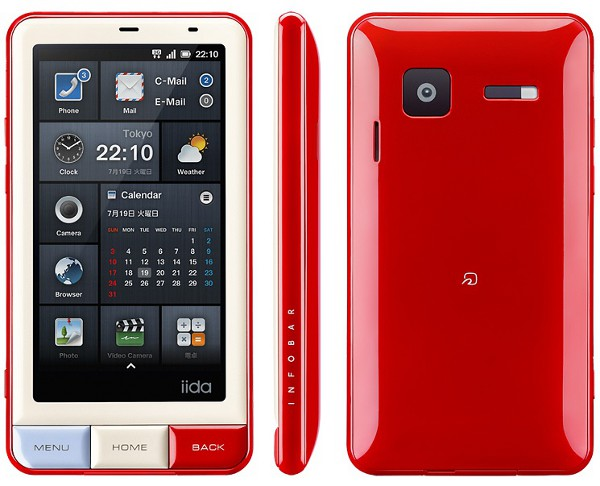 AFTER EIGHT YEARS THE MOBILE PRODUCING COMPANY "IIDA" TOGETHER WITH THE JAPANESE DESIGNER NAOTO FUKASAWA AND WEB-INTERFACE DESIGNER YUUGO NAKAMURA HAS BROUGHT NEW GENERATION OF "INFOBAR A01" CELLPHONE WHICH IS A BIT IMPROVEMENT OVER ITS PREDECESSOR "INFOBAR" CELLPHONE.
ALTHOUGH THE NEW PHONE HAS THE SAME FITTING FORM AND COLOR WITH THE SAME SIGNATURE TILE-LIKE KEYS, THE USER CAN FREELY RESIZE AND REARRANGE ICONS ON ITS HOME SCREEN BY JUST PRESSING. YOU CAN EVEN ORGANIZE THE HOME SCREEN, APPLICATIONS AND WIDGETS BY MOVING THEM TO YOUR PREFERABLE LOCATION THROUGH A SECTION BAR PROVIDED IN THE NEW VERSION.
THE NEW "INFOBAR A01′ RUNS ON ANDROID 2.3 AND WILL BE AVAILABLE FROM JULY 2011.