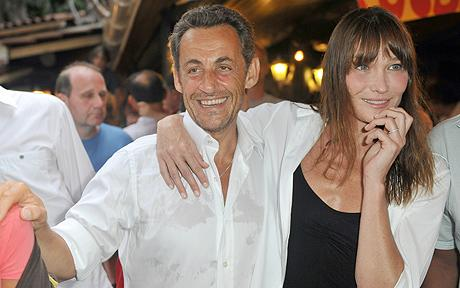 As the saying goes, "sticks and stones may break my bones, but names will never hurt me". I first heard that quip when I was a child. It always made the sting of some nasty name calling a little less painful. The infamous Paul Reuben's TV character Peewee Herman used to say something similar, "I know you are, but what am I!" , which took it a step further by turning the nastiness back on the name-caller. But perhaps its not something that the Iranians are familiar with, since some of them seem to love calling other people names. Some there love to call the U.S. 'The Great Satan", well, a country that loves to torture and rape political prisoners, which hangs homosexuals, executes young children, and stones adulterers (guilty or not), is far more 'satanical' than the United States.
And, it's for protesting against the stoning of Sakineh Mohammadi Ashtiani that Carla Bruni-Sarkozy (France's First Lady) and actress Isabelle Adjani were called 'prostitutes'. The world galvanized in protest against the impending stoning of the Iranian widow who was accused of adultery back in 2006, and although Iran did pay some heed to world criticism (which in of itself is rather unbelievable) by denying she was to be stoned, she is still expected to be killed (which is very believable). This, in spite of the fact that the case against her is very questionable (she was a widow at the time) and Brazil has offered the woman asylum.
Petitions have been making the rounds, urging the Iranian government to show some mercy and release Sakineh, and Madame Bruni-Sarkozy apparently signed one of those petitions. For that she was called a 'prostitute'.
Kayhan, an Iranian newspaper, which is under control of the government, called Mrs Bruni-Sarkozy and Isabelle Adjani, the French actress who is campaigning for Ashtina's release, "prostitutes" in an editorial, while Iranian state television accused the former supermodel of "immorality".

In an open letter to Miss Ashtiani last week, Mrs Bruni-Sarkozy wrote: "Why shed your blood and deprive your children of their mother? Because you have lived, because you have loved, because you're a woman, and because you're an Iranian? Everything within me refuses to accept this".
A prostitute? How childish is that? But being called a prostitute is less offensive than being known as a supremely intolerant, brutal, vicious, evil regime. Which they are. As Peewee Herman said "I know you are [Iran], but what am I?!"