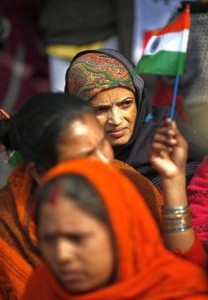 The mother of December 16th gang rape victim in Delhi is a distressed lot. She appeared before Additional Sessions Judge as a witness and pleaded that her late daughter be given justice. The mother of Nirbhaya was cross questioned by counsels of Vinay, Pavan and Akshay, all accused in the December 16th incident.
Interestingly, the counsel for accused Mukesh did not question her mother saying that as the lady had lost her daughter he would not like to make things difficult for her by cross questioning her. The mother of the victim pointed out that her daughter was her eldest child and was in Delhi to spend her holidays. Nirbhaya was pursuing a physiotherapy course in Dehradun and was in Delhi to spend her vacations.
Her mother pointed out that her daughter and her male friend knew each other for over two years and that her daughter had also gone out with him in past too. Pointing at the day's happenings, the mother of Nirbhaya pointed out that she had left home at 4 pm to do some shopping and watch a movie.
When her mother called on the mobile phone of her daughter at 9 pm, it was reportedly switched off. Her male friend's mobile was also switched off. Her mother told the judge that she received a call from PCR at 11 pm that her daughter was in Safdarjang hospital and the family was advised to rush to the hospital. On reaching the hospital, the family found out that her daughter had been admitted to the emergency ward and she could not check up as to what had happened with her.
Later the mother came to know that her daughter had reportedly gang raped by the accused on the night of 16th December. After keeping Nirbhaya in Safdarjang hospital for a week, she was shifted to super speciality hospital in Singapore. However, it was too late for the victim and she died on December 29th in Singapore.
A fast track court was set up to investigate the case against the accused. The Juvenile is facing proceedings before the Juvenile Justice board.   The prime accused in the case Ram Singh has reportedly committed suicide during the course of the trial.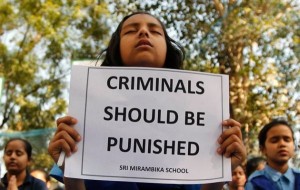 However, the concern raised by mother of Nirbhaya need to be addressed with utmost urgency as it has happened in past too that such cases of brutality against women have been forgotten after the initial uproar. We would be doing a great loss to our women if the society at a large fails to wake up to the menace of harassment that girls and women face, almost on a daily basis. The need of the hour is to fasten the process of giving punishment to the accused in this case, so that no Nirbhaya has to suffer the same fate that this brave girl had to undergo on the chilling night of December 16th.