While large parts of the population will be getting excited about a certain football competition this summer, for me the warmer months are about one thing: barbecues. If like me you try to throw a barbecue at every opportunity you'll know that attempting to entertain in style quickly causes costs to spiral out of control. With a bit of forward planning and a DIY attitude, however, you can have an enjoyable barbecue that won't burn a hole in your pockets.
Ignore the barbecue packs of meat…
Lots of supermarkets will have their own range of barbecue meats. With packaging dreamt up my marketing gurus and images of mouth-wateringly succulent meat you'd be forgiven for being tempted into paying the premium price these products carry. Fight the urge to pay extra and plan ahead instead: leave meat to marinate for several days in the fridge before cooking and it'll taste better than anything you can find on the supermarket shelves. This one from the BBC with lime, coriander, ginger and chilli is a particular favourite of mine.
…and the pre-made kebabs
The worst example of overpriced barbecue food is pre-made kebabs. Making your own isn't difficult at all, and you can customise it to ensure you're only including the meat and vegetables that you and your guests love. Just remember to soak your wooden skewers in water for half an hour or so to prevent them from burning first. Padding out the meat with plenty of fresh, tasty vegetables such as courgettes, aubergines, peppers and onions, will make your barbecue more nutritious – and it doesn't hurt that they're much cheaper than beef, chicken or prawns.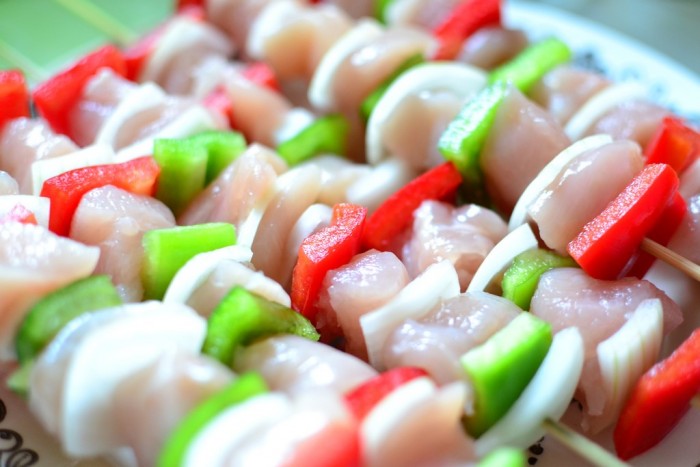 Opt for low cost cuts
Chicken thighs, pork shoulder, brisket and flank steak are all cuts of meat perfect for grilling on a barbecue that are cheaper than a lot of other cuts you'll find at your local butchers. Since you'll have marinated your meat, or used rubs to give it extra flavour (this Jamaican jerk rub is a particular treat), you can be confident your guests will be left licking their lips with satisfaction.
Use plastic instead of paper
While disposable paper plates might seem like a good way to save money, they're usually not very pleasant to eat from, and since you'll have to fork out every time you have a barbecue (weekly from the end of May to mid-September if you're anything like me) you might even find they end up being a false economy. Instead invest in some affordable but durable plastic plates that can be cleaned after use. This will allow you to eat on something that isn't flimsy while saving your best dinnerware from the demands (and inevitable accidents) of outdoor eating.
Stock up on charcoal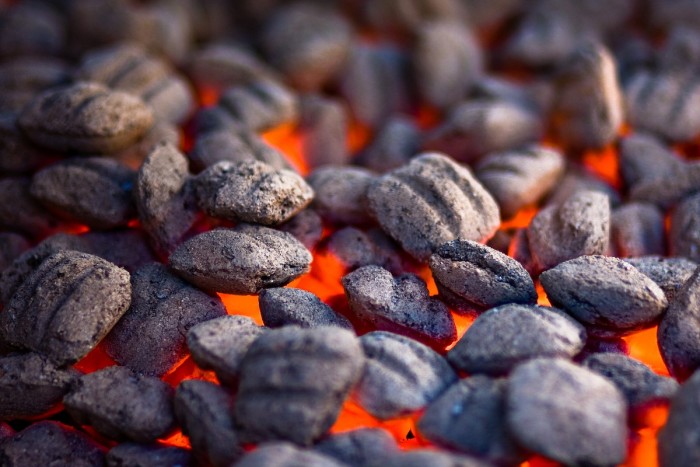 Charcoal doesn't have an expiration date, so if you spot it on sale for cheap why not stock up? If you can't grab any bargains in the run up to summer prepare for next year by buying a few bags when the shops are slashing prices to try and get rid of them. Similarly, if you're going to buy a new barbecue, doing so after summer could save you some money – obviously if you need a barbecue now that isn't an option. Make sure you shop around for a deal but remember to consider the cost of fuel. Alternatively you could always see if someone is willing to lend you theirs for the time being.
Ask guests to contribute
There's nothing wrong with asking guests to bring something along to the party, whether it be a salad, something for desert, or drinks to wash down the food. In fact you'll probably find you're your guests want to bring something along – thank them for their consideration and suggest something appropriate. Lots of people making small contributions will result in more food and drink to enjoy and a better atmosphere as people will feel more involved.
Written by Ben Skinner from MyOffers, the free online competition site. Visit them at MyOffers.co.uk to enter competitions for cash, money to spend at supermarkets and a whole lot more.