Indian Politicians and Social Activists have had their share of secret relationships. Most love affairs between them are rarely talked off in the media, yet the rumors exist. Though Dr Prem Jagyasi prefers not to cover any of such subjects on his sites, his content team still did a commendable job in revealing few of the unspoken love affairs of Indian Politicians and Social Activists, which is worth having a look at:
It's not just politicians and social workers who are infamous for their love affairs. Many Bollywood artists have also transformed their professional relationship into a personal one with marriage. Check out the list of 10 such Bollywood couples in the second section of this article.
Jawaharlal Nehru and Edwina Mountbatten – one of the most controversial love affairs in history

A subject of numerous books and films, the love affair between Jawaharlal Nehru and Edwina Mountbatten was often a point of discussion in the political circles. Rumor has it that Edwina and Lord Mountbatten did not have a great marriage and Edwina had countless affairs before meeting Nehru.
Jawaharlal Nehru, on the other hand, was quite the charmer among the ladies. Their relationship, often described by Edwina as 'platonic', had come in for much scrutiny in those times. Rumor has it that Lord Mountbatten found the relationship so deep that for the larger part, he simply ignored the affair. The affair ended with Lady Mountbatten's death in 1960, and the most public declaration of love by Pandit Nehru. He sent his own Indian Navy frigate to cast a wreath into the waters on her behalf. This was one of the love affairs which the Indian media in the way it covers the love life of today's celebrities.
Mahatma Gandhi and Sarla Devi

Sarla Devi was the niece of Rabindranath Tagore. When Sarla Devi's husband, Chaudhary Ram Bhuj Dutt was in jail, Gandhi was staying in his house with Sarla Devi as the host. In his letters to Ram Bhuj Dutt, Gandhi mentioned, "Saraladevi's company is very endearing. She looks after me very well."
Gandhi stood to lose everything when at 50, he had fallen passionately in love with Sarla Devi. He considered their relationship a spiritual marriage. In his other letters to her, he wrote passionately, "You will continue to haunt me in my sleep." The relationship has been expressed in numerous letters, like the one dated Aug 23,1920: "You are mine in the purest sense. You ask for a reward of your great surrender, well, it is its own reward."
Indira Gandhi and Mohammed Yunus

Indira Gandhi has always been one of the most controversial figures in Indian politics. Her marriage with Feroze Gandhi was mired with controversy and after the birth of Rajeev Gandhi, Feroze and Indira separated. Controversy experts have thus speculated that Sanjay Gandhi was Mohammed Yunus' son.
Mohammed Yunus was Indira's close aide and advisor for many years and they used to make many trips abroad together as he was her foreign aid. Mohammed Yunus' mourning at Sanjay Gandhi's death has been attributed to this relationship. Media has often reported that Sanjay Gandhi used to blackmail his mother because of his knowledge of his origin.
Mayawati and Kanshi Ram

Kanshi Ram was Mayawati's mentor and the sole reason for her foray into politics. He spoke of the various social issues that plagued her community and convinced her the only way she could help was by becoming the Dalit leader. They have always denied any kind of relationship between them but there have been speculations of Mayawati having stayed with Kanshi Ram after her father threw her out of the home.
They have often explained their relationship as that of a brother-sister relation. Mayawati, however, was very protective of Kanshi Ram and wouldn't allow people to come very close to him. She often hounded people who got too close to him until they left the party.
Feroze Gandhi and Kamala Nehru

Kamala Nehru, wife of Jawaharlal Nehru, with her serene beauty was the object of many admirations like that of Feroze Gandhi ( husband of Indira Gandhi and son-in-law of Nehru family). There have been rumors of a long winding affair between the two that ended with her death. It is still unclear exactly what Kamala's feelings were towards Feroze. Most letters point towards a spiritual relationship. However, the Gandhi family has rejected the controversy as plain heresy.
Apart from the controversial love affairs of politicians and social workers, the on-screen romances of some screen couples have also made headlines for a long, long time. These affairs are made even beautiful and potent when they fall in love in real life. Here are the 10 most adored real-life couples that began their relationship through on-screen romances.
From reel to real: Top 10 Bollywood couples
Dileep Kumar and Saira Banu
They got married in: 1966, after a brief romance
He was: 44 and a superstar with the title King of Tragedy
She was: 22 and an actress struggling to maintain her place in Bollywood.
Their on-screen romances: Gopi (1970), Sagina (1974) and Bairaag (1976)
Their love story: Saira Banu had been in love with Dileep Kumar the film star since she was 12. She nearly got married to the already married Rajendra Kumar when her mother Naseem Banu intervened and essentially persuaded Dileep Kumar to marry her.
Dharmendra and Hema Malini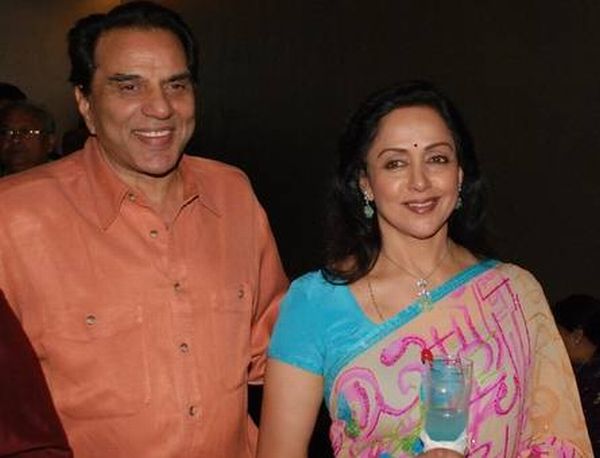 They got married in: 1980, after a near-decade-long romance
He was: 45, one of the most versatile actors of the time and married to Prakash Kaur for 26 years and a father of two.
She was: 32 and one of the most acclaimed and actress in the industry
Their on-screen romances before marriage: 28 movies together including Sharafat (1970), Naya Zamana (1971), Seeta Aur Geeta (1972) and Sholey (1975)
Their love story: Dharmendra was Punjabi, married and a father of two when Hema fell for him. Hema's Iyenger father was strictly opposed to the match. They got married after Hema's father passed away and Dharmendra converted to Islam so that wouldn't have to divorce and hurt Prakash Kaur and could legally marry Hema.
Amitabh Bachchan and Jaya Bhaduri
They got married on: June 1973 after 2 years of dating
He was: 31 and establishing himself as the Angry Young Man in Bollywood
She was: 25 and the quintessential "girl next door" in Hindi cinema
Their on-screen romances before marriage: A handful of movies including hits like Guddi (1971), Bawarchi (1972), Zanjeer (1973) and Abhimaan (1973)
Their love story: Jaya met Amitabh on the sets of Guddi and was immediately in awe of him as he was the son of Harivanshrai Bachchan. The attraction led to romance and the couple decided to tie the knot when Amitabh's parents insisted that he should take a girl with him on an international holiday unless he was married to her!
 Konkana Sen Sharma and Ranvir Shorey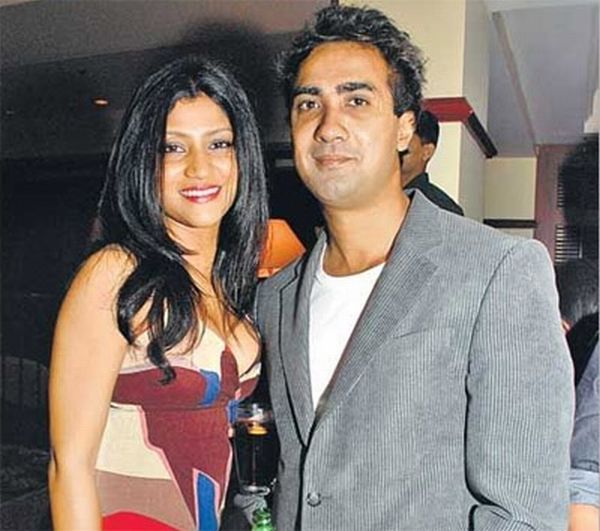 They got married in: September 2010 after dating for 4 years
He was: 38 and largely an art house and independent film actor
She was: 30 and an established art house and mainstream actress
Their on-screen romances before marriage: a few movies including Mixed Doubles (2006), Yun Hota Toh Kya Hota (2006), Traffic Signal (2007) and Aaja Nachle (2007)
Their love story: Konkana and Ranvir played the role of a couple trying to experience swinging in the 2006 movie Mixed Doubles. As their on-screen characters drifted apart, the two found themselves falling in love with each other. After 4 years of an intensely private relationship, the two tied the knot in 2010.
Rishi Kapoor and Neetu Singh
They got married in: 1980 after 7 years of dating
He was: 28, an established actor and the bubbly young Kapoor 'khandan' scion and heartthrob
She was: 21 and at the top of her career
Their on-screen romances before marriage: 11 movies including Zinda Dil (1975), Rafoo Chakkar (1975), Kabhi Kabhie (1976), Amar Akbar Anthony (1977), Pati Patni Aur Woh (1978) and Jhoota Kahin Ka (1979)
Their love story: Neetu Singh had been dating Rishi Kapoor since she was 14 and just venturing out in Bollywood. When the pair decided to get married in 1980, their families happily gave them their blessings.
 Ajay Devgn and Kajol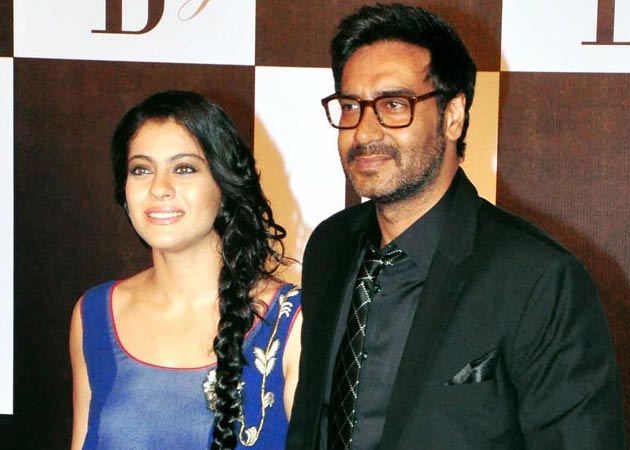 They got married in: February 1999 after 5 years of dating
He was: 30 and an established action hero
She was: 25 and at the peak of her career
Their on-screen romances before marriage: a few hits like Hulchul (1995), Gundaraj (1995), Pyaar To Hona Hi Tha (1998) and Dil Kya Kare (1999)
Their love story: Kajol began met Ajay Devgn in 1994 on the sets of Gundaraj though a romance didn't bloom till they worked together in the 1995 film Hulchul. Ajay and Kajol's romance made headlines immediately with media pundits claiming that the relationship wouldn't last due to the differences in their personalities. However, the couple ended up getting married in 1999 and are known today as one of the most inspiring real-life Bollywood couples.
Akshay Kumar and Twinkle Khanna
They got married in: January 2001 after being engaged twice!
He was: 34, an established action hero and a known Casanova.
She was: 27 and struggling to make inroads into the industry despite her famous last name.
Their on-screen romances before marriage: International Khiladi (1999) and Zulmi (1999)
Their love story: No one took the Akshay Kumar-Twinkle Khanna romance seriously as Akshay had been notorious for his love affairs with his leading ladies throughout the 1990s. Rumors claim that it was Twinkle that proposed to Akshay and that the couple broke off their first engagement and got engaged for a second time before an impromptu wedding was held at their friends' house.
Abhishek Bachchan and Aishwarya Rai
They got married in: April 2007
He was: 31, struggling to live up to his father's huge name and fresh out of engagement with Karishma Kapoor.
She was: 34 and a moderate successful leading lady who was better known for her looks and tempestuous boyfriends.
Their on-screen romances before marriage: Dhaai Akshar Prem Ke (2000), Kuch Naa Kaho (2003), Umrao Jaan (2006), Dhoom 2 (2006) and Guru 2007
Their love story: Abhishek and Aishwarya had been paired together in movies from 2000-05. However, the couple only got romantically involved during her item number in Bunty Aur Babli in 2005. The couple had a secret romance and finally tied the knot in 2007.
Saif Ali Khan and Kareena Kapoor
They got married in: October 2012 after a very public five-year relationship
He was: 42, divorced father or two and one of the top leading actors and producers.
She was: 32 and at the peak of her career.
Their on-screen romances before marriage: LOC Kargil (2003), Tashan (2008), Kurbaan (2009), Agent Vinod 2012
Their love story: The story goes that Kareena fell for Saif after watching him sunbathe without a t-shirt while shooting for Tashan in 2007. After a very public romance and immense speculation, the "Saifeena" got married in 2012.
Ritesh Deshmukh and Genelia D'Souza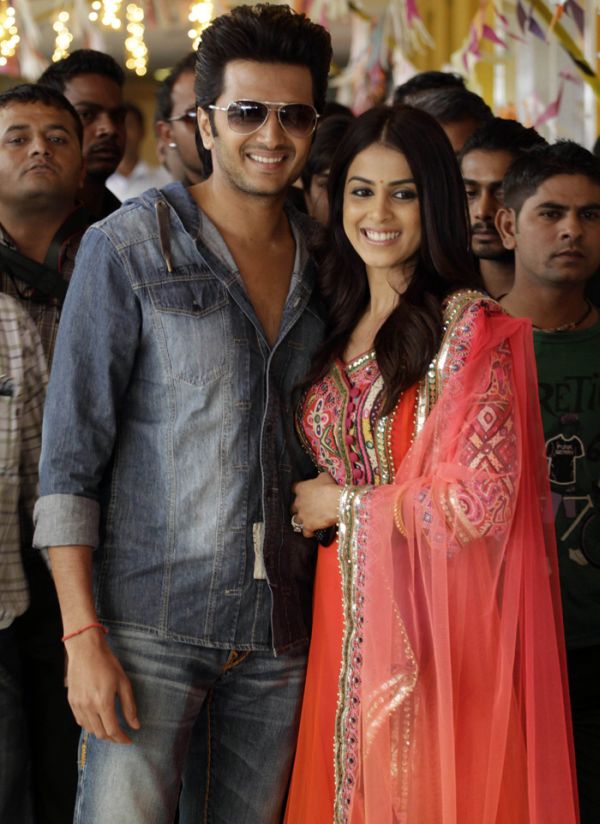 They got married in: February 2012 after a 9-year long relationship
He was: 33 and a moderately successful comic actor
She was: 25 (apparently), moderate success in the South Indian film industry and looking to establish herself in Bollywood.
Their on-screen romances before marriage: Tujhe Meri Kasam (2003), Masti (2004) and Tere Naal Love Ho Gaya (2012)
Their love story: Ritesh and Genelia met on the sets of Tujhe Meri Kasam in 2003.  Finally, their love culminated in marriage in 2012.