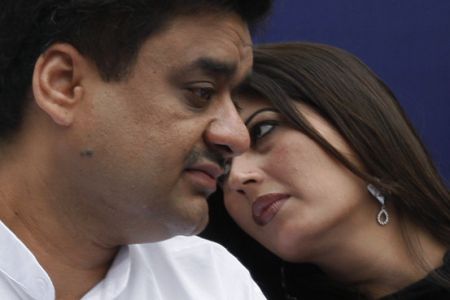 They say, "when you close your eyes, you can see your true love" but when it comes to a Polygamist, the 'slide-show' just begins. The trend of Polygamy was 'in' from as early as we can think. In India, it's more like who has more number of awards, and we are talking not just about film personalities but our very dearest politicians too. To know about Indian personalities with multiple wives, read on.
Chander Mohan

Occupation: Former Deputy Chief Minister, Haryana
Married to: Seema and Anuradha Bali
With an unjustifiable explanation to their second marriage, Chander Mohan and Anuradha Bali converted into Muslims and made quite some headlines. Former Deputy Chief Minister of Haryana, Chander Mohan was now Chand Muhammad and his Bureaucrat wife changed her name to Fiza. This conversion of religion that was nowhere near the intension of God's love, raised more debates than brows.
Seen as the usual act of eloping via a convenient escape route, to incorporate legal second marriage, Mohan was soon abandoned by his father, Bhajan Lal and this act eventually cost them both their jobs too.
Dharmendra

Occupation: Bollywood Actor
Married to: Prakash Kaur and Hema Malini
Referred to as the 'He-Man' of Indian cinemas and a pioneer in the Bollywood-Action movies, Dharmendra had few real-life actions too. He maintained two relationships at the same time, with his first wife, Prakash Kaur in 1954 and second wife, Hema Malini.
It is believed that the 'He-Man' and the 'Dream-Girl' fell in love on the sets of Sholay (1975). It was once even reported that Dharmendra and Malini have converted into Muslims only to legalize their second marriage, which otherwise would have had chances of getting sabotaged in their Hindu religion. However, even after so many years, Dharmendra is definitely India's most loved polygamist.
Boney Kapoor

Occupation: Indian Film Producer
Married to: Late Mona Kapoor and Sri Devi
One of India's most successful film producers, Boney Kapoor is said to have Indian Cinema run in his blood, similar to both his brothers Anil Kapoor and Sanjay Kapoor. Boney gave away his first marriage with Mona Shourie Kapoor for another lady love cum Indian Actress, Sri Devi. Blowing off a 13 years old marriage, Boney Kapoor tied knot with Sri Devi on 2nd June, 1996. Nevertheless, Mona continued to shelter her two kids with the sense of 'Family-Love', by staying in Boney's parent's home for 10 years after the divorce.
M. Karunanidhi

Occupation: Chief Minister, Tamil Nadu
Married to: Late Padmavati, Dayalu, and Rajathi
M. Karunanidhi raises the bar of polygamy in Tamil Nadu by swearing in with three women, a practise that is widespread in Southern India. After the death of his first wife Padmavati, Karunanidhi got blessed with two wives later on.
He fairly distributed his assets worth Rs. 36 crore between his wives, Dayalu and Rajathi and maintained parity by holding Rs. 4.92 crore in his bank account. Dayalu is the mother of Union chemicals and fertilizers minister M K Alagiri and Tamil Nadu deputy CM M.K. Stalin while Rajathi is the mother of Rajya Sabha MP Kanimozhi. Being the CM of Tamil Nadu, Karunanidhi hasn't compromised with his wives when it came to wealth. In any case being an elitist, he has his own way of practising Polygamy.
Late 'Gemini' Ganesan – one of the most famous Indian personalities with multiple wives

Occupation: Tamil Actor
Married to: Alamvelu, Pushpavalli, Savitri Ganesan
Trendsetters are appreciated and often repeated. One such personality who made the concept of polygamy renowned was Ramaswamy Ganeshan, also popularly known as Gemini Ganeshan. Worshipped down South as "The King of Romance", Gemini had flared this gift with real-life ladies too.
Gemini was first married, rather bartered Alamelu via her father with a medical seat during graduation that failed later on. He, later on, hitched with Pushapavalli and Savitri, and it was from Pushpavalli that he had Rekha, a famous female actor in Bollywood. Gemini is often acknowledged to have played love with five women in whole, but records confirm mere three. This makes him one of the most infamous Indian personalities with multiple wives.
T. R. Baalu

Occupation: Indian Tamil Politician
Married to: Renuka Devi Baalu and Smt. Porkodi
A politician? Well, you rule then! That is what seems to be the story when it comes to politicians, who take the law for granted. A Tamil Politician, Baalu likes to agree about both of his wives, his assets and their shares in his property quite in general. He is known for allotting family matters amidst political matters, one instance being when he procured gas companies for both his wives and son in 2008.