It seems the West is waking up to the teachings and philosophy of Gandhi, the modern-era saint. An increasing number of universities and colleges in the US is opening courses on Gandhian Thought. According to Savita Singh, Director of Gandhi Smriti and Darshan Samiti, about 50 universities and colleges in the US have launched courses in Gandhism in the last few years.
Singh says that the Havard School of Business Management has recognised Gandhi as the 'Management Guru' of the 20th century.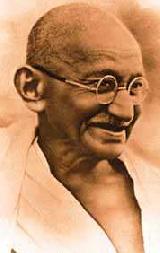 "Gandhi was all along a popular figure among the people in the West. He was a product of the West, who later got disillusioned with the West's culture, which tended to discriminate people on the basis of colour. In Berlin, a school was renamed after Gandhi following demand by the students just two months back', she remarks.
At the individual level, Bapu has a significant influence also. Lieah Wells, a scholar of Gandhian Studies, has formed a core group of 10,000 students in California recently to learn and spread Gandhism.
The University Grants Commission (UGC) has approved the Gandhian study centres in 14 universities during the 9th plan period from 1997 to 2002. These centres are getting special grants from the UGC for these courses. These institutes include Bhavnagar University, Annamalai University, Mumbai University, Kerala University, Rabindra Bharati University and Sardar Patel University.
Via: The Hindu