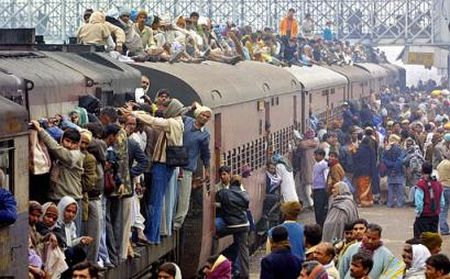 The ULFA's killer strikes has caused 69 deaths of innocent migrant labors from Bihar and Bengal working in Assam. It happened in just five days and caused the life-threat to the thousands of Bihari workers in the region.
Now, even the army troops and state police have been started its operation against the ULFA militants. The migrant workers are so scared that they are ready to enter the Bihar going train in any situation.
The Times of India reported about five members of a Mahato family who were sitting near a overflowing toilet of a over-packed general compartment of Kamrup Express.
They were scared and hungry. The mother said that we had to board the train in a hurry almost without any food. Our people are being killed and we don't want to risk our lives.
This was not the story of only Mahato family. Hundreds of the Hindi-speaking migrant families are fleeing from Tinsukia, Dibrugarh and Sivasagar and they are so scared that they did not manage any foods for them.
The general compartments of trains such as Brahmaputra Mail, Northeast Express, Avadh Assam Express and Lohit Express are also crammed with the labourers from Upper Assam who are in hurry to leave Assam as soon as possible.
Even the Kolkata-bound trains such as Kamrup Exp, Saraighat Exp and Kanchenjunga Exp are over-crowded from the migrant labors who want to leave Assam safely.
However, Himanta Biswa Sarma, minister in Assam government said that only the migrant workers are fleeing the state, while the permanent Hindi-speaking settlers are staying back. About 100 of them, who came here for the Bogibeel bridge construction, have left.